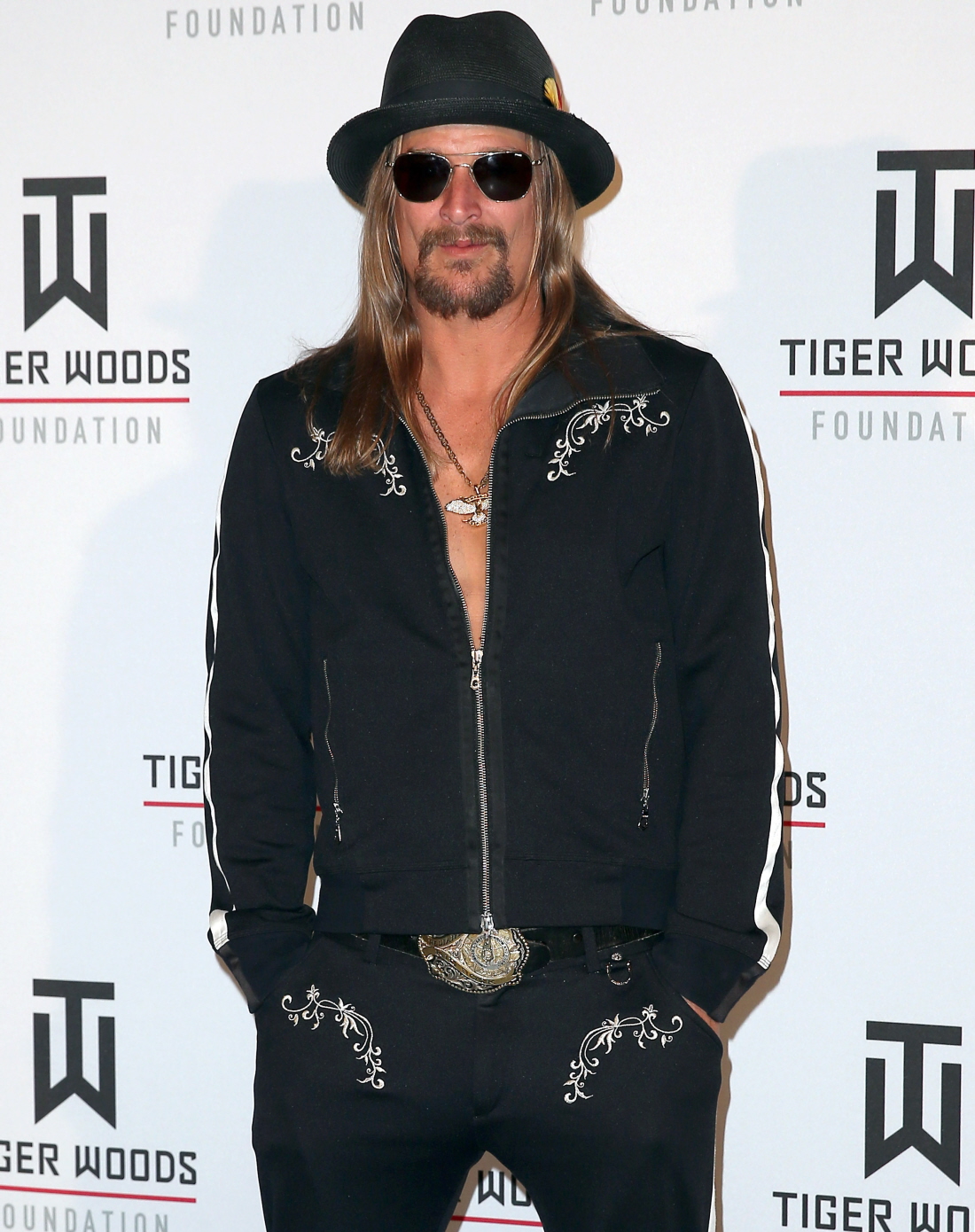 I just read Kid Rock's full Rolling Stone interview, and let me tell you… his comments about Beyonce were actually the least offensive part. I understand why the Beyhive freaked out, for sure, but if you actually read the full article, there is SO much offensive stuff in it. The whole interview takes place in Alabama, where Kid Rock owns some property (across the street from Hank Williams Jr.). Kid Rock and his girlfriend shoot (and kill) caged hogs in front of the RS journalist, Kid Rock drops the word "f-g," and he even enjoys some paranoid fantasies about Pres. Obama taking his guns. It's like stepping through the looking glass at so-called "low-information voters" in the rural South. You can read the full piece here. Some highlights:
His semiautomatic with a silencer: "Guys with the president carry this. You have to get these pre-1985 with a silencer. I bought it when Obummer came into office, because I'm thinking, 'What if he f–kin' bans guns?' "

His Alabama property: "Great people, man — just small-town America," Rock says. "If World War III breaks out, you know where I'll be." There's a nearby landing strip for his private jet, so he can easily travel to his houses in Michigan, Malibu, Nashville (where he also lives out of a double-wide) and Florida. "No security," he says of the strip. "Just drive a pickup truck onto the tarmac, leave your keys in the car, get on the plane."

He insists on $20 ticket prices: "I'm going to ride that into the sunset. The only obstacle is Ticketmaster adds an extra $5. F–kin' whores." At this point, Rock knows who his audience is: "45-50-year-old girls wearing extra-large T-shirts — they're my bread and butter. They know how to f–king party — 'I don't give a f–k, I'm making a T-shirt and putting sequins on it. I'm saving my money for beer and having a good time.' "

His son, Junior, is about to become a father: "He really is a great kid. That's my best accomplishment by far. I'm nervous for him, because I know it's a lot of work. But he's got a good girl. I'm excited for him, but he's gotta give up a lot of sh-t to have to take care of that baby. I said, 'You know how your friends are telling you I'm f–king rich? I f–king am. You're not. And if I wrote you a check, it'd be doing a disservice to you. I'm rooting for you, but I need to stand by the sidelines and watch it go down.' "

He was accepted to Jack Nicklaus' private Bear's Club (for golf): "If you told me five years ago I'd have to take my hat off and tuck my shirt in, I'd have slapped the taste out of your mouth. Now I'm like, 'Look at me, hair slicked back, shirt tucked in.' I'm like, 'What a f-g!' "

His thoughts on Tiger Wood: "Nice kid. A little bit of an Eminem and Axl Rose syndrome. Very reclusive, literal, and sometimes you feel a little bad for them. Sometimes they think the world's against them. You gotta loosen up, man! People are gonna talk sh-t. You just gotta enjoy it!"

Sarah Palin texts him: "Sarah Palin just sent me a text," Rock says. Palin had heard that Rock surprised a superfan, who has Down syndrome, at his 30th-birthday party. "She was like, 'That was cool.' I'm like, 'If you were me, you would've done the same thing.' "
There's a lot more in there, and honestly I edited out the hog-killing parts on purpose, not because I want you to like Kid Rock, but because that moment in the interview made me sick to my stomach. I don't have a problem with hunters in general, but that moment in the interview just seemed so macabre and callous. Kid Rock and his girlfriend were actually laughing about how the hog was still kicking and alive after two small-caliber bullets to the head. Ugh.
As for the rest of it… Obummer? "F-g"? Texts from Sarah Palin? I can't.
Shooting hogs, partying hard and talking trash with Kid Rock: http://t.co/WVLjfFUnsG pic.twitter.com/g21hbc1iHn

— Rolling Stone (@RollingStone) February 27, 2015
Photos courtesy of Rolling Stone, WENN.