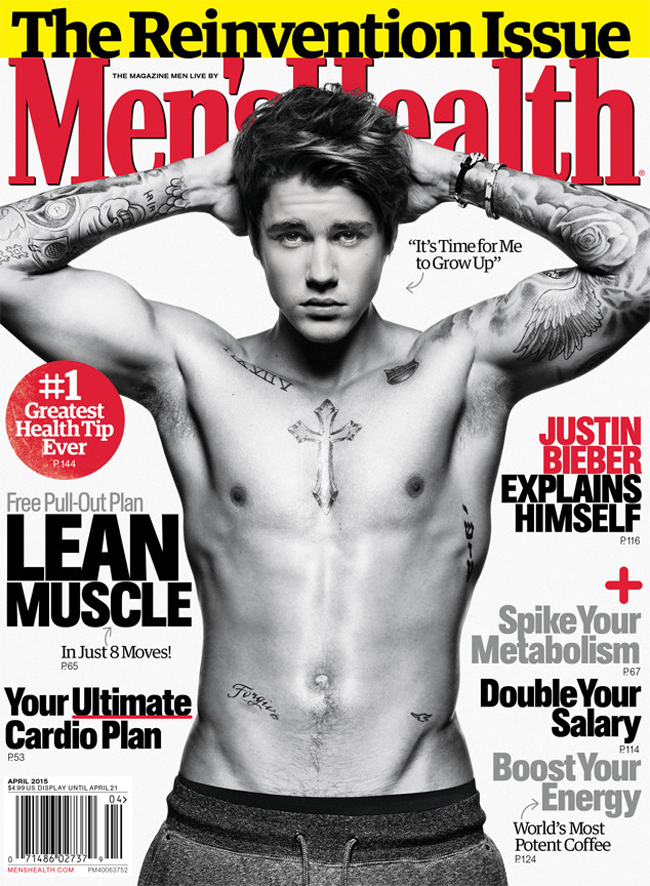 In a move that surely predicts the worst selling magazine issue ever, Justin Bieber covers the April issue of Men's Health. The magazine seems to realize the futility of this editorial snafu — they titled their feature, "Why Is Justin Bieber on the Cover of Men's Health?" What an excellent question.
This cover feature is part of Swaggy's ongoing redemption tour, although I'm not sure he's preaching to the right demographic. This is some hefty photoshop on the cover, right? As with the Calvin Klein ads, Bieber truly wants us to think he's ripped, but look at this fantastic picture of a boxing Bieber. The trainer is barely flexing to hold off the blows!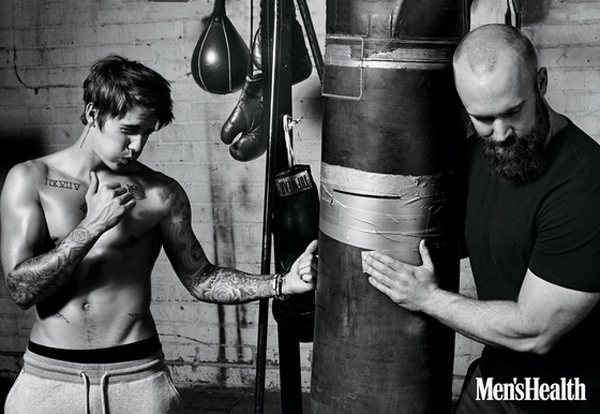 The interview is kinda, like, fussy. Bieber, like, uses the word "like" a lot. Especially when he talks about his massive muscles:
On becoming a man: "There's a part of me that I don't ever want to grow up. I want to always remain … to have that sense of purity inside of me where I don't … I don't want to lose that sense of purity."

His insanely ripped body: "Yeah, you know I'm just getting bigger, man. It's like, my shoulders don't fit in some things."

The struggle is real, yo: "[It's] almost like I grew up for the public but I didn't necessarily grow up. There were things I had to do, as far as the way I had to make relationships, and conversation, but as far as actually growing up, there were a lot of things I missed out on."

On romance: "I'm very much a relationship guy. I like to bounce ideas off the person that I love. I like having a real connection …"

An obligatory mancrush: "Ben Affleck. I think his vibe is cool."

His body art: "Like the tattoos and stuff? Maybe that's like a cover for me being a softy. I want 'LL' tatted right here [chest]. When you're Low, Lift. Because we often want to keep our heads down. But we should lift our heads."
[From Men's Health]
Most of what he says is utter crap, of course. I've wondered before if Bieber's resorted to steroids, but who knows. I do think he's taking advantage of strategic spray tanning and lots of airbrushing. He doesn't seem like the type to stay consistent in the gym and maintain the correct diet to build lean muscle. Men's Health released a behind the scenes video in an effort to prove this is 100% Swaggy's body, but I'm not buying it. These 40-pound dumbbells must be hollow. You can see more of the shoot here.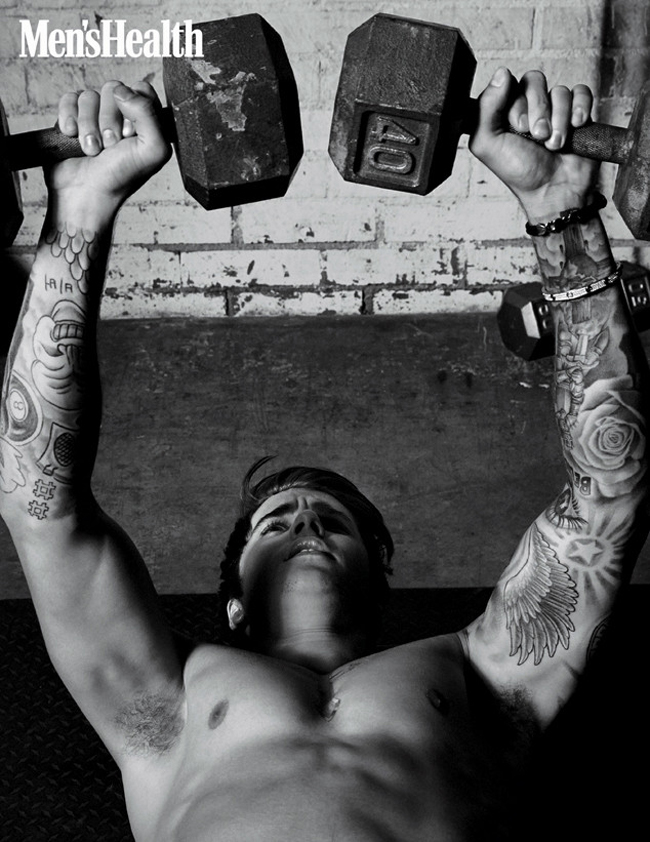 Photos courtesy of Peter Hapak/Men's Health, Fame/Flynet & WENN