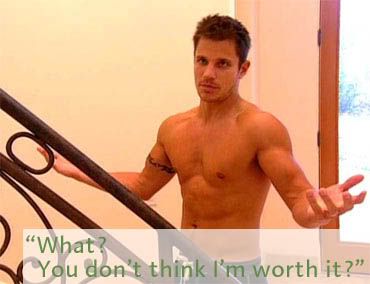 Nick Lachey just got a half million dollar deal to endorse an exercise program on TV. You know you watch that crap when you can't sleep thinking "I could change my life, but there's no way I'm going to pay $39.95." Page Six claims:
The former boybander just scored a cool $500,000 for agreeing to be in an infomercial. According to Us Weekly, Lachey "pumps it up" with Brooke Burke in new ads for celebrity trainer Gunnar Peterson's "Core Secret" DVDs. And because he signed the deal after his separation from Simpson, he doesn't have to give her a dime.
Nick is really buff, but 1/2 million for being a spokesperson? This news seems old, considering that A Socialite's Life had screencaps of the infomercial nearly a month ago.