We heard earlier this week that the family of the late Marvin Gaye had prevailed in court against defendants Pharrell Williams and Robin Thicke, the co-writers of 2013's massive hit "Blurred Lines." Gaye's family claimed that the song violated copyright for their father's 1977 song, "Got to Give It Up." A jury agreed and awarded them $7.3 million in damages. Another claim in that same suit, that Thicke's song "Love After War" violated the copyright for Gaye's "After The Dance" was also found for the plaintiff (note that we incorrectly reported this yesterday) however the Gayes were only awarded $9,375 for that.
The thing is, the jury was merely comparing song snippets and sheet music for "Got to Give it Up" to "Blurred Lines." That was due to the fact that only the sheet music for the original song was copyrighted. They weren't allowed to actually hear the entire Marvin Gaye song to compare it to "Blurred Lines." The NY Times has a very good editorial on how this ruling both sets a bad precedent in copyright law, and reveals the flaws in the current law. Modern musicians are unable, using current copyright law, to protect key aspects of their original songs. That leaves the door open for mimics to rip off a musician's work and unique sound. Copywritten sheet music, typically used for older songs, is given precedence while the actual sound and techniques used are not as important, despite the fact they're more integral to the music.
Anyway Entertainment Tonight has a new interview with Gaye's family in light of this ruling. They're thrilled of course, but they're probably not going to see that money for a long time, if ever. The lawyer for Williams and Thicke has said that "We are going to exercise every post-trial remedy we have to make sure this verdict does not stand" and that "We owe it to songwriters around the world to make sure this verdict doesn't stand." I have to say, now that I've had time to learn more about the verdict and the issues involved, I agree.
ET asked the Gayes about the similarity between Pharrell's "Happy" and their dad's 1966 hit "Ain't That Peculiar." Gaye's family said the songs do sound alike but that they're "not in that space right now" to sue yet again.
While the family was just awarded $7.4 million — and is currently seeking an injunction against the song — that doesn't mean their legal battle is over. According to at least one user on YouTube, Williams' 2014 mega-hit "Happy" bears a similar sound to Gaye's "Ain't That Peculiar."

"I'm not going to lie. I do think they sound alike," Nona Gaye, Marvin's 40-year-old daughter, said. However, she added that she wasn't thinking about the legal implications right now. "We're not in that space…

"I heard the mash-ups — but I didn't really need to hear them," said Janis Gaye. [Marvin's widow] "I know 'Ain't That Peculiar' and I've heard 'Happy.'"

"Ain't that peculiar," quipped Marvin Gaye III.

Still, the family said they weren't thinking about further legal action right now. "We're not in that space. We're just in the moment today and we're satisfied," Janis added.

So how does the family respond to critics who say that, even though "Blurred Line" and "Got to Give It Up" have a similar feel, that doesn't mean the elements were stolen knowingly? Where is the line between theft and simply finding inspiration in music that came before your own?

"I don't think there's anything wrong with being inspired," Nona explained. "I've been inspired when I made music before. Inspiration's fine, but the line is when you decide to take the complete and utter essence out of the song. When you take all the meat, and leave the bones."

Add to it the fact that Williams reportedly wrote "Blurred Lines" in under an hour, the Gayes feel like Williams cheated his way to the finished product.

"When I first heard that he had said he did it in an hour, my first thought was, 'That's because it was already done in 1977.'" Janis said. " So why would it take you any longer than 20 minutes… to redo something that had already been done 40 years earlier?"
The editorial in the NY Times I mentioned earlier also points out that Prince's "Kiss" sounds very similar to "Got to Give It Up" too. Where does it end?
In the ET interview, they said that the turning point in the trial came when they played back an interview with Pharrell (for Despicable Me 2/Happy) in which he admitted that Marvin Gaye was a huge inspiration for him.
Let's compare "Happy" and "Ain't That Peculiar," but I'd rather put both videos here instead of posting a mashup.
Here's "Ain't That Peculiar":

"Happy," which you probably don't even need to hear.

Yes the two songs are similar but Pharrell's is different enough to make his own, and he's admitted that Marvin Gaye was a huge influence. I don't think he ripped Gaye off at all, I think he took a style of music he loved and made it his own with creativity and flair, acknowledging the influence of a great artist. Pharrell is similarly an incredible artist who has worked hard to reach the astronomical success he's achieved. Now Robin Thicke, that's debatable.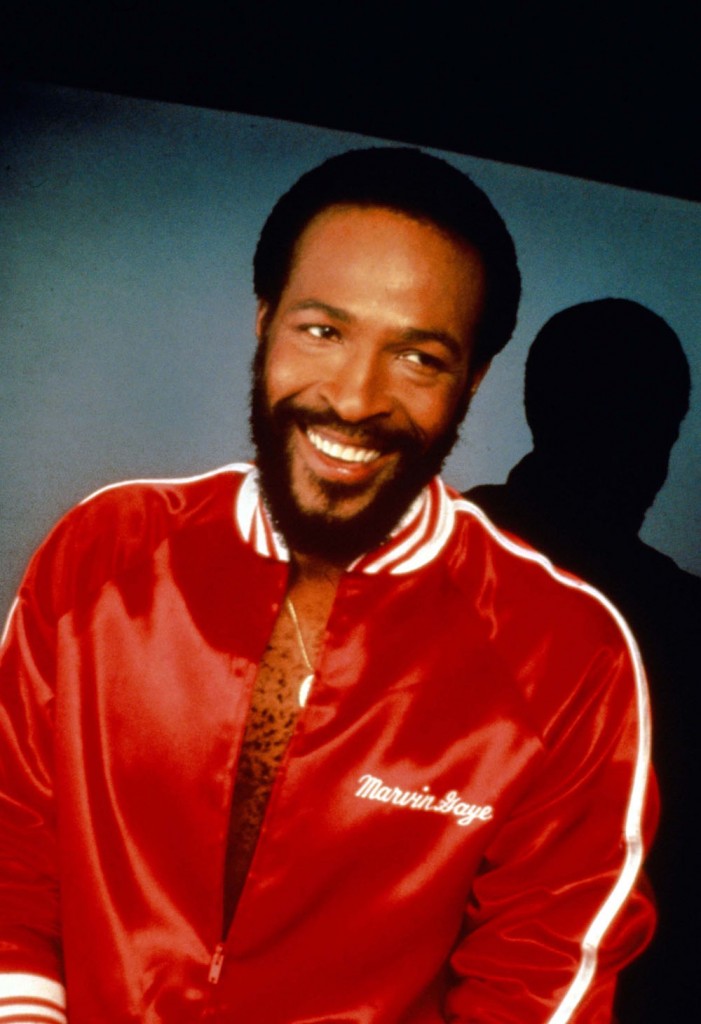 Photo credit: WENN.com and Getty images