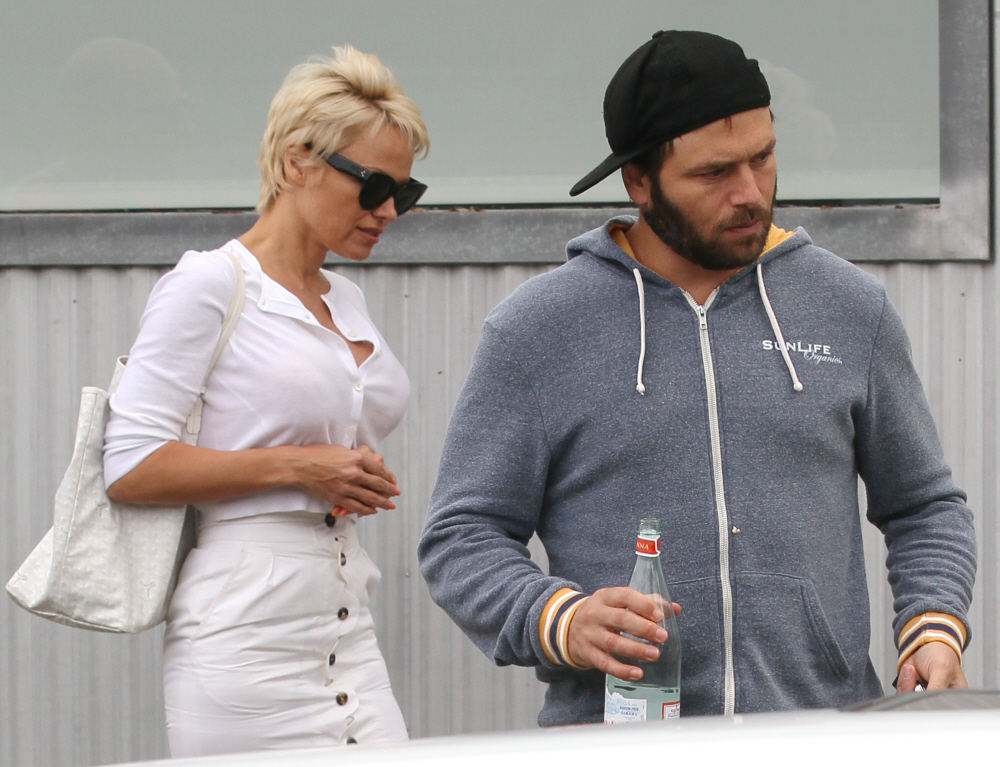 As we discussed yesterday, Pamela Anderson is pretty much at war with her lunatic estranged husband, Rick Salomon. Rick has been harassing her, sending her crazy and accusatory messages, calling her a "serial baby killer" and more. Pam also claimed Rick tried to smother her during sex one time. She successfully got a restraining order taken out against him, and now it seems like Pam is going after his money.
Pam Anderson says Rick Salomon may not be screwing her anymore, but he's definitely screwing the tax man … because he's dodging a tax bill on $40 million in poker winnings in 2014 alone. TMZ broke the story … Rick has filed for an annulment from Pam in Nevada. She wants a California divorce, not an annulment, because it could entitle her to half his poker earnings.

Pam claims in new legal docs — obtained by TMZ — Rick won $40 MIL from ONE GUY — Andy Beal, a billionaire real estate mogul who plays high stakes poker. In one weekend, Beal gambled at the Bellagio in Vegas and was up $13 mil at one point and down more than $16 mil later. Pam says in the docs, Rick is lying in his annulment papers by saying he's a resident of Nevada, where there is no state income tax. Pam says they have lived in Malibu, California, where the state tax rate is a whopping 13%.

Pam says Rick actually used some of his earnings last year to buy a $4 million Nevada pad by paying cash, and then had his assistant use Rick's credit card in Nevada to make small purchases, making it look like Rick was living there. Rick's people say Pam is on a mission to ruin Rick because she's not happy about the proposed divorce settlement.
I don't really feel like taking a side here, mostly because it sounds like both of them are focused on the money and it feels like the financial aspect of this divorce is what we've been building up to. Do I think that Pam "deserves" half of Rick's assets just because they were married to each other for a few months? Nope. But I do think that – legally – Rick is likely a resident of California, and this "I live in Nevada, dude" excuse won't really hold up.
Meanwhile, it's pretty well known (if you read the tabloids) that Pam isn't in the best financial situation. Her Malibu property was a money pit and she spent millions trying (unsuccessfully) to renovate it. A few years ago, she was hit with a massive tax lien too. Plus, I doubt she has that much money coming in. So is it any surprise that one of her friends "gifted" her with an $800,000 ring?
Pam Anderson deserves the $800,000 ring "The Simpsons" co-creator Sam Simon gave her before he died of cancer, friends of the "Baywatch" star say. The buxom blonde was in the front row at Simon's funeral in Los Angeles on Saturday and gave a eulogy before such mourners as Drew Carey, Conan O'Brien and Bob Barker.

"She called Sam the only real gentleman in her life," PETA president Ingrid Newkirk told me. Both Simon and Anderson were honorary directors of the organization.

"They bonded over their concern about animal abuse," Newkirk said of the platonic friendship. "She cheered him up, arranged a personal trainer to help him be less dependent on his cane, and he supported her as she struggled with divorce. They were solid pals, and Sam was a generous man who knew his own mind right up to the end."

Simon's girlfriend Kate Porter also denied a TMZ story that Simon's family was upset that Anderson had taken advantage of a dying man.

"It's not a true story," Porter tweeted. "Whoever did this should be ashamed of themselves. Very upsetting to all of us!"
Yes, there was a story that Sam Simon's family members were upset with his gift/bequest, but I guess not. I guess Sam and Pam really were friends and he was just trying to help his friend out. That's nice, isn't it?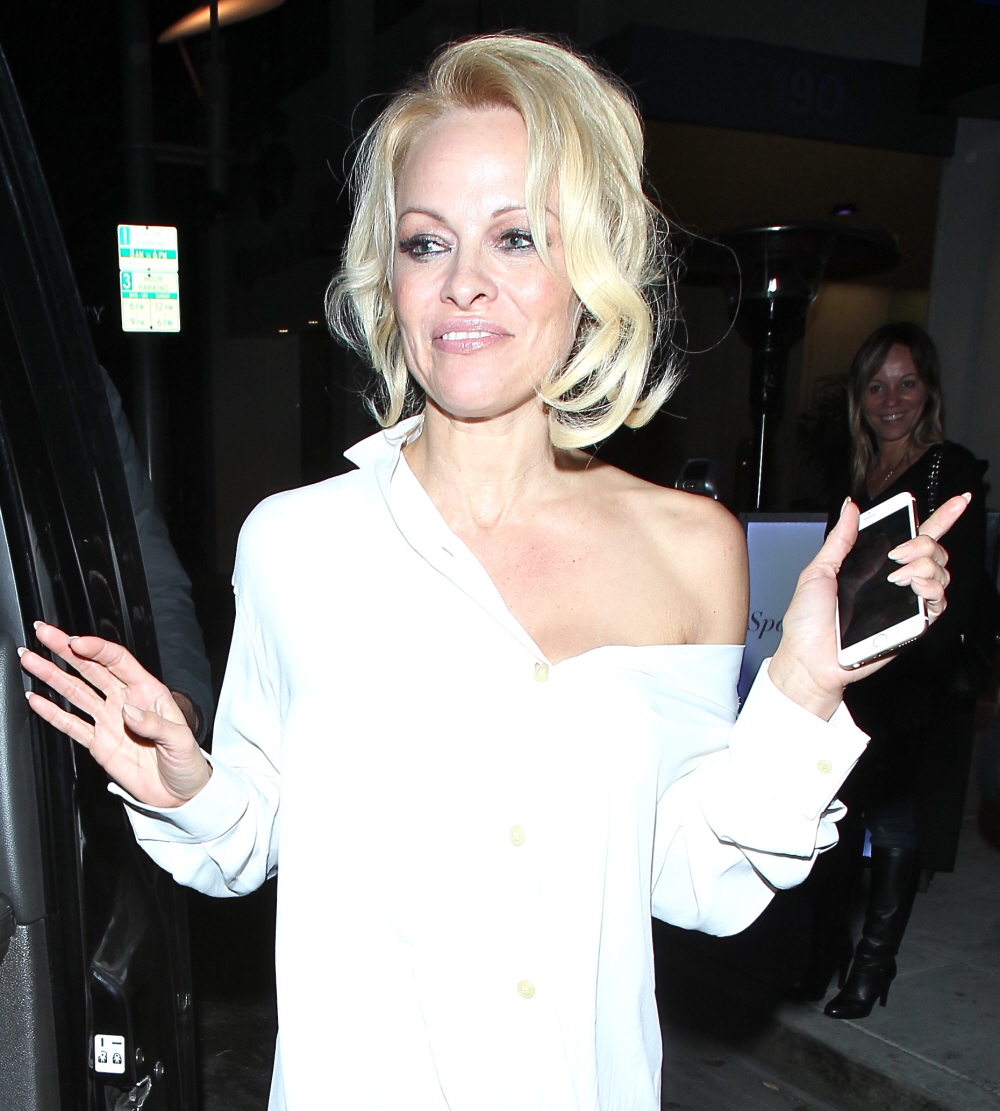 Photos courtesy of Fame/Flynet and WENN.