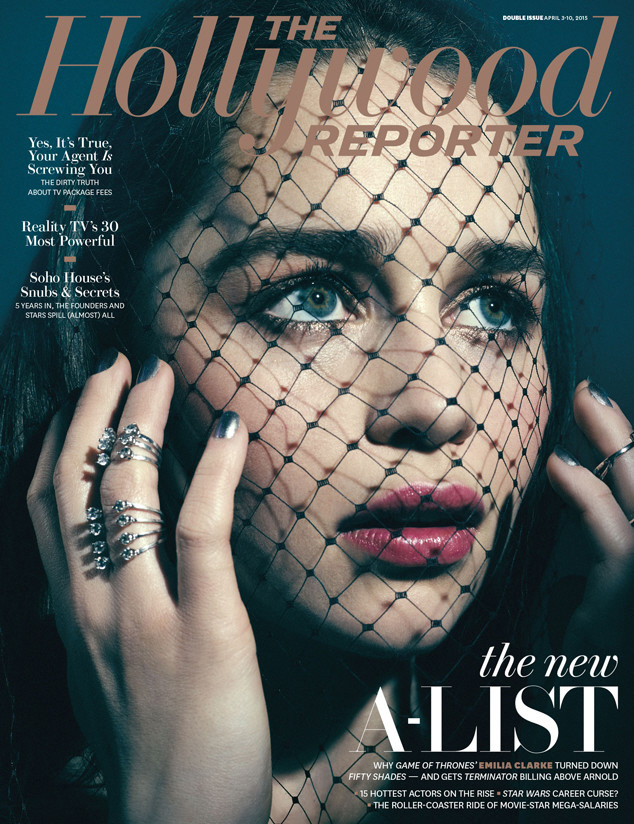 In preparation for Game of Thrones taking over my life starting in April, I've been watching DVDs of the previous GoT seasons. I've even been listening to the DVD commentary. On one episode, I listened to Emilia cheerfully gush about every single actress on the show. There is no question in my mind that Emilia loves playing the Mother of Dragons/Dany and that she loves being part of such a dynamic show featuring so many strong performances from so many actresses. She came across really well, and she seems very genuine in her girl-power-rah-rah-ness.
Anyway, Emilia covers the new issue of The Hollywood Reporter. It's a lovely shoot, and I always enjoy seeing her with her naturally dark hair (she wears a wig on GoT). Emilia talks to THR about her role as Sarah Connor in Terminator: Genisys, why she didn't want to do Fifty Shades of Grey (whoa, she would have been perfect for that) and her stardom as the Mother of Dragons. Oh, and here's something I didn't know: she's currently dating Jai Courtney. He's cute! He was in Unbroken. He seems a bit bro-y, but I bet they work well together.
Emilia on the success of GoT: "Never in a million years did I think Game of Thrones was going to take off like it did. It's taken me five years to catch up with it. I'm still not sure I'm there."

She was offered the lead in Fifty Shades of Grey: "No regrets… I'd done nudity before and was concerned with being labeled for doing it again."

How no one recognizes her without her GoT-wig: "I get to play other roles without the comparison of being Daenerys, which I think is so lucky."

She hasn't been doing much nudity on GoT these days: "There are other women who remove items of clothing on our show, so they've kind of got my nipple count down now."
So, Emilia says that she was outright offered the role of Anastasia Steele? I can see why they wanted her – she really would have been great for the part. She's appropriately young-looking, she's beautiful, and she's got a quiet sexiness. I wonder if this means that Dakota Johnson was Sam Taylor Johnson's second choice?
Oh, and there are some interesting details about the money for GoT too, if you're interested (I'm always interested in hearing about the money). Some sources tell THR that Emilia will be getting about $7 million a season by the seventh season, but Emilia denies that number in the interview, saying it's "not even close." But she doesn't deny the other rumor, which is that she, Peter Dinklage, Kit Harington, Lena Headey and Nikolaj Coster-Waldau banded together to collectively renegotiate their contracts and a pay raise. That's pretty cool, if true (I bet it's true).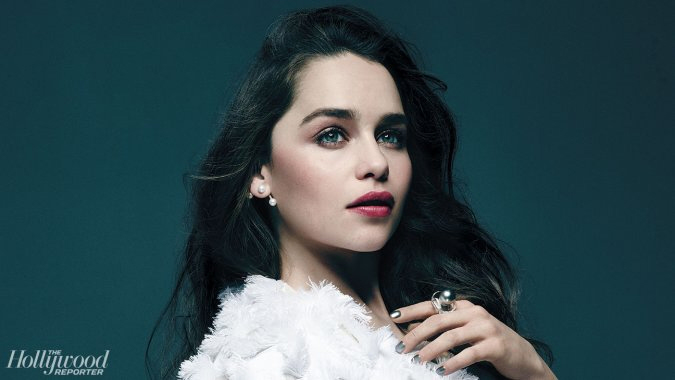 Photos courtesy of The Hollywood Reporter.