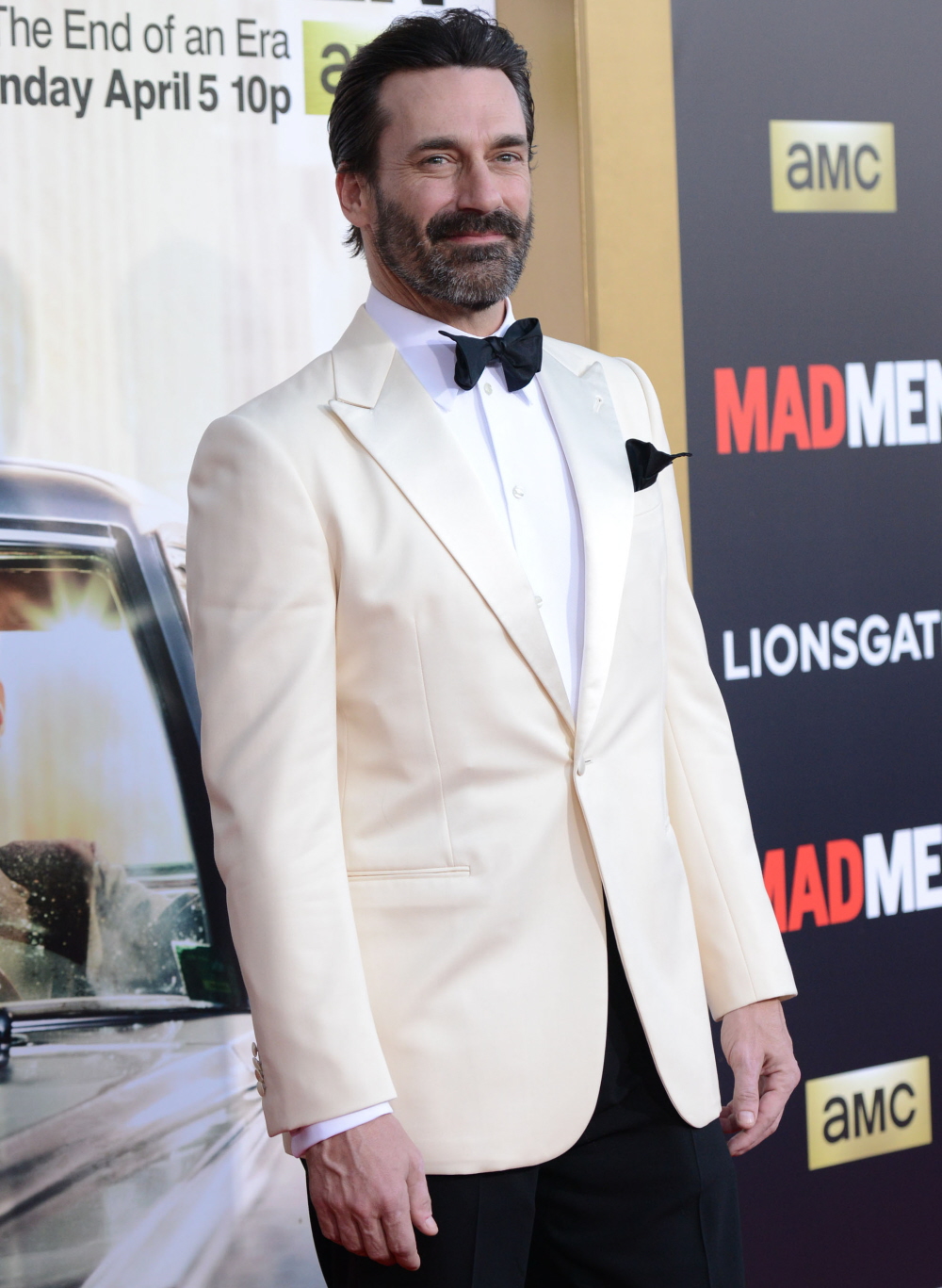 Here are some photos of Jon Hamm at last night's LA premiere event/party for Mad Men's final season. Hamm did the white tuxedo jacket thing and it looks like he went solo to the event, although he posed with many of his costars and Mad Men creator Matthew Weiner. Hamm looks good, doesn't he? As we heard yesterday, Jon Hamm recently completed a 30-day rehab program. I think not drinking agrees with him.
But I have to note that at last night's LA event and at the NYC event earlier this week, Jon's partner Jennifer Westfeldt was nowhere to be seen. Is she simply "over" going to Hamm's events? Or is something else happening? People Magazine had an "inside Jon Hamm's recovery" story last night, which had some interesting details about his relationship with Westfeldt.
Over the past eight years, Jon Hamm has gained legions of fans for his portrayal of anti-hero Don Draper on Mad Men. Last month, the star sought treatment for alcohol addiction, and a source tells PEOPLE Hamm, 44, has more in common with his character than people may think. According to a source, the actor – whose mother died when he was 10 years old – is a complicated person. "He lost his mother at a really young age and grew up without that type of figure in his life," says the source.

In 2010, he opened up about his struggle with depression after the death of his father at the age of 20 (his parents divorced when he was just a toddler). "I was … unmoored by that," he told The Observer about his father's death. Left "in bad shape," Hamm turned to therapy and antidepressants to beat the illness.

The constant presence of longtime girlfriend Jennifer Westfeldt, 45, has also helped "keep him in line," says the source.

"He needs [Jennifer]," says the source of the stability that the actress brings. "He has to have that in his life."

Known in Hollywood as the "kind of guy who always remembers your name and makes small talk with the assistants," according to the source, Hamm opened up to PEOPLE last year about dealing with fame.

"It's nice that people tell you 'I like what you do,' " he said of his fans, many of whom offer him drinks because of his character on the show. "All that part of it is adorable, but at a certain point, I can't drink that much scotch! You have to manage your life in the only way you know how in a respectful and proper way."
I've heard people theorize about his "need" for Westfeldt before, like it's a psychological thing because he lost his mother at such a young age, and he loves having the stability of long-term girlfriend who takes care of him. But don't a lot of 12-step programs believe that it's very difficult to stay in recovery AND stay in the same relationship you were in while you were abusing substances? These are just idle questions, I have no idea what's going on with Jon and Jennifer. I would suspect that she's fully supportive of his journey and she will do anything to keep him healthy.
Oh, and Hamm made a statement on the red carpet last night. He told one outlet: "Life throws a lot at you sometimes, and you have to deal with it as much as you can. I've been very fortunate that throughout the most recent 24-hour period, I've had a lot of family and friends support me. Obviously there can be a lot of discussion about how much of this is related to that, and honestly I don't have much to say about that either. I've said in varying ways that acting can be a difficult endeavor, certainly not as difficult as the recent example I used of being a baby heart surgeon. But it does present its own challenges, and so does life."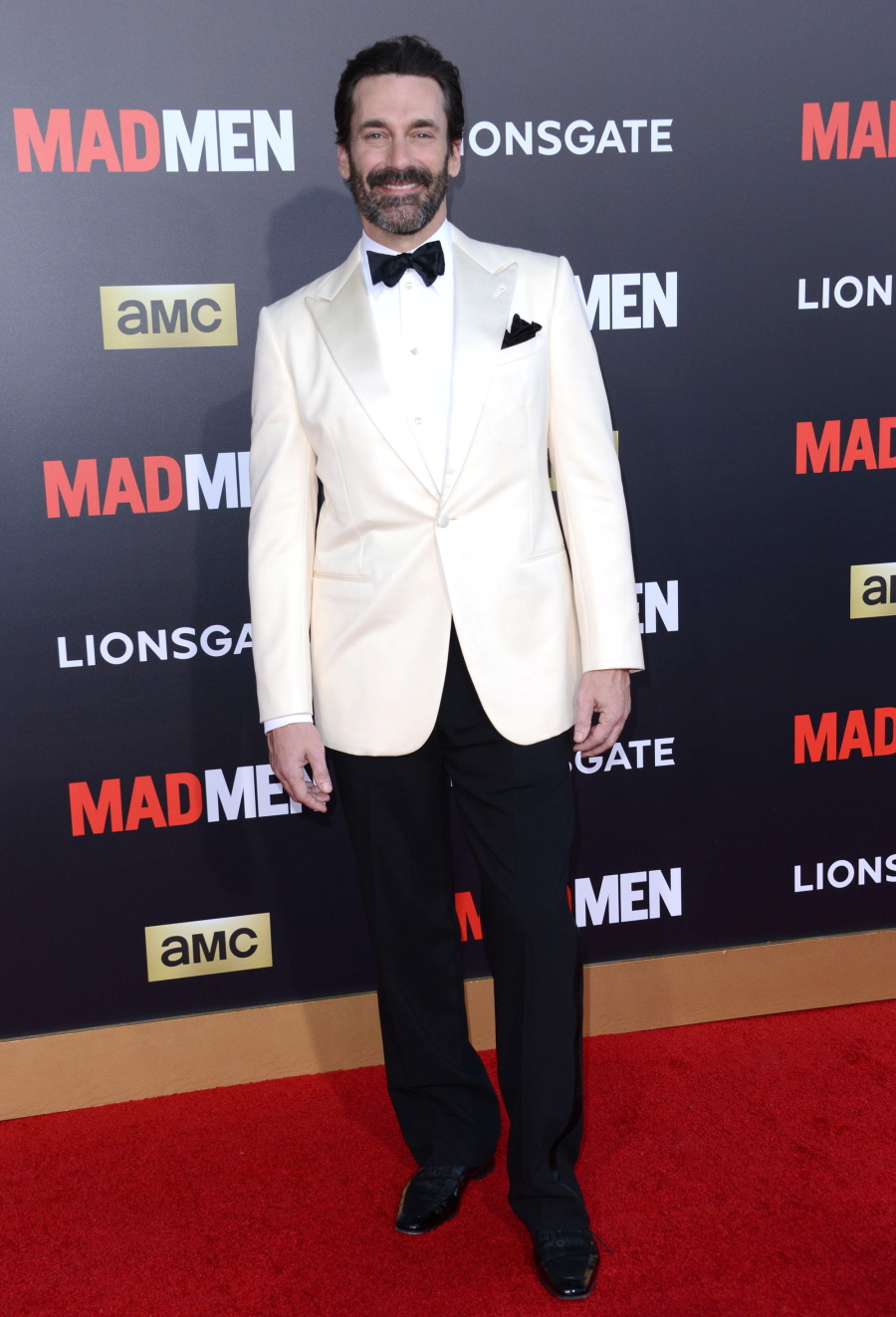 Photos courtesy of Fame/Flynet.