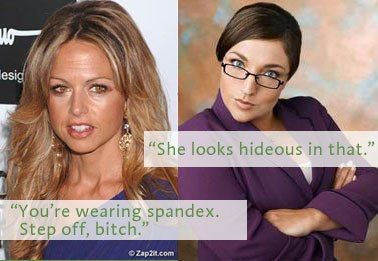 The Independent reports on the cutthroat world of dressing for the Oscars, where bribes and last-minute gown changes have stylists scrambling to get clients ready in time. Not only do designers create custom-made gowns hoping to dress a fickle actress, Oscar attendees can even get paid to wear specific brands:
At the 2000 Academy Awards Hilary Swank caused an uproar at Christian Dior by swapping gowns the night before the Oscars. Instead of wearing Dior, as she had told the French couture house she would, she opted for one of Randolph Duke's gowns following a back-room deal between Duke and one of her stylists, that involved a gift to the stylist of a $1,200 Spanish wood bed. Less than 24 hours before the 2005 Golden Globes Charlize Theron and Hilary Swank made a last-minute switch. Both abandoned the Harry Winston jewels they had already picked out when Chopard offered each actress a six-figure cheque to wear their jewellery.
Renee Zellweger avoids the drama by having an exclusive contract with designer Carolina Herrera. No wonder she always looks the same.
Stylist to Catherine Zeta Jones, Fati Parsia, reveals her bitterness over a lifetime of nicknames by deriding overweight nannies:
"Actresses have deep insecurities and it really shows when it comes down to choosing which dress," says Parsia. "It's difficult for a stylist because actresses will listen to anyone's opinion. You get the agent, the publicist, the maid, the maid's daughter, the dog, the 300lb nanny, and they've all got an opinion and if you're the 300lb nanny and all you've ever worn is Lycra leggings and a big T-shirt… Well, it's very infuriating. They hire you as a professional, you work for months getting the perfect dress, and all of a sudden, the nanny's opinion is more important."
Parsia copes with last-minute stress and nanny competition by drinking excessively and not eating:
As the final countdown approaches, Parsia says her tactic is to introduce alcohol to the scene. "At the last minute, you've got the family there, the publicist, the hair and make-up people, the manicurist, myself… the nanny. It gets pretty nerve-wracking. Out on the roads it's a nightmare too. Just about every limo from all over America is shipped into LA and they are all trying to descend on the Kodak Theatre at the same time. It's frantic. You need a glass of wine."
By the time Parsia has waved off her clients, Parsia says she, herself, usually looks emaciated. "I don't eat for days in the run up to the Oscars. It's too stressful," she says.
It's nice to know that the Oscar attendees are being dressed by people they can relate to – neurotic, alcoholic anorexics.
(The stylist pictured above is Rachel Zoe, stylist to Lindsay Lohan and Nicole Richie. The Nanny is ABC's Supernanny, Joe Frost.)