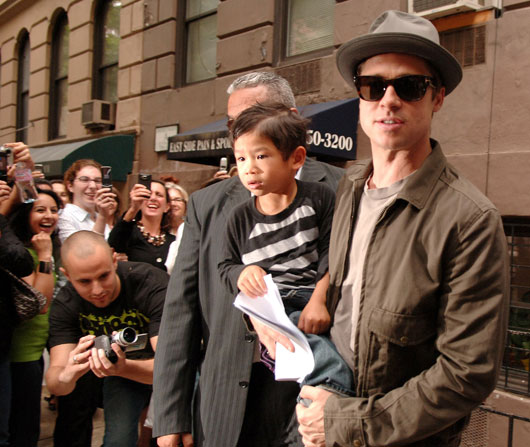 You may have noticed our great new blogger, Rose. She is in her early 20s and lives in Nova Scotia, Canada. Here is her introduction in her own words:
I am an actor/model who loves everything and anything to do with the entertainment industry. I'm a graduate of a university acting program. I am obsessed with traveling and my cat, Buddha.
If you've e-mailed me about the writing position hang on and I will get back to you. It's hard to keep up with everything and we'll back up to speed soon.
We're doing the links early because it was madness yesterday and I missed them. Sorry about that.
- Everyone and their brother is taking pictures of Brad Pitt taking Pax to the doctor in New York [DListed]
- Kevin Spacey quits acting to manage a London theater. [Agent Bedhead]
- Tara Reid still wearing Uggs [Hollywood Rag]
- Ashley Olsen and her meal replacement beverage [yeeeah]
- Victoria Beckham's reality show reduced from 6 hours to just a one hour special [PopSugar]
- Victoria Beckham had to take off her shoes at the airport [CelebWarship]
- Sienna Miller says Keira Knightley eats like a pig [ The Skinny Website]
- Britney's real hair has to be better than her wig [I'm Not Obsessed]
- Meg Ryan and her daughter Daisy [Celebrity Baby Scoop]
- Who's Hotter – Hilary or Haylie Duff? [The Grumpiest]
- Heidi Montag has the worst fake boobs [Evil Beet]
- Jessica Alba said that thing about wanting sex without commitment in an interview in March, 2005 [The Blemish]
- Lindsay outside the gym and a letter to Paris in jail [Drunken Stepfather]
- Jennifer Garner has a hickey! [ICYDK]
- Far-fetched blind items [Crazy Days and Nights]
- Aishwayra Rai is perfection. It doesn't look like she's even had work done. [The Bastardly]
- Paris Hilton carted bak to the Century Regional Detention Center [Gabsmash]
- Matthew McConaughey and a really beat looking Woody Harrelson get high, but it's probably for that movie they're making [Seriously? OMG! WTF?]
- Oprah is the most powerful celebrity according to Forbes [Bossip]
- Photos of Jonathan Rhys Meyers from The Tudors' second season [ popbytes]