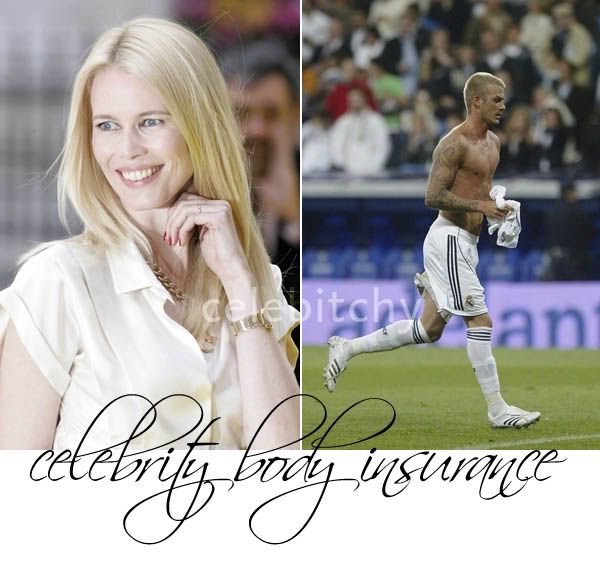 I remember Rachel Hunter had a $1 million insurance policy taken out on her legs and it being a big deal back in the 90s. Then last year Mariah Carey was the spokesperson for Gillette's "Legs of a Goddess" campaign and her legs were insured for a whopping $1 billion. (I wonder how much a razor nick would be worth – five figures at least.) That massive insurance policy was probably just a stunt by Gillette to get publicity.
There are a lot of celebrity body parts insured for insane amounts of cash. In some cases sponsors need protection if celebrities can no longer represent their brands but the overblown amounts of money they're insured for is surely more for publicity. In other cases celebrities rely on a specific part for their livelihood. This week's Star Magazine mentions the big ones. (Bolded information below is from Star print edition, June 18, 2007, direct quotes are indented.)

Heidi Klum: $2.2 million legs
The supermodel… 34, was shooting an ad for a Braun shaver in 2004 when the company took out the whopping policy on her gams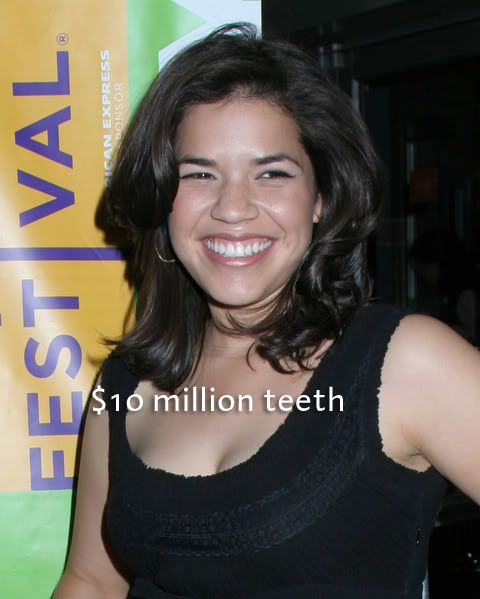 America Ferrera, $10 million teeth
Ferrerra was representing Aquafresh White Trays when they decided to take out a $10 million policy on her gorgeous pearly whites – and put out a press release about it. It wasn't all for publicity, though, sales of the product helped raise money for a charity called "Smiles for Success" that gives dental care to women leaving welfare to return to work.

Keith Richards, $1.6 million finger
The 63 year-old guitarist for the Rolling Stones and poster boy for longevity through hard living has the middle finger of his left hand insured. The Star article said he "recouped after an injury." (I tried to figure out how much money he got and what happened, but it wasn't on wikipedia or easy to google. Let me know if you've heard about this.)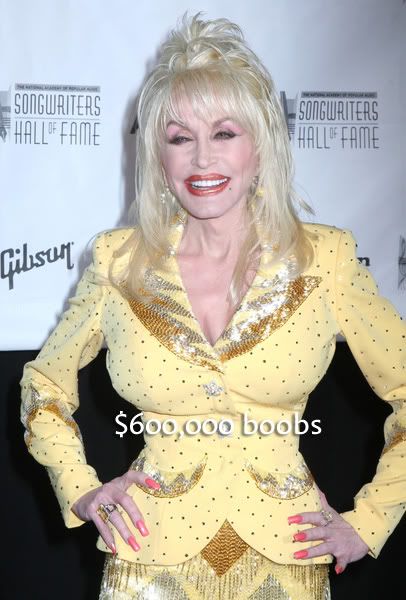 Dolly Parton, $600,000 boobs

The country music star, 61, insured her overflowing ta-tas at $300,000 a piece – and why not, since they're just as indispensable to her persona as her gorgeous voice and her ginormous platinum hair!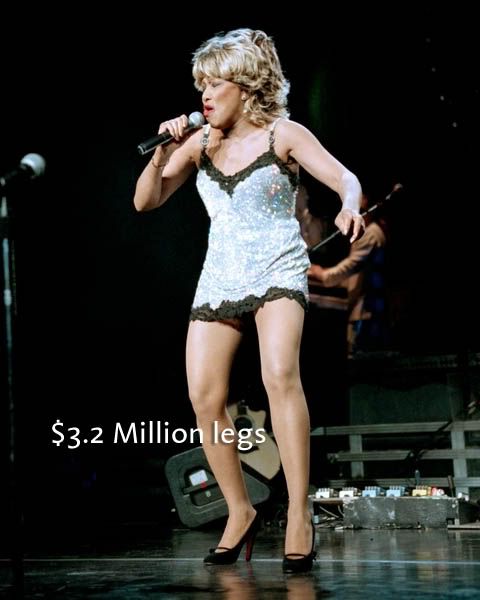 Tina Turner, $3.2 Million legs
She also has her boobs insured for $790,000.

Bruce Springsteen, $6 million voice
The Boss is not alone in insuring his voice and it's a legitimate insurance claim for singers. Sultry German actress/singer Marlene Dietrich, who shot to fame in the 1930s, insured her voice for $1 million.

David Beckham, $70 million legs and feet
This policy makes a lot of sense for soccer/British football player Beckham, 32, although surely his family would have his wife's tabloid fame to fall back on if he ever suffers from an extended injury.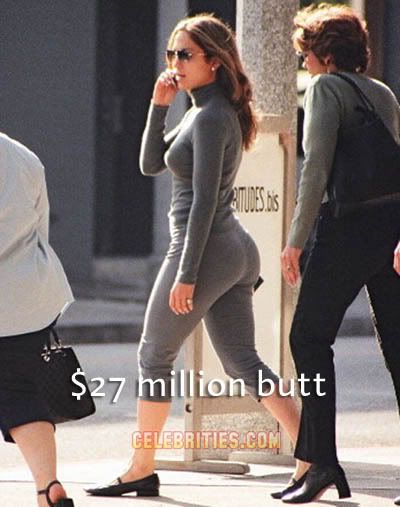 J.Lo, $27 million butt
There was an earlier rumor that J.Lo was insured for $1 billion, with the amounts spread around to her boobs, legs, butt, etc., but that was false. This claim seems more believable, but still outrageous. How is her butt going to be harmed in an accident? I can understand a major accident, but if she hurts her legs or something, can she also claim her ass is affected? I would be sure to ask the insurance agent a lot of questions about this policy.
---
While celebrities have a lot of insurance on their bodies, sports stars don't. In a June, 2003 article
found at BankRate.com
, they say that there are no sports stars they could find that were insured, and considering the millions in endorsements and how much they rely on their various parts that's quite surprising.
Odd insurance policies noted by the BankRate article include:
British food critic Egon Ronay insured his taste buds for $400,000; comic actor Ken Dodd insured his teeth for £4 million; and a cricket player named Merv Hughes took out a £200,000 policy on his moustache.
Legs are the most commonly insured, they note, with Mary Hart, Jaime Lee Curtis and porn star Porsche Lynn insuring theirs for $1 million.
They also give the funny anecdote of a Thai transvestite performer called Poh who believed it when someone claimed that her breast implants could explode if she was on a plane, so she insured them for $500,000.
All pictures from Photorazzi except the one of Heidi Klum which is from Bastardlyl, the one of J.Lo from celebrities.com, and Keith Richards is from the blog Famoses Darreras Paraules.