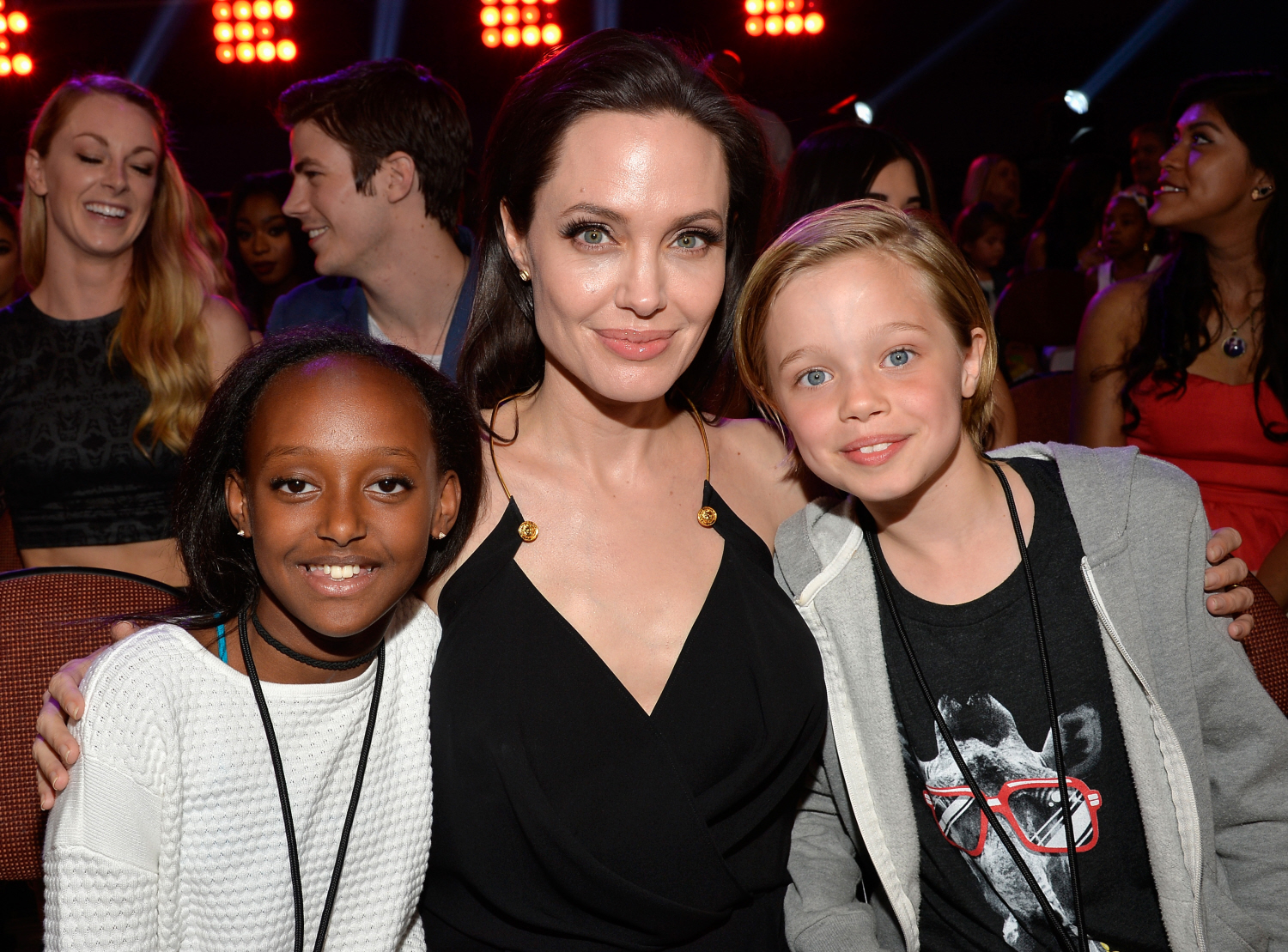 OMG. Angelina Jolie attended Saturday night's Kids' Choice Awards with two dates: her daughters Zahara and Shiloh Jolie-Pitt. And OMG. Look at their faces!! Angelina is officially the coolest mom in the world in this very moment. Shiloh and Zahara are just gorgeous, aren't they? Shiloh looks so much like Brad and Zahara is just so stunning. There are tons of photos of Angelina and the kids, and although they didn't walk the carpet, she let her girls hang out with all of the cool celebrities inside. You can see more photos here (OMG, the girls met NICK JONAS). This was Angelina first public appearance since she announced the removal of her ovaries and fallopian tubes last week.
Jolie was there for a reason – she was up for two awards, Favorite Villain and Favorite Actress. She won Favorite Villain for Maleficent (and lost actress to Emma Stone). You can see the winners list here. When she picked up the Villain award, Jolie talked about being different and how it's great to not fit in with the crowd:
Angelina Jolie has given an insight into her misfit youth with an empowering speech in her first public appearance since revealing she had ovaries removed. The actress has been hailed as an icon for candidly addressing her health woes. And on Saturday night, she opened up about feeling like an outcast to the young audience, and her daughter Shiloh and Zahara, at the Kids' Choice Awards.

'When I was a kid I was told – like Maleficent – that I was different,' she told the audience as she accepted the Best Villain award for her role in Maleficent. 'But then I realized something: different is good. So maybe you don't fit in. Be yourself. And when someone tells you that you are different just smile and hold your head up, and be proud. And as your villain,' the actress added with a wink, 'I would say, "Cause a little trouble. It is good for you!"'
I'm sure some parents are going to be like "NOOOoo, don't tell my kids to cause trouble!" But I think her message is fine – it's fine to be different, it's cool to stand out and be different, and sometimes people will say you're "causing trouble" when you're just being you.
Photos courtesy of Getty, Nickelodeon.