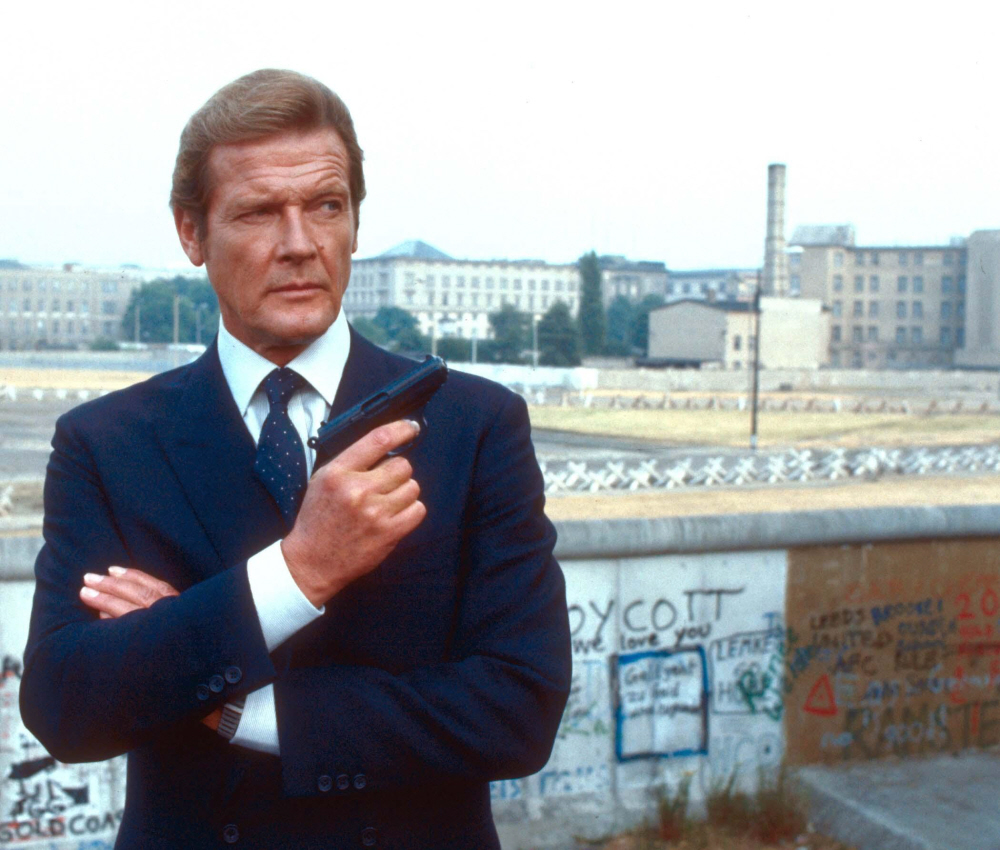 It amazes me that people still deny Idris Elba's intergalactic thunder. Idris Elba is made of thunder. But Sir Roger Moore just can't see it. Specifically, Moore can't see Idris Elba playing James Bond. Moore played 007 from 1973 through 1985, when he was replaced by Timothy Dalton, then Dalton was replaced by Pierce Brosnan, than Pierce was replaced by Daniel Craig. Many believe Idris will be asked to take over the franchise once Craig's contract is up, although I do have my doubts. Daniel is probably going to do one more Bond film beyond Spectre (which will be out later this year), which means he'll be Bond for probably another three years (at least). Can Idris wait that long? I don't even know. But the point of this story is that Roger Moore doesn't believe Idris should even be asked to play Bond because Idris isn't "English-English". What?
Might Sir Roger Moore be even more politically incorrect than his old alter ego James Bond? Interviewed in the new Paris Match magazine he is asked about the widely mooted idea of black British actor Idris Elba becoming the next 007.

'A few years ago, I said that [black actor] Cuba Gooding Jnr would make an excellent Bond, but it was a joke!' replies Sir Roger, 87, who starred in seven Bond movies between 1973 and 1985.

'Although James may have been played by a Scot, a Welshman and an Irishman, I think he should be "English-English",' he continues. 'Nevertheless, it's an interesting idea, but unrealistic.'

The Scot who played Bond was Sean Connery, the Welshman was Timothy Dalton and the Irishman was Pierce Brosnan. But just what is it that prevents Elba from being 'English-English', Roger? He was born in Hackney, raised in East Ham, schooled in Canning Town, started work in Dagenham and he supports Arsenal. How much more of an Englishman could he be? Even the fictional hero of Ian Fleming's novels was of mixed parentage. He was born in Zurich in the early Twenties to Andrew Bond of Glencoe and Monique Delacroix, from the Canton de Vaud in Switzerland.
See, all this time, I thought it was only in America, where racists try to de-legitimize a person's citizenship because of their skin color. Turns out, it happens in Britain too. We all know what Roger Moore means when he says "English-English," right? That's some old-dude code for "Idris Elba is black, thus he's not as English as all the white people and he shouldn't even be considered for James Bond." Who really cares, old dudes? I mean, Roger Moore is trying to make the same stupid point that Rush Limbaugh attempted!! STAHP.
For what it's worth, Roger Moore's Twitter account (does he really operate it?) tweeted this:
An interview I gave to Paris Match implies I said something racist about Idris Elba. That is simply untrue. #Lost in translation.

— Sir Roger Moore (@sirrogermoore) March 28, 2015
Well… I don't know, dude. It sounds like Moore actually did question Idris Elba's credentials as an Englishman, but no, he didn't say anything specifically about race. It was "implied".
Here are some lovely photos of Idris Elba's authentic English thunder filming Luther on Friday.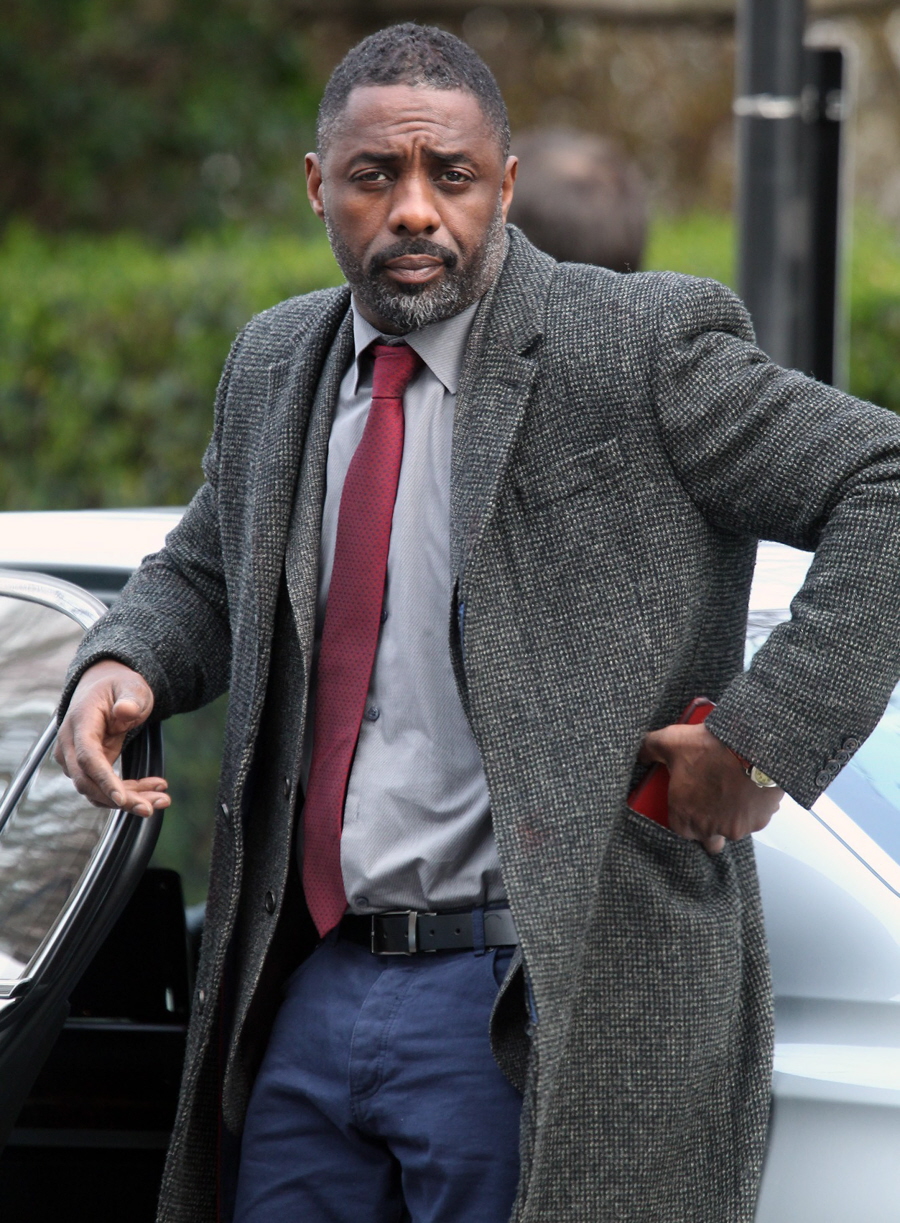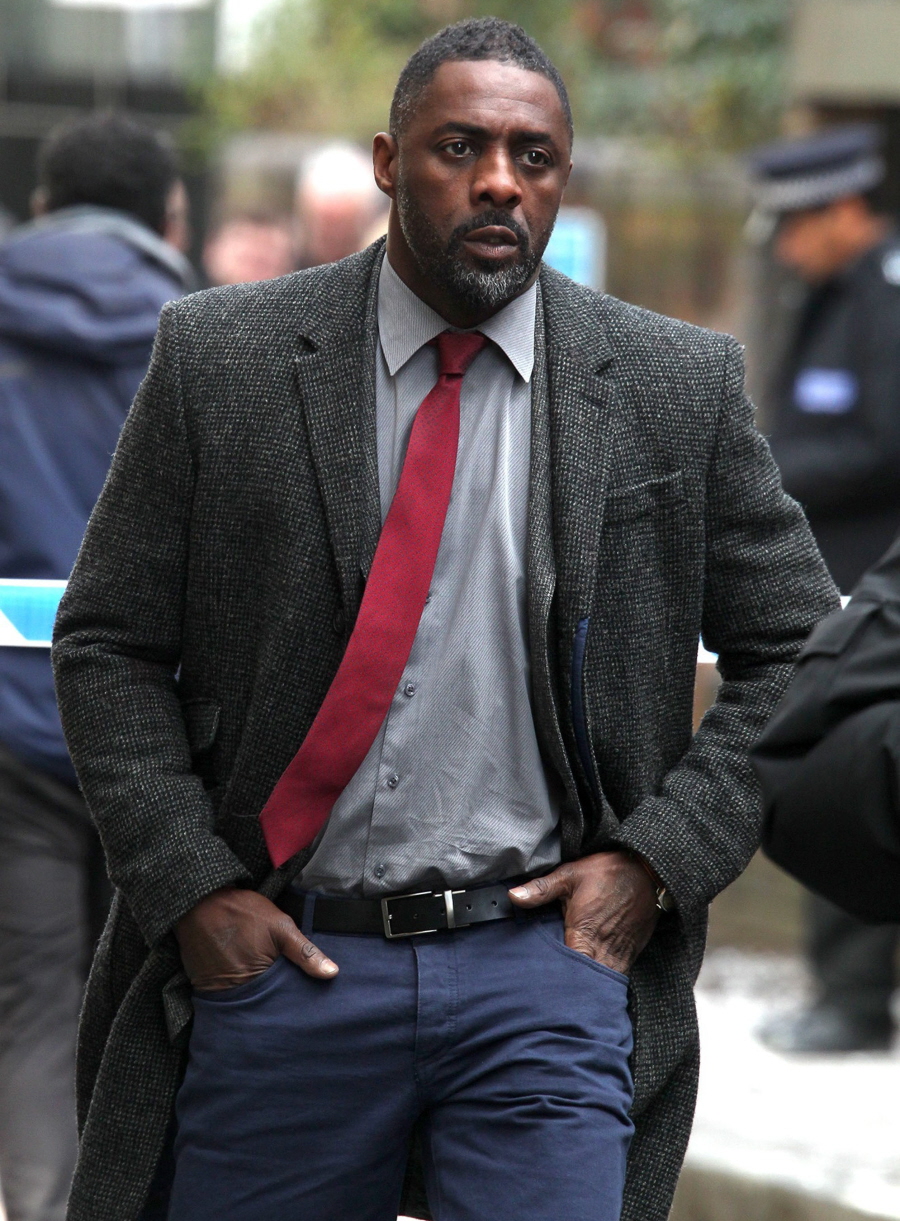 Photos courtesy of WENN, Fame/Flynet.