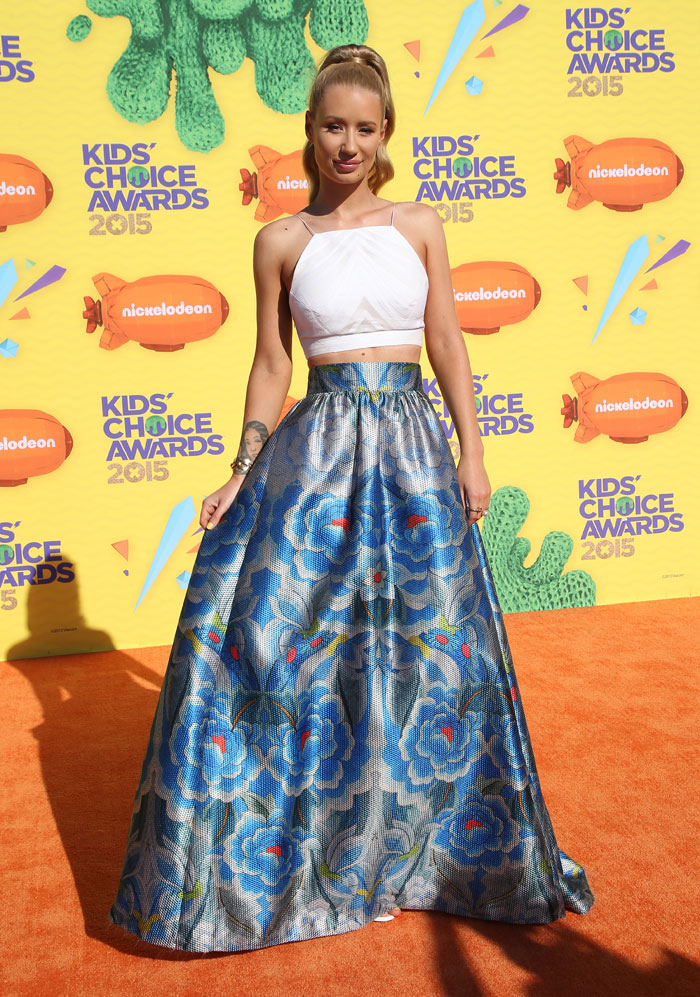 Iggy Azalea's very popular with the kiddies today, thanks to her radio-friendly duets with pop artists. So it wasn't surprising to see her nominated twice at Nickelodeon's Kid's Choice Awards. Iggy received nods in the Favorite New Artist and Favorite Song categories but won neither title. She performed "Trouble" with Jennifer Hudson in a prison-inspired yellow jumpsuit, which was silly. Iggy did well on the red carpet though. She wore a sweeping ball skirt by Temperly London. The metallic floral print is bold and fun, and the shape is event-appropriate. The sporty white crop top makes the outfit seem breezy and casual. Iggy avoided her bad Grammys hair in favor of a flattering high ponytail. This is probably the best we've ever seen her look at an event. Ig even had an admirer pose with her on the red carpet. Prepare yourselves.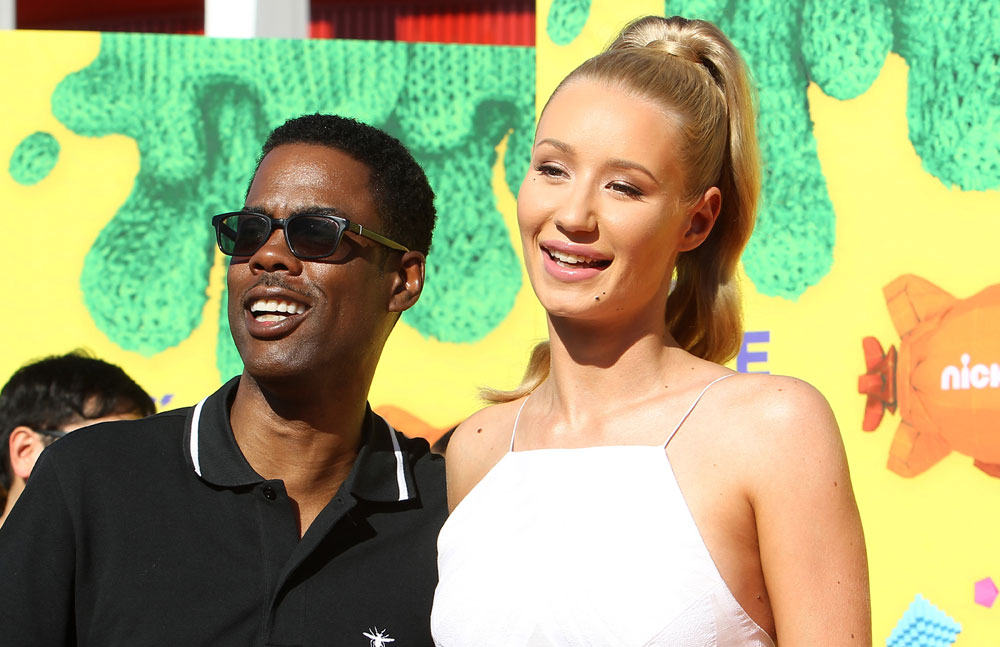 Chris Rock and Iggy have met at least once before this event. He once told Ryan Seacrest how he introduced Iggy (but not "her a**") at NYC's Jingle Ball event last year. Rock attended the show with his mom, Rose, and his two daughters, Zahra and Lola.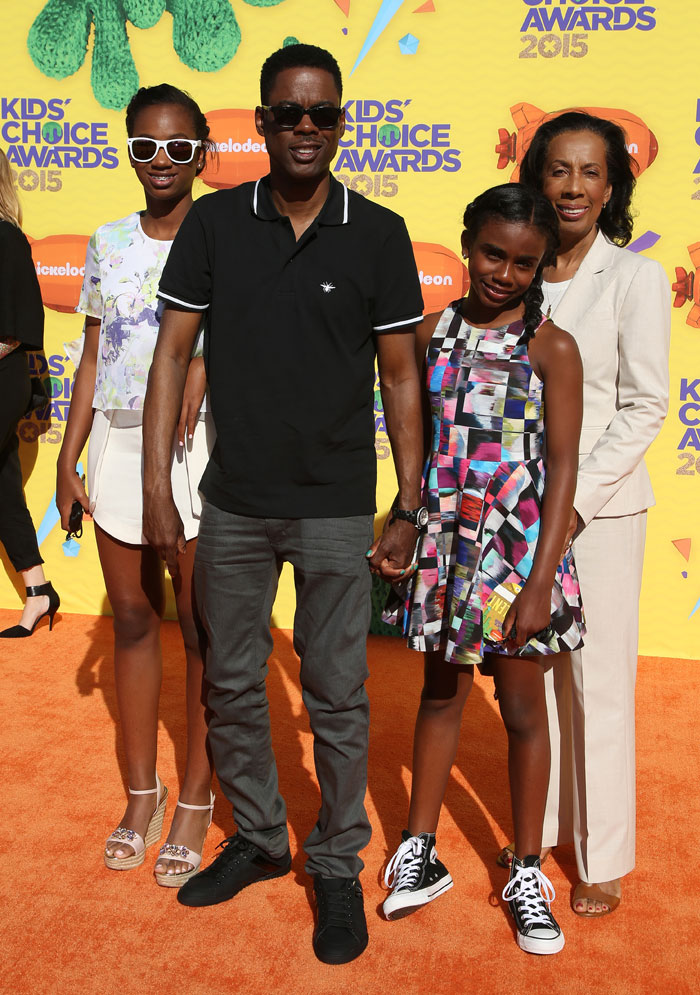 Suri Cruise had the time of her life in the audience, but she and Katie Holmes didn't walk the red carpet. This is the first time we've seen Suri in over a year — probably because they moved to LA where it's a little easier to avoid the paps than in NYC. (FYI: Gawker has a investigative report on how Katie avoided some paps during her NYC trips to Whole Foods.)
Zendaya wore a DKNY pencil dress. She pulled off the bright yellow color and horizontal stripes well. I'm not crazy about her bobbed wig, but it goes with the funkiness of her outfit. She is a little over-accessorized. The pink clutch is too much.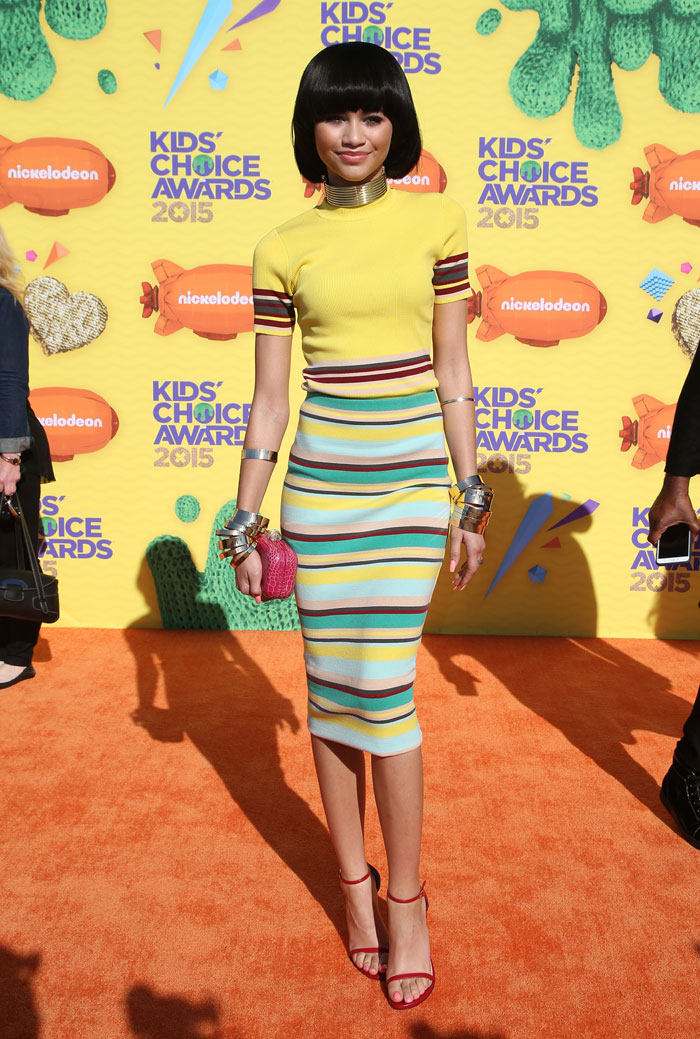 Sarah Hyland chose a fancy white t-shirt and white lace skirt. She looked low-key and casual, just right for the event. Sarah's clutch is Kate Spade New York.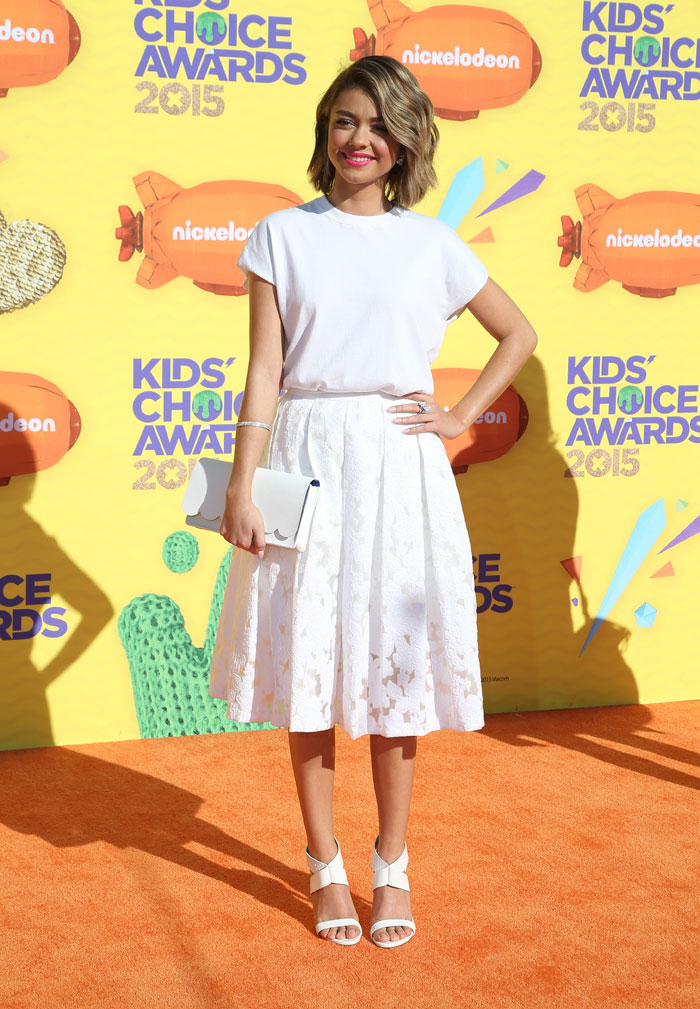 Willow Shields wore an awesome, polka-dotted jumpsuit with sharp tailoring and a half-bared belly. Primrose Everdeen is growing up before our very eyes. Willow posed with her DWTS partner, Mark Ballas, who is always adorable.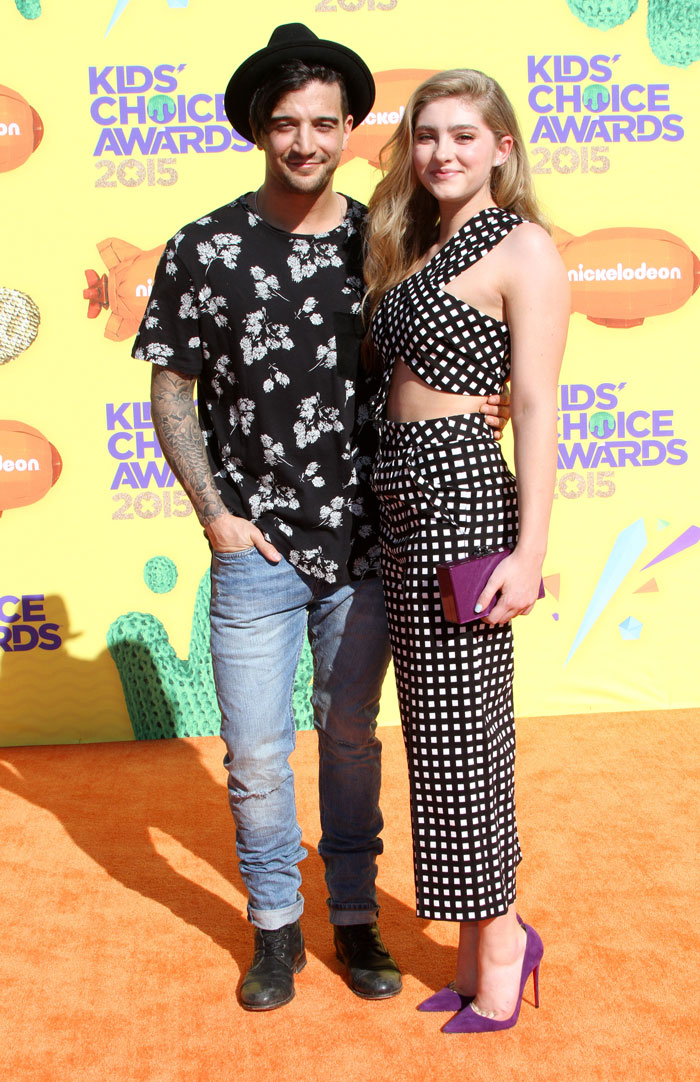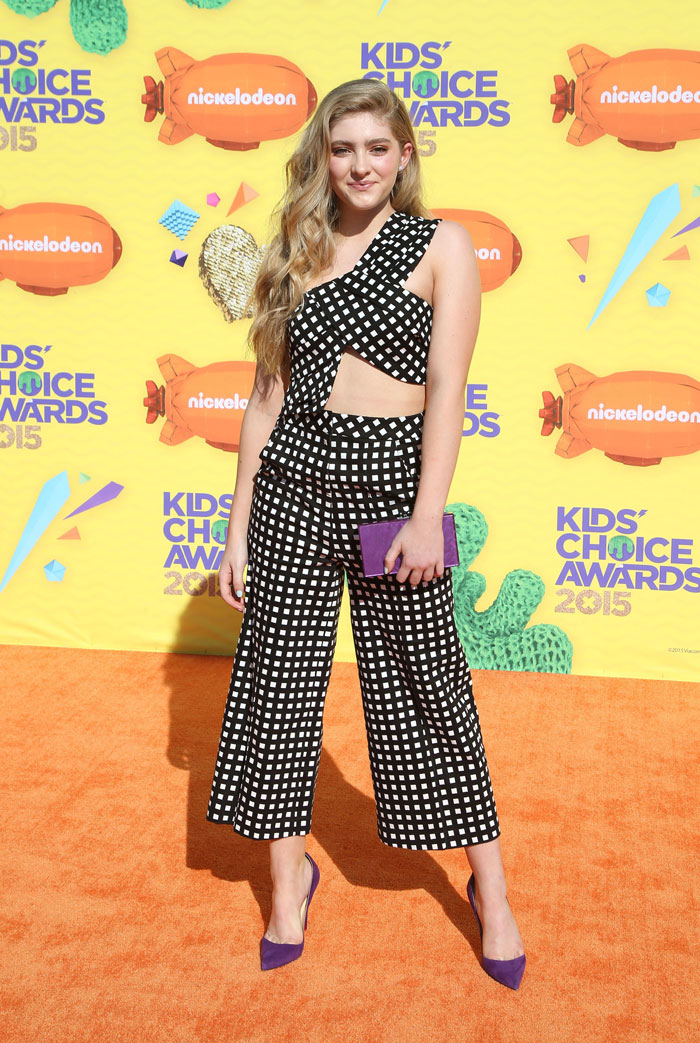 Meghan Trainor's dress with a white leopard print is okay but much better than her usual too-precious looks. I wish she'd stop doing her "wowza!" expressions on the red carpet.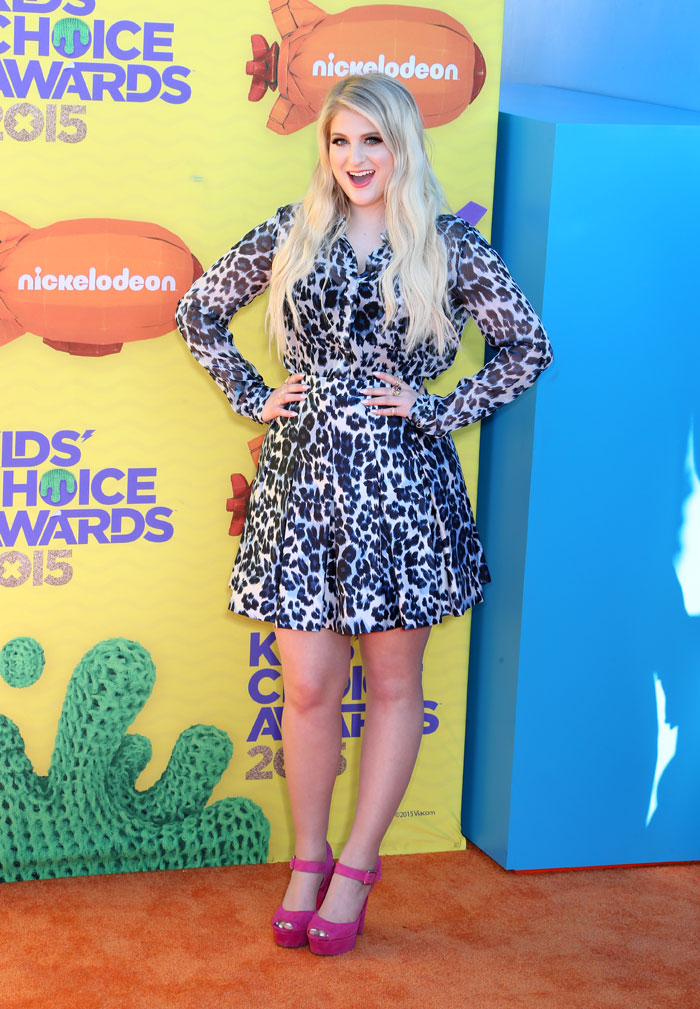 Ariel Winter wore a little floral dress that was cute but wasn't styled very well.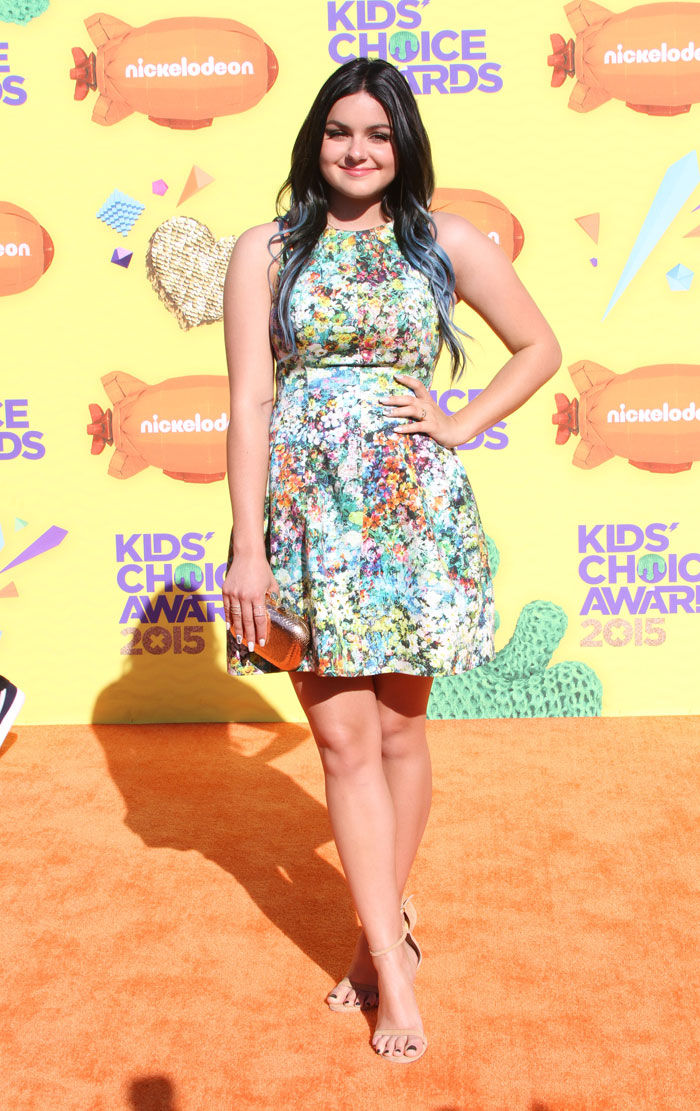 Photos courtesy of WENN