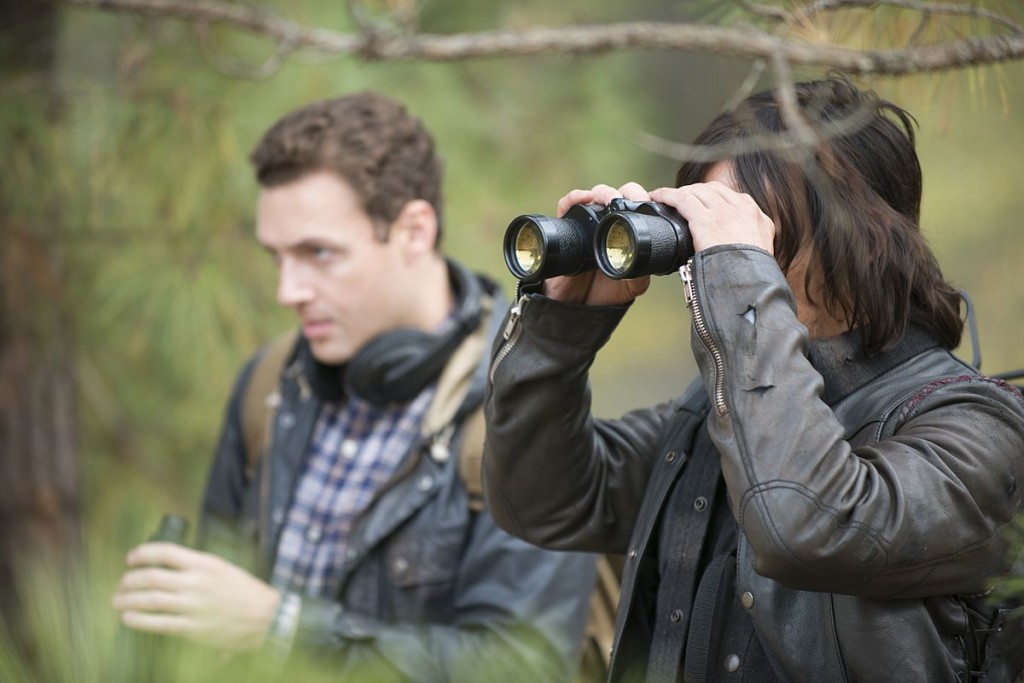 Spoilers follow for the finale of The Walking Dead, which aired last night
The hour and a half finale of the fifth season of The Walking Dead aired last night. While I enjoyed it, there were several filler scenes which could have been cut to bring the show back to its standard time. I particularly didn't care about Father Gabriel's nihilism at all, nor did I care about Abraham and Rosita's posse, who were bonding over Tara as she recovered from her injuries. Eugene's dialog still feels so forced, and that group seems ripped from the comics and not as "real" as the rest of the characters.
One character who does seem genuine despite his incredible turnaround is Morgan, who swooped in and saved Daryl and Aaron from a hoard of walkers who had descended on them in a trap. When Morgan reunited with Rick in a key moment, there was satisfaction and a hope that he would bring the peace and perspective that the group lacks. Morgan represents a sort of bridge between the people of Alexandria and Rick's group: he lost his sanity while surviving alone among zombies, but he came out the other side with a renewed respect for life. I really hope he sticks around. On The Talking Dead last night, actor Lennie James would only say that he's set to appear in at least one episode of season six. He explained that his whole return was so cloaked in secrecy that he had to stay in separate accommodation from the other actors in a B&B in a small town.
Instead of a full recap, which you can find multiple places including People and Access Hollywood, I'm just going to do bullet points along with my thoughts.
Morgan is back, but he thinks "all life is precious" so instead of killing the two "W" lowlifes that came to murder him for a bounty, he whacks them out with a ninja stick and then puts them in a car.

Rick and the group aren't sure how to handle the big meeting with the Alexandria residents that is likely to get Rick exiled. They prepare for a showdown while Carol recommends subterfuge. "These people are children and children like stories."

Maggie tries to advocate with the Alexandrians for Rick to stay. She gets assurance from leader Deanna's husband, Reg, who says they need to reach a compromise together for civilization's sake.

Daryl and Aaron spot a resourceful looking guy in a red poncho and then find a storehouse with several trucks presumably full of canned goods. It turns out to be a trap set by the W group and the trucks are full of walkers. They retreat to a nearby car for shelter and find an ominous note inside that bad people are coming. Morgan comes with his badass stick to rescue them. Later, Morgan shows Daryl Rick's map that he's saved.

Nicholas shoots Glenn in the arm while they're out in the woods. They fight, Nicholas leaves Glenn for dead to the walkers because that's what he does, and Glenn somehow escapes. Glenn fights with Nicholas again and achieves the upper hand, but then shows him mercy when he begs for his life. The last we see of them, they're struggling together to get back to Alexandria.

Rick is supposed to go to the meeting that will determine his fate, but he sees that the gate is open and a handful of walkers have come in. He ends up pinned beneath one and killing it in very close range. He carries the incapacitated walker to the meeting, throws it down and explains that the gate was open. (You can watch that scene here.) Deanna realizes that it was Father Gabriel who left the gate open and that he's not to be trusted. Rick explains his position, "I was thinking how many of you do I have to kill, to save your lives. But I'm not going to do that. You're going to change. I'm not sorry for what I said last night. I'm sorry for not saying it sooner. You're not ready, but you have to be. Right now, you have to be. Luck runs out."

After Rick gives his speech, domestic abuser Pete comes running in with a machete, making Rick's point for him. He ends up mistakenly slitting Reg's throat. Reg bleeds out and Deanna is distraught, looks up at Rick and tells him to "do it." He shoots Pete dead in front of everyone. Right then, Daryl, Aaron and Morgan come. Morgan looks pained and Rick has a sense of recognition to see his old friend.

Meanwhile depressed Sasha goes to Father Gabriel for help. Instead of getting spiritual counseling she's blamed for Bob's death. Simpering Father Gabriel feels sorry for himself for letting his congregation die and has a death wish. Maggie comes in right when Sasha has her gun pointed at Gabriel. The last we see, they're all sitting there praying together. Give me a break!

The red poncho guy gets killed by the W scumbags that Morgan spared. We see one of them return to the storehouse trap, find Aaron's backpack and see the photos of Rick and the gang.
Overall I thought that more people needed to die this episode. I know that sounds cold, but there have been so many deaths of good people that I wanted balance with more a**holes biting it. Yes Pete got killed, but that was inevitable. Father Gabriel and Nicholas are unnecessary and will surely continue to cause trouble. It would have been more fitting if they both got killed. I think the "all life is precious" sentiment was the theme for this episode and helped hammer home the point that Rick's group, however flawed, is more fair and humane than the people who have been sheltered.
I take issue with how fake Carole is. She's doing what she has to do to survive, and on The Talking Dead actress Melissa McBride explained that her behavior is tied to Carole's past as a domestic abuse victim walking on eggshells around her husband. Carole's duplicity is being overdone, I think, and that's due to the script more than McBride's portrayal.
Walking Dead does not return to AMC until October (presumably), but we'll be able to get our zombie fix quicker. Last night they also aired a trailer for "Fear The Walking Dead," a new spin off set in LA in the early days of the zombie apocalypse. We've heard some casting details already and now we know that "Fear The Walking Dead" is set to air this summer. I wish they had given it a more original title, but they have such great name recognition they must not want to risk it.
Here's the trailer for "Fear The Walking Dead"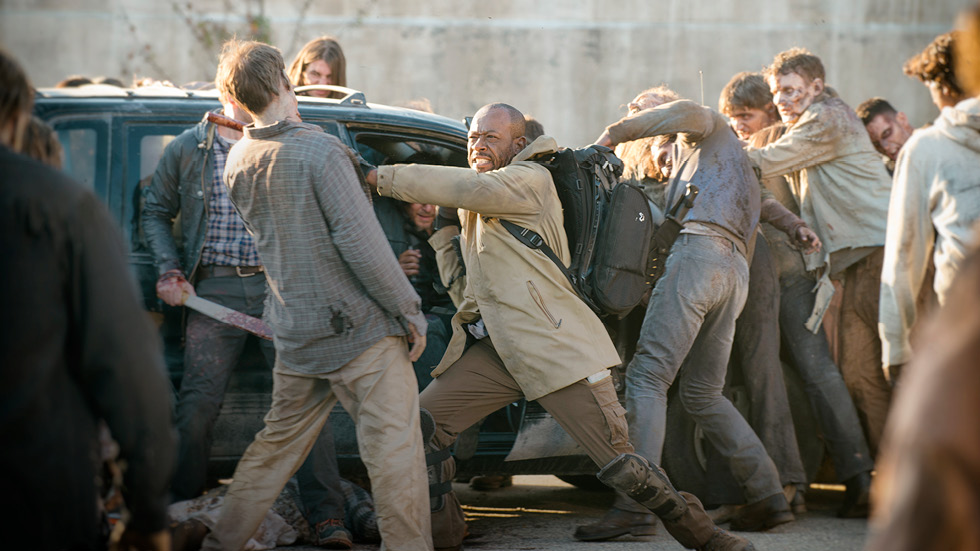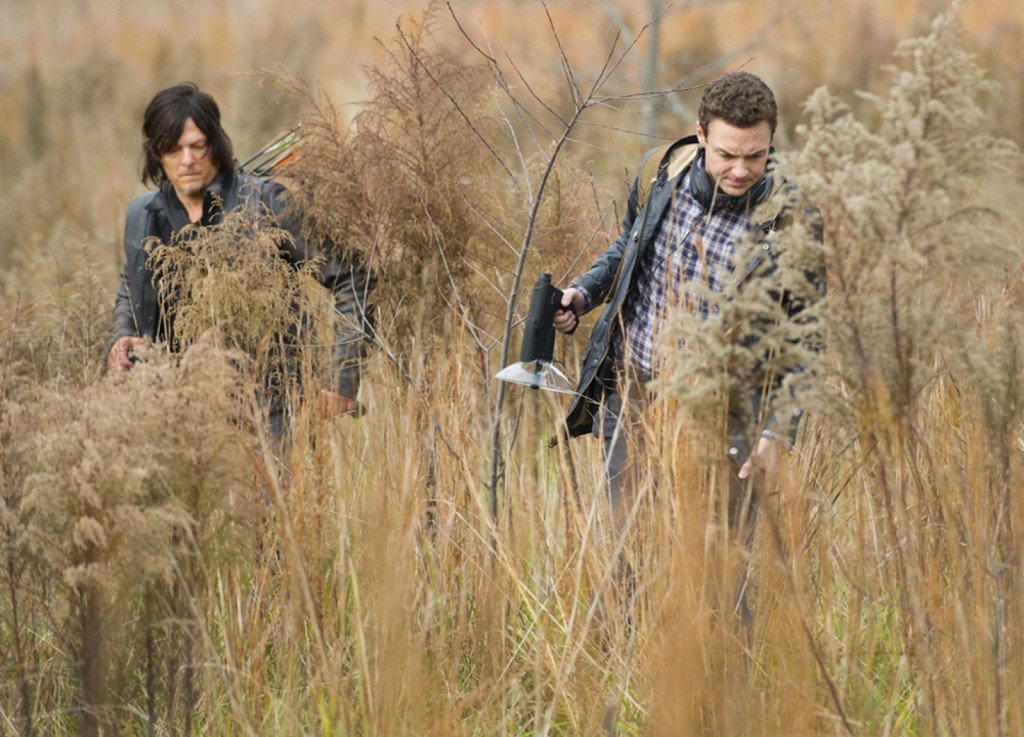 Photos credit: AMC. Frontpage photo via Daily Mail