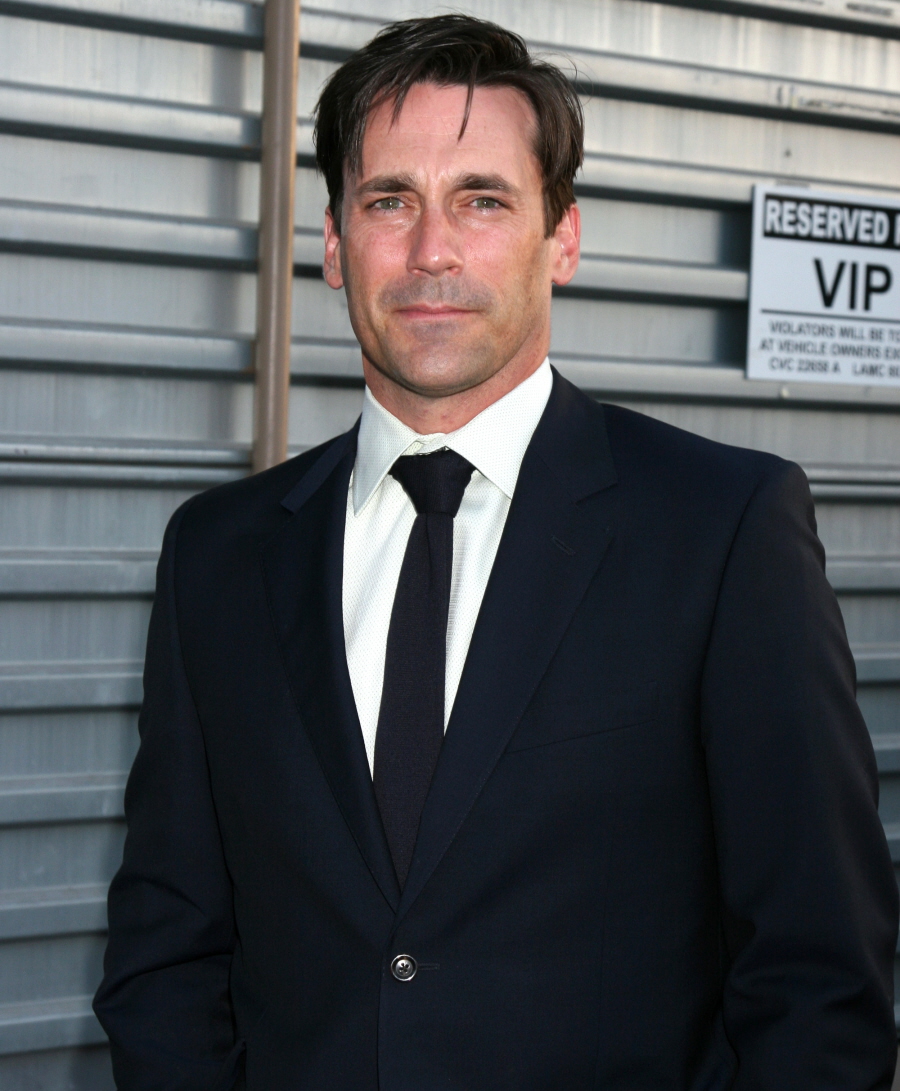 Last week, we talked about the Star Magazine story about Jon Hamm's college days at UT-Austin. Apparently, he was a total douchebag in college. Seriously. He was in a frat (Sigma Nu) and he was one of several older frat bros who "hazed" (tortured) pledges in hyper-aggressive, violent and disturbing ways. The Daily Mail got their hands on the court documents from 1990, where the victim, Mark Allen Sanders, pressed charges against Hamm and the other frat bros. Beware: in the court documents, Sanders goes into a lot of detail about exactly what happened to him during the hazing, and many of the details are profoundly disturbing.
Mark Allen Sanders was beaten with a paddle, dragged around a room by his genitals and had his pants set on fire. Jon Hamm was one of seven Sigma Nu brothers who tormented and humiliated Sanders when he was a young pledge at the University of Texas at Austin. The young man was hit so hard during the warped 1990 initiation that he suffered a fractured spine and nearly lost a kidney. Sanders subsequently withdrew from the university and sought counselling to cope with the shameful episode which resulted in a police inquiry and the fraternity chapter being disbanded. Hamm, a sophomore, was identified as a ringleader and arrested in 1993. An assault charge was dismissed, however, and he completed a period of probation instead of receiving a conviction for hazing.

In a 1991 interview transcript obtained by Daily Mail Online, Sanders tells investigators with the Travis County's Attorney's Office how he suffered 'repeated beatings and assaults' at the hands of Sigma Nu 'actives'. He also alleged that he and his fellow pledges were subjected to 'repeated confinements' in a series of tiny compartments carved into the frat building's foundations – including 'the pit', 'the hole' and 'the grave'.

Sanders told officials the worst of the hazing happened in the early hours of November 10, 1990 when he was summoned to the house and warned by Hamm: 'It's going to be a long night.' He was then allegedly subjected to two hours of brutal physical attacks as part of his fiery baptism into the fraternity. He listed Hamm as one of his chief tormentors, recalling how the future star ordered him to recite a six-page list of phrases pledges are told to memorize called the 'bulls*** list'. When he forgot the last of Hamm's nicknames, which included MC Hammer and Young Bobby, he recalled how Hamm got "mad, I mean really mad'.

Hamm and his frat cohorts' retribution was to spank Sanders repeatedly with a paddle.

'I'm hurting bad, I mean being hit right where the kidney is, it's killing me,' Sanders told his interviewers.

Hamm and another fraternity member then lifted Sanders up by his underwear, pulling it back and forth in a sawing motion.

'I don't know how far underwear stretches, I don't know how far I was off the ground,' he recalled. 'I was hurting really bad and I remember I was looking up at the ceiling and I was gritting my teeth and squinting my eyes … it was sawing and it was hurting.'

Sanders told investigators how Hamm then led him to 'the pit' where he ordered him to do press-ups and pushed his face into the ground. The distraught pledge felt someone, possibly Hamm, standing on his back. Hamm is then supposed to have set fire to Sanders' pants and refused to let him pat the flames down, instead making him blow them out. Finally he was led upstairs to the 'party room' when Hamm hooked the claw of a hammer underneath his testicles and pulled him around the room 'for at least a minute'.
It's one thing to hear that Hamm was part of a group of frat-bros who were brutally hazing a young pledge. It's quite another to hear that Hamm was pretty much the ringleader and the one taking it WAY too far. I asked in the previous post if this makes you think differently about Hamm today, but now I'm just saying it – I'm not sure if this is forgivable. I'm not sure I can say "well, he's grown a lot since then."
As mentioned in the previous post, Sigma Nu was shut down following the investigation and Sanders sued the national fraternity too. Hamm was arrested and by 1995, he received "deferred adjudication" which meant that a criminal conviction didn't go onto his record. Which is crazy, right? How was this not a FELONY? How does Jon Hamm not have a felony assault conviction on his record?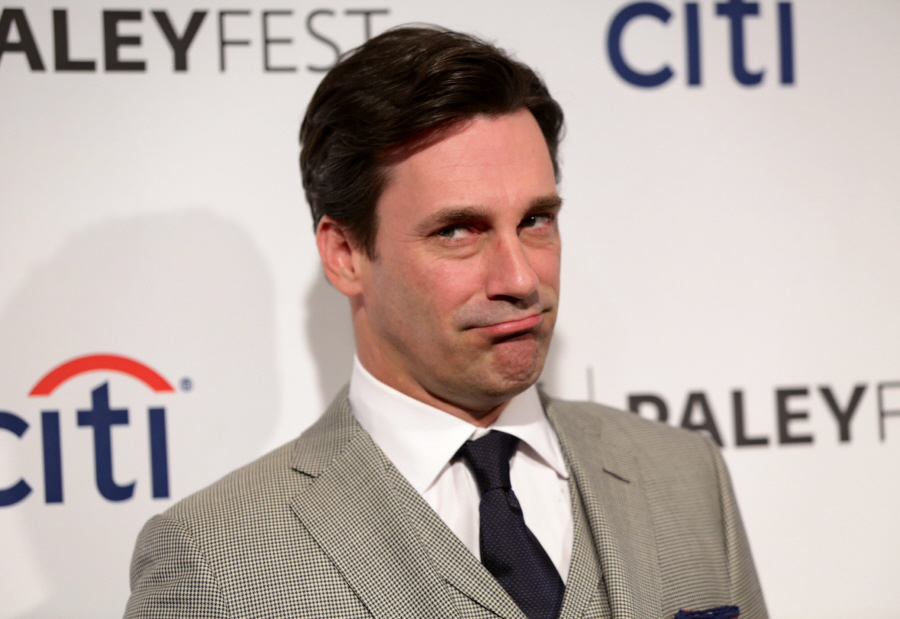 Photos courtesy of WENN.