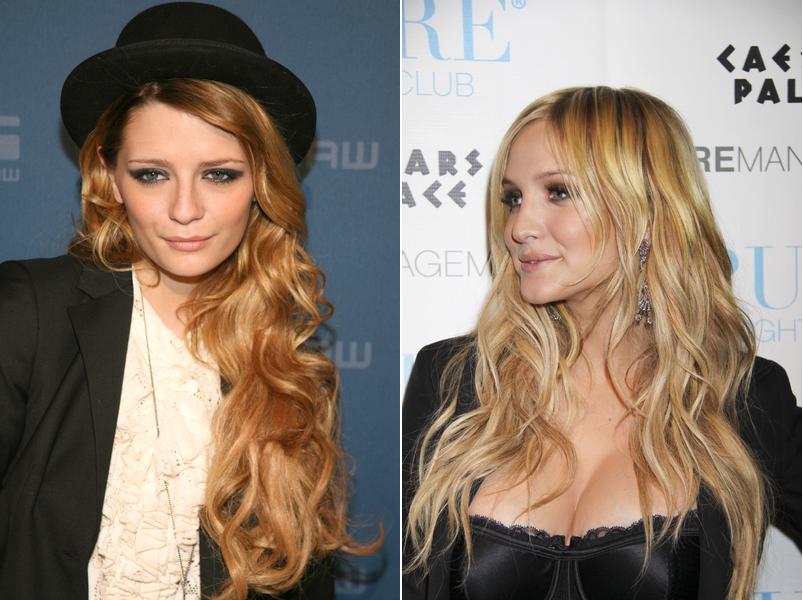 A feud is brewing between two D-list celebrities over a coveted role on the reload of "Melrose Place." Ashlee Simpson, who decided to jump ship on her questionable career as a "singer," won the role that sources say former "O.C." star Mischa Barton desperately wanted. Now, Mischa is taking it personally.
Mischa desperately wanted one of the CW network soap's top roles, playing a small-town sex kitten named Violet. But new mom Ashlee landed the part, leaving Mischa to join CW's drama pilot, "A Beautiful Life."

"Mischa became furious with Ashlee because she believes Ashlee knew she wanted the part of Violet very badly and Ashlee set out to steal it," an insider told The Enquirer. "But Mischa won't admit it."

Although the role had been earmarked for the 23-year-old Mischa, Ashlee, 24, aggressively pursued it," insiders say.

"Ashlee did well on '7th Heaven and then nailed this part. It's nothing personal towards Mischa," a source said.

To add to Mischa's woes, she recently broke up with her English boyfriend, Luke Pritchard, from the band The Kooks.
[From The National Enquirer print version, March 30, 2009]
There's just so much that's wrong with this story. First and foremost, the need for the CW to revive yet another wretched 90's soap opera. Second, the idea that either Mischa Barton or Ashlee Simpson are even being considered actresses. I know a lot of people who feel that Mischa Barton's terrible, wooden acting pretty much torpedoed the last season of "The O.C." And Ashlee Simpson "doing well" on "7th Heaven" is also arguable at best. There were Internet message boards that were dedicated to getting her off the show!
At any rate, you'd think that someone like Mischa, who's been in the industry since she was a child, would know how these things go. Sometimes you get the role, sometimes you don't. Nothing personal – it's just business. And she did get a part in another show. She should be glad anyone is even letting her audition at this point. As for the new "Melrose Place" – if Ashlee Simpson is the big star, you can bet this one won't even be "TiVo"-worthy.
Here's Mischa Barton outside of Guy's Bar in West Hollywood last night. Images thanks to WENN.com.