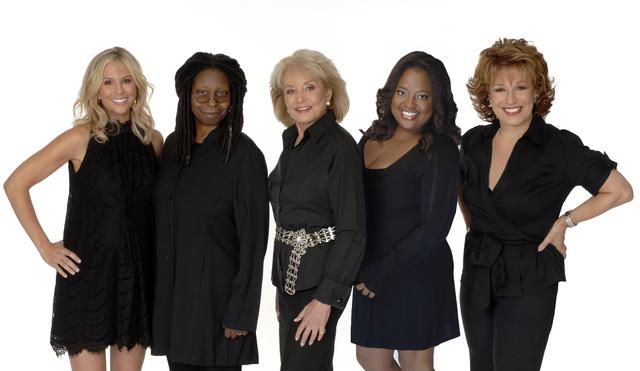 There is a long list of things I'd rather do than watch the shrieking harpies of "The View." Gum surgery, Chinese water torture, a Celine Dion concert…the list goes on and on. But plenty of other people are watching the show, because its ratings are higher than ever. That's why the co-hosts of the show – Whoopi Goldberg, Joy Behar, Sherri Shepherd and Elisabeth Hasselbeck – are asking for a raise. And of course, they're going straight to the show's executive producer and co-star, Barbara Walters, with their demands.
Ratings for "The View" have gone through the roof- and so have the co-hosts' salary demands!

Although the show's boss Barbara Walters is thrilled that her 12-year-old production is on the rise, set insiders tell The Enquirer that she's suddenly found herself with "a mutiny on her hands." Whoopi Goldberg, Joy Behar, Sherri Shepherd and Elisabeth Hasselbeck all believe they should be generously rewarded for the newfound success.

Demands from the stars' agents began pouring into Barbara's office in early March when Nielsen statistics reported "The View" – which often ranked 10th or lower among daytime programs – climbed to No. 2 among women aged 18-49, says the insider.

The sudden ratings boom is being attributed to Barbara's decision to expand the "hot topics" segment, about the day's headlines, which now accounts for half the show. "The View" is now enjoying its most-watched season ever, averaging 4.2 million viewers – up from 2.5 million a year ago.

"Barbara should be beaming because of the show's recent success, but she's furious that the other women have been pestering her for a bigger piece of the pie," says the insider.

"Barbara thinks their new salary demands are outrageous – some are asking for several million dollars – and she told one confidant, "They should all be ashamed of themselves – I've never seen such a greedier bunch.'"
[From The National Enquirer print version, March 30, 2009]
Oh, come on. As long as Barbara's been around at ABC, I'm sure she's seen a greedier bunch. And I'm sure Barbara is making a nice chunk of change as the show's executive producer. Why wouldn't she do the smart thing and keep her co-stars happy? As much as I can't stand the show, they must be doing something to appeal to the viewers who like them. I suppose some people actually enjoy watching five women sitting around a table screaming and talking over each other. If I want to see that, I can just go hang out at my mom's house for a day. But the chemistry – or, more accurately, the tension – between the co-hosts must be what's getting the ratings. Or does Barbara thing everyone tunes in to watch her?