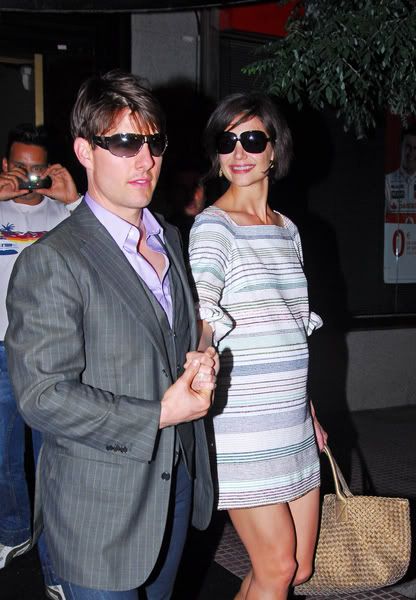 Katie Holmes' shift dress was poking out in the right place to suggest that she's pregnant when she was photographed out in Madrid with husband Tom Cruise over the weekend. The British rags were all over that, with The Daily Mail asking if it's true and The Sun saying it's a done deal.
Katie and Tom have made no secret of the fact that they want another child to add to their growing family, which includes their daughter Suri, 14 months, and Tom's two adopted children with his ex-wife Nicole Kidman, Connor, 12, and Isabella, 14.
When asked recently if there was the possibility that she would have more children with Tom, Katie said "Yes, definitely."
Tom and Katie were also said to have ordered up a custom designed nursery for a baby boy to the tune of $30,000, but that was back in mid March, and they've since moved, so maybe that rumor wasn't true or it was just wishful thinking on Tom and Katie's part.
Tom Cruise has achieved the highest level of "Clear" in his cult religion, Scientology, which regularly bilks inductees out of their savings, separates people from their friends and family, and makes them work for slave wages in order to achieve their unique brand of faux enlightenment. He is said to be officiating a wedding tomorrow on France's Cote d'Azur between Australian billionaire heir James Packer and model/singer Erica Baxter.
Update: here's a picture from The Daily Mail of Katie in the south of France for James Packer's wedding. She's not looking pregnant anymore.