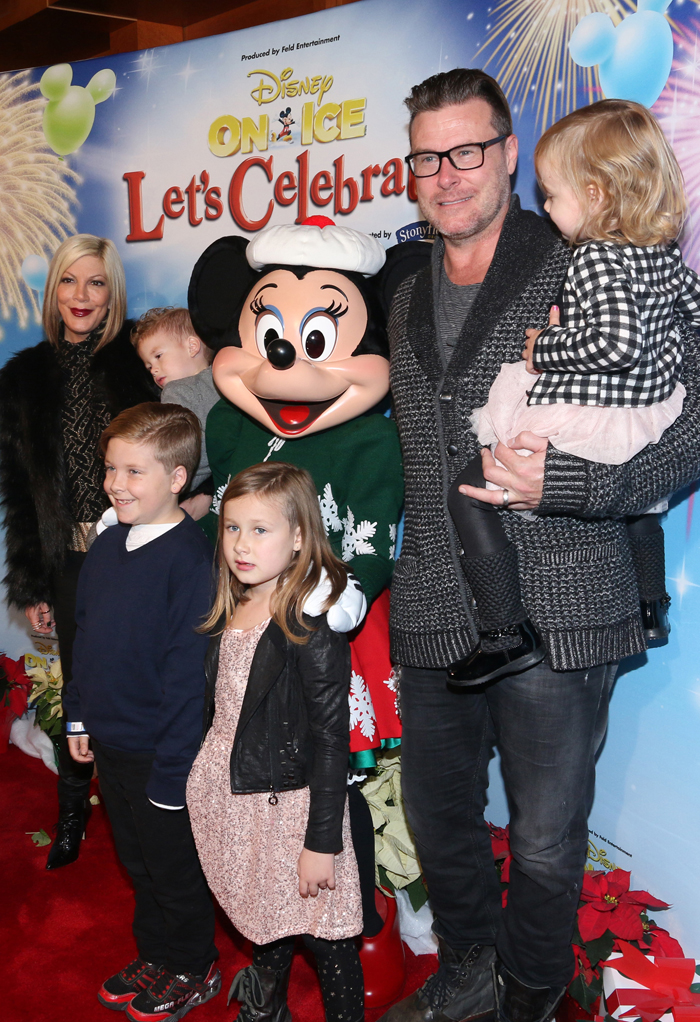 Every time Tori Spelling or Dean McDermott has something to promote, the tabloids have new stories about them. In this case, Dean wants to pimp his new cookbook, The Gourmet Dad: Easy And Delicious Meals The Whole Family Will Love. (What an unoriginal title. They should have called it Recipes of Adultery & Desperation.) Last week, I saw a predictable story in OK! about how Tori thinks she's pregnant with a fifth child. She teased a pregnancy last year too, as a cliffhanger to True Tori's season 2 finale. Given all of the life-threatening complications from her fourth pregnancy, I would hope Tori's not dumb enough to try again.
The last time we talked about Tori, she fell into a Benihana hibachi grill. Dean recently said Tori is recovering from her skin-grafting procedures. These two don't have much else to shill, so they've returned to a familiar theme — money problems. In Touch Weekly says Dean is "more than $13,000 behind on child support payments" to his first wife, Mary Jo Eustace. This week's issue of Star doubles down by saying Tori and Dean are blowing through over half a million a year. They have no income and don't seem to care. Here's Star's breakdown of their expenditures:
They're cash poor, out of work — and they burned through all their savings years ago. Yet Tori Spelling and Dean McDermott continue to spend money as though they're sitting on a pile of it. "They're living off credit cards," says an insider. "Tori pays the minimum on the cards, so the bills keep doubling and tripling."

And they're headed even further into the red. Dean lost his job hosting Chopped Canada, and Tori recently found out that her reality show, True Tori, hasn't been renewed for a third season — a huge disappointment that, on the heels of her failed series Mystery Girls, casts doubt on her future TV prospects. With residuals from Beverly Hills, 90210 decreasing steadily, insiders say that Tori is now cozying up to her mom, Candy, who — along with a lifestyle change — may be her only hope.

* Groceries: $48,000
* Medical expenses: $45,000
* Private school for 3 kids: $37,000
* Rent (not mortgage): $126,000
* Dog walker: $26,000
* Nannies for 3 kids: $126,000
* Clothing: $36,000
Total: $594,000 per year
[From Star, print edition, May 11, 2015]
Star didn't include Tori's expense for her 127 storage vaults of crap, which she previously said is as much as a mortgage. I'm honestly surprised that her her frequent hospital visits don't cost more than the stated amount. And $48,000 per year for groceries is insane, even with four kids. Basically, nothing has changed for Tori and Dean. They're no longer earning money (except for Dean's book advance), and their spending hasn't changed at all. Tori has flat out refused to change her ways because her dad wouldn't have wanted it. They must be receiving money from Candy Spelling, right? There's no way they can put half a million per year on credit cards.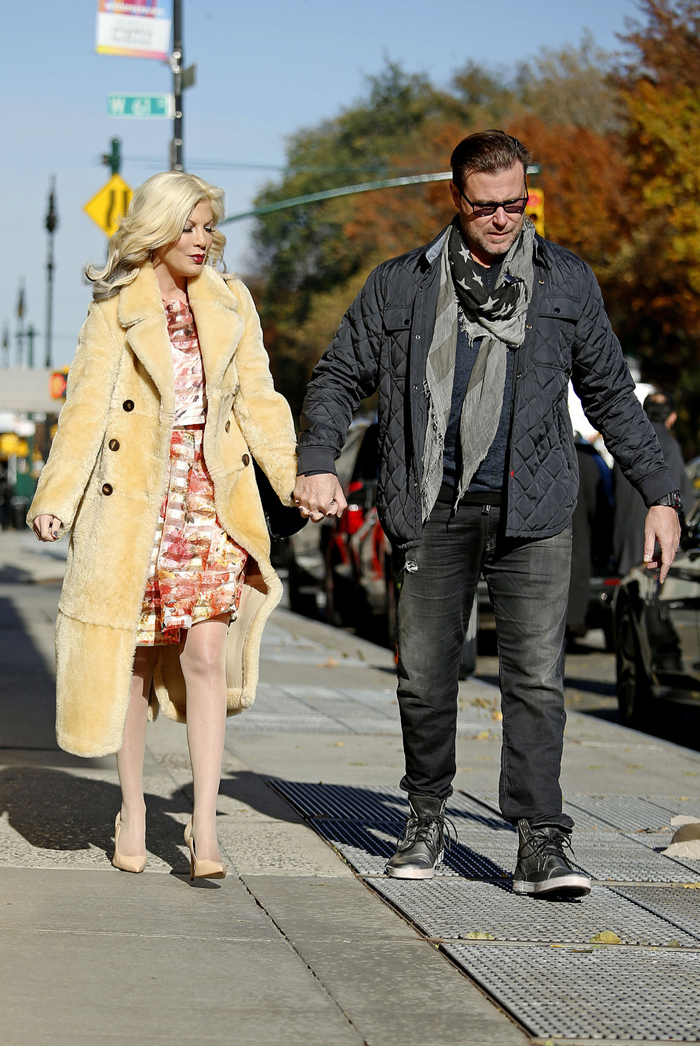 Photos courtesy of Fame/Flynet, Pacific Coast News & WENN