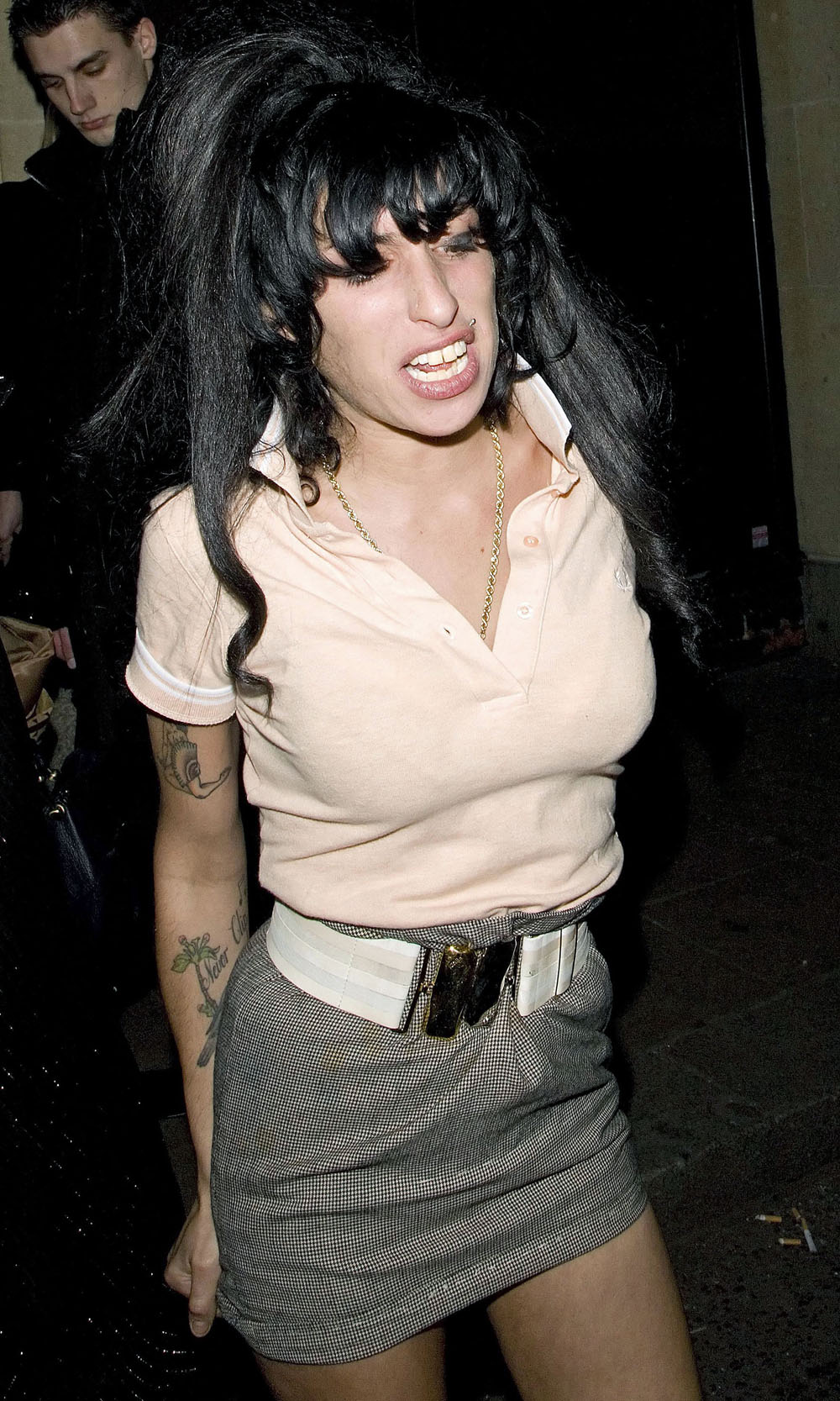 Though Amy Winehouse seems to be doing her best to slowly turn things around, both her marriage and her career are taking some serious hits. After several attempts to convince her loser husband Blake to take her back, Amy has finally given up on the union, according to her Facebook page.
Troubled singer AMY WINEHOUSE has quit trying to save her marriage to BLAKE FIELDER-CIVIL – announcing the decision with a message posted online.

… despite writing heartfelt pleas for a reconciliation on her Facebook page, an announcement posted on the site on Friday (20Mar09) suggests Winehouse has given up any hope of salvaging her marriage.

She writes, "I don't think I'll ever see (Blake) again."
[From Star Magazine UK]
I'm sure that hurts a lot in the here and now, but long-term it's definitely best for Amy. The last thing she needs is that pathetic layabout bringing her down any longer. Blake is supposedly going after a lot of Amy's money – and hopefully she'll do whatever she can to keep him away from it – because she's going to need it. According to The Sun, her record label has just rejected her new album. They think it's too reggae-influenced, which doesn't really work for her. And the songs are too dark. Not that most of the tracks on her last album were happiness and rainbows – so this must be some really heavy shit.
AFTER Back To Black, AMY WINEHOUSE has been forced to go back again – to the drawing board. The singer's demo tracks for her third album, recorded in the Caribbean, have left her label less than happy. And they've told her she needs to come up with a new set of songs.

An insider said: "Amy was very productive during her stay in St Lucia. She wrote a hell of a lot of songs, but the majority of them just aren't hitting the mark. She seems to have ditched her trademark vintage soul sound and is now heavily influenced by reggae. Her bosses don't think it's a wise move to change her style so sharply and have told her that."

And what's also cause for concern is the bleak outlook of the lyrics, which focus largely on her turbulent relationship with estranged husband BLAKE FIELDER-CIVIL. My source added: "The lyrics are very dark indeed. While she's known for her confessional style and has been very successful with it, many of the tracks are near the knuckle.

"Everyone understands that Amy is an artist and she must be true to her instincts. In the past, she's written frequently about broken hearts and boyfriends, but this time round she's delving into harrowing terrain."

The source added: "It's crucial Amy's return [to music] is handled properly. If she puts out a record that is in any way half-baked, that could severely damage her long-term prospects, so everyone's focus at the minute is getting it right, even if that means telling Amy some things she probably won't want to hear."
[From The Sun]
Amy has damaged her credibility quite a bit due to her personal life and lack of professionalism in the past few years. The last thing she needs is to put out a bad album. Talk about a nail in the proverbial coffin.
I think the only reason people have been willing to bear with Amy is because she's got so much talent, and her last album was so good. If she messes that up too, she'll lose that last bit of public goodwill. Amy really does seem to think she can screw up over and over and over again without lasting consequences. It's hard to know if she's just delusional or if that's the result of all the drugs. But if she puts out a career-killing album and loses a ton of money in a divorce, she'll be surprised just how quickly it all goes away.
It seems like it's time to make peace with Mark Ronson and get back in the studio.
Here's Amy (flashing her underwear) as she leaves Maddox Nightclub on Wednesday. Images thanks to BauerGriffinOnline.