We're wrapping up our Met gala coverage today and I wanted to talk about a couple of the ladies in Prabal Gurung. First off we have Ivanka Trump really working a blue and white Prabal Gurung gown. I don't think she accommodated the theme at all but she looks amazing and I love the train on that dress. Incidentally, Gurung has parents from Singapore and Nepal and was raised in Nepal. He doesn't have ties to China.
Here's my girl Alison Brie in Prabal. (Kristen Wiig was also in Prabal Gurung but Bedhead already covered her.) I love this deep purple gown, I think it's impressive and well designed but there's nothing Chinese about it. Still, Alison is working it. Prabal has done these kind of dripping lines of sequins on his gowns before and I think it works particularly well here.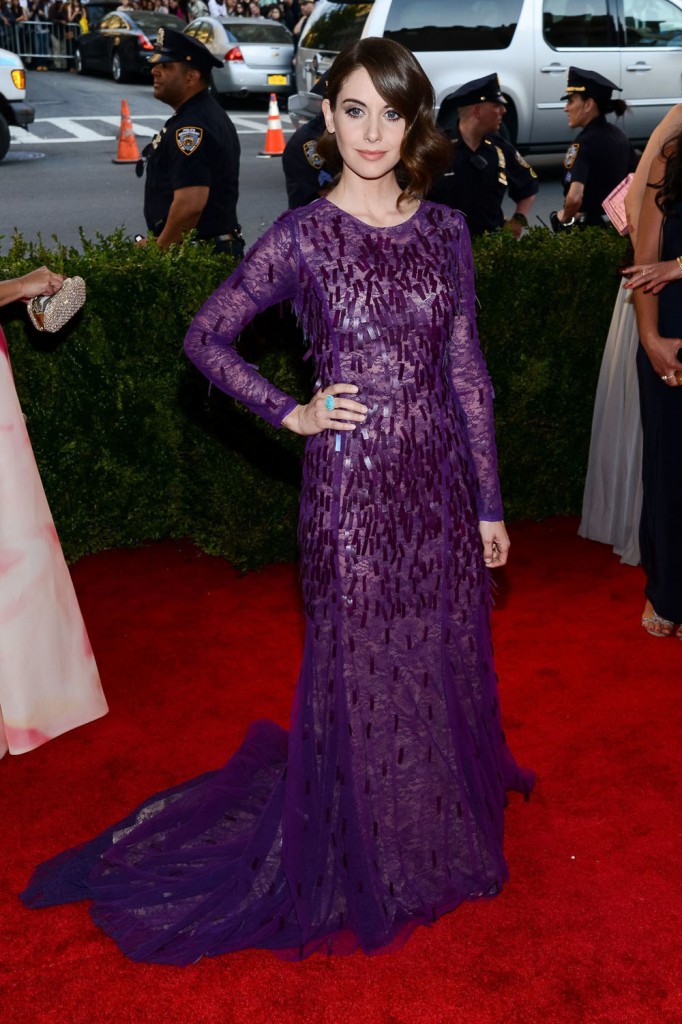 Look who came with Brie! I'm still watching Community by the way. The only issue is that Yahoo! Screen doesn't have captions, and Community really needs captions for that fast dialogue.
Adriana Lima was barely recognizable in red Marc Jacobs with silver studs and black mesh. I hope that's a wig (it looks like it) because those bangs aren't doing anything for her. It's a cool dress but her styling is too harsh.
Cher came with Marc Jacobs and was wearing Marc Jacobs. This fan print metallic gown fits her like a glove and goes well with the theme. She could have toned down the styling and ditched the fishnet stockings, but that's a minor complaint.
Fan Bingbing wore a stunning Christopher Bu gold sequin gown with this kind of green art-deco like cape. Everyone is raving about this look for good reason. Bu is a Chinese designer who started out as a stylist and often uses Chinese themes in his work.