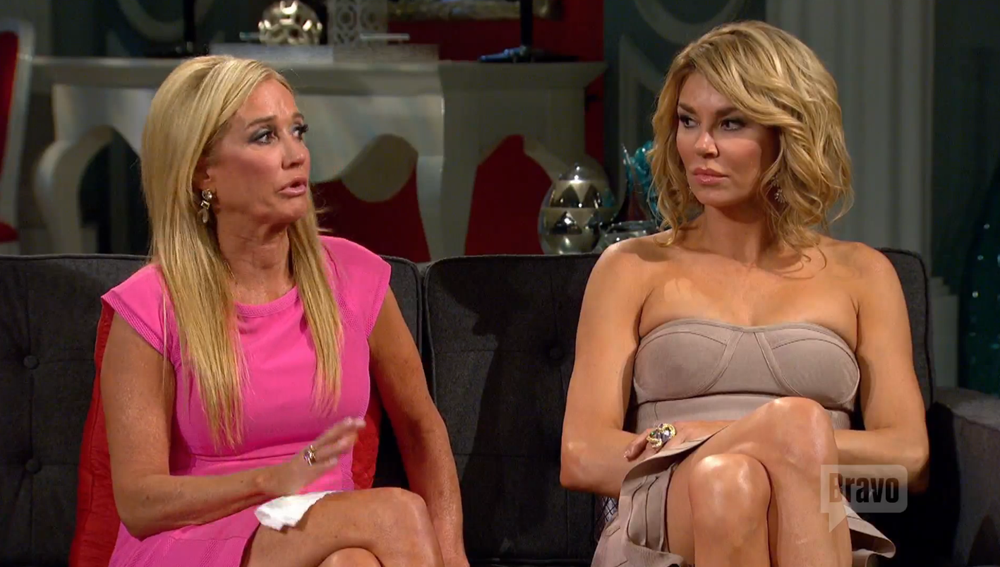 The last we reported on Kim Richards, she was in rehab after an appearance on the Dr. Phil show in which she lied about and attempted to minimize her drunken arrest at the Beverly Hills Hotel. Dr. Phil offered to let Kim attend a pricey rehab at his expense. (Or more likely in exchange for free advertising for the facility.) On camera Kim refused to go, citing her daughter's upcoming wedding. She later accepted Dr. Phil's offer with multiple demands, reneged again, then eventually gave in.
Kim's buddy Brandi Glanville was a guest on Jenny McCarthy's Sirius radio show this week. Brandi mentioned that she and her two boys visited Kim in rehab and that it was "really nice… like The Four Seasons." US Magazine reports that Brandi said, about Kim's rehab, "I would die" but I listened to that in context and Brandi said she would die if Kim asked for help busting out of rehab. It wasn't about the fact that she would die if she had to go to rehab, which is how I read it initially. Here's more of what Brandi said, and you can hear a segment from the interview on E! Online.
On if Kim is off RHOBH
I don't know that Kim is out. She's in rehab right now, but I don't know that she's not doing the show.

"Were you surprised when she went into rehab?"
I wasn't shocked, but at the same time I had never seen her drink or do a drug. If she wants to get help, it's her… I can't say to somebody 'you need to get help,' because they're going to go 'f*k you, you have a problem I don't have a problem.' And so I just was her friend. I witnessed odd behavior but I never saw her do anything. You don't want help until you say it yourself. Lisa Rinna isn't afraid of saying [mimics shrill voice] 'You're an addict, you need to get help.' It's just, all you want is to just shut that bitch up and you're like 'leave me along I'm not,' and you're defensive.

On if she's talked to Kim
I went to rehab to see her already. She called me the morning after the whole fiasco.

"In rehab is she like 'get me out of here, help me jump the fence'?"
No, I would die, but no, if you saw where her rehab was. I was like 'anyone could use 30 days here.' It's beautiful. I took the kids I was like 'this is the Four Seasons or something.'
[From Dirty, Sexy, Funny with Jenny McCarthy via E! Online]
How do you even be a friend to someone like Kim who so deep in their addiction and denial? It sounds like Brandi sort-of knew that Kim had a problem but that she would never say anything to her about it, because it wouldn't get through to her anyway. Plus Brandi drinks like a fish, it's not like she can call Kim out. Kim hid her addiction from everyone and most of all from herself. I found her so annoying on Dr. Phil, where she would cry and play the victim whenever she was questioned. I can't deal with that type of drama from friends.
US Weekly has more on Brandi's interview with Jenny McCarthy. She spoke highly of Yolanda Foster and had some choice words for Kyle Richards and Lisa Rinna. Jenny did word association with Brandi and Brandi came up with "c-nt" for Kyle Richards and "crazy" for Lisa Rinna, but then she said "crazy love". I used to think Kyle was a c-nt too, but now that I've seen Kim in action for years I get why Kyle is so detached from her sister. Radar reports that Kyle hasn't visited Kim in rehab and that she's RSVPed "no" to Kyle's daughter Brooke's second wedding in Mexico. Their source claims that "Kyle is refusing to go to Mexico for Brooke's second wedding as she just doesn't want to deal with any of Kim's drama. Kyle wishes the best for Brooke and Thad, and doesn't want to take anything away from their big day." I don't blame Kyle at all.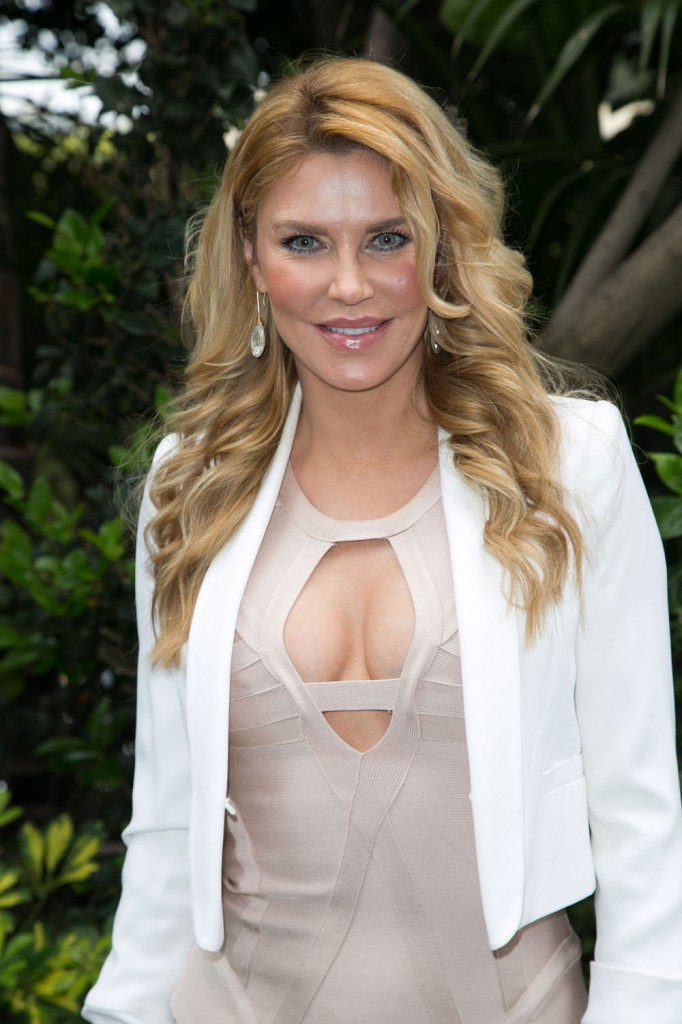 photo credit: Bravo TV, Getty Images and WENN.com