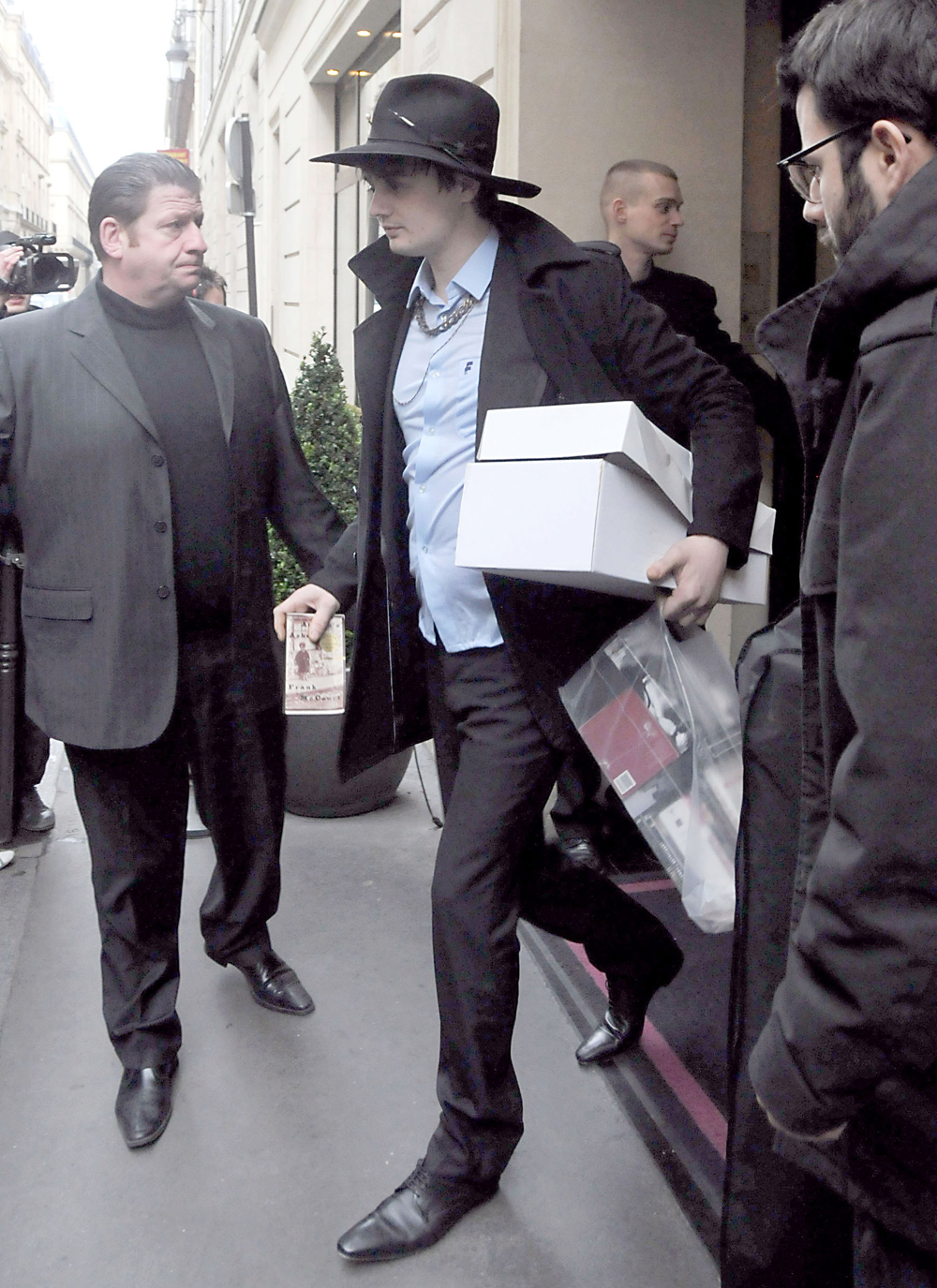 Pete Doherty has a strange way of being romantic, but somehow it works for him. Maybe that's because the bar is set so low when it comes to the drug addicted musician. Doherty had a famously tempestuous relationship with Kate Moss that ended over a year ago. Since then she's been dating Jamie Hince of The Kills, and Pete has made no secret of the fact that he still pines for her.
He told The Sun he recently wanted to go see Lily Allen perform but was asked not to attend. The reason? Kate would be there, and Lily's people were afraid it'd take the attention off of her. And Pete agreed that it would, since he would likely headbutt Hince and carry Kate away. And somehow it comes across as almost endearing when he says it.
A BABYSHAMBLER scorned can be a terrible thing. Just ask PETE DOHERTY. The potty one is gunning for JAMIE HINCE's scalp after he took up with KATE MOSS. Though the two chaps are yet to meet, one-time crack-loving Pete reckons it wouldn't be long before they came to blows when their paths do, eventually, cross.

He moans in an interview in the new issue of Q magazine: "I wanted to see LILY ALLEN play the other week. But her label EMI got in touch and said, 'We don't want you there because Kate Moss will be there and it will take attention away from Lily. Can you not go?' I was so insulted.

"I don't know. I think I would have been courteous enough. Then I'd probably have head-butted her new boyfriend, put her over my shoulder and run off."

And it's clear the ex-con rocker does still carry a brightly burning candle for the lost love of his life. He added: "Really and truly, I miss her. And I would like to speak to her. It's so confusing for me still. What am I supposed to say?
[From The Sun]
That's kind of cute. It makes me root for Pete in that same way you'd cheer on the awkward guy friend who you hope only needs a makeover and a good shower. You'd never want to date him yourself, but you hope he finds some nice, other girl to go with.
Pete did really mess things up with Kate – in that spectacular way only he can. There were several reports that they were getting married on a beach in Thailand in 2007, and he didn't show because he got arrested for some drug charge or other. It's nearly impossible to root out which charge it was, the guy's got a rap sheet longer than a roll of toilet paper.
It seems like Pete's settled down a bit. And I say that very cautiously. I mean this is the guy who squirted a syringe of his own blood at an MTV cameraman because… well that's something to do, I guess, when you're Pete Doherty. I don't know how else to explain it. But he's not in the tabloids nearly so much anymore, and when he is it's for broken hearts and hooking up with girls and partying a lot. And a bunch of things involving his cat. Which is a big improvement over all the arrests and freakish behavior that would occasionally put Amy Winehouse to shame.
Maybe it's just my inner optimist, but I think Pete might still have a chance with Kate. Not necessarily anytime soon, but maybe in a couple years.
Here's Pete out and about in Paris on March 3rd. Images thanks to Fame Pictures .