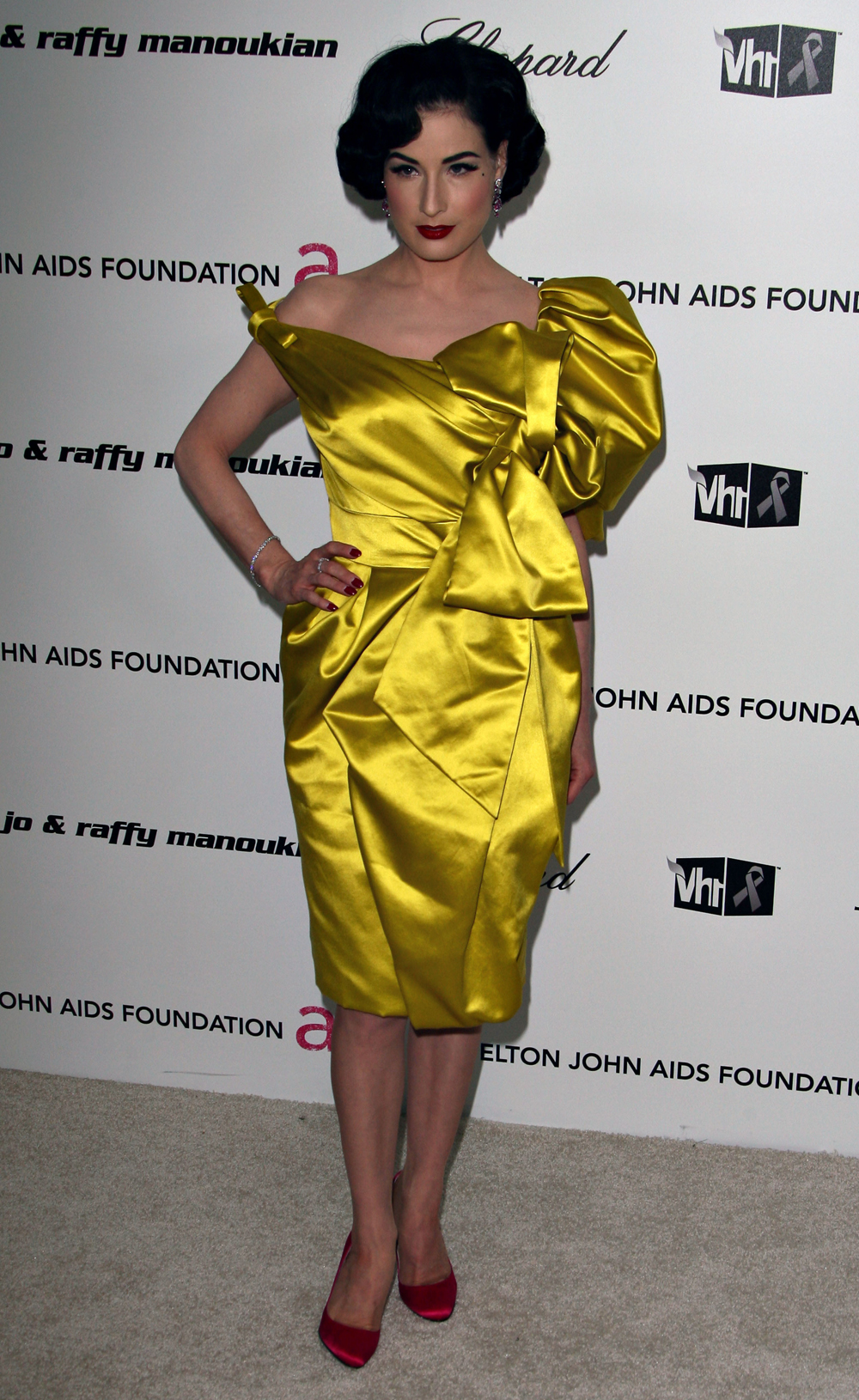 Dita Von Teese used to want to tattoo some fairly eccentric ideas onto her body. For example, she wanted to tattoo "seams" up the back of her legs. She also wanted to tattoo a small star on her cheek, rather than a "beauty mark". Dita is very grateful the tattoo artist said no to the star request though, and she ended up getting a permanent "beauty mark" tattooed on her cheek instead. As far as the "seams", Dita just got temporary henna tattoos to see what it was like. Definitely a better choice.
Dita Von Teese is grateful to her tattoo artist for rejecting a design she once dreamed up – because it would have disfigured her porcelin face.

The burlesque dancer was once obsessed with having a star tattooed on her left cheek – but the parlour employees refused and instead agreed to give her a beauty spot in its place.

She explains, "You have to understand I was pretty eccentric. I was always drawing hearts and stars in that spot. I went in thinking I wanted a star there, but they wouldn't do it."

"They were the voice of reason. They were so right." And Von Teese, who was once married to shock rocker Marilyn Manson, once had another idea she now realises she would have lived to regret.

She adds: "In the early nineties I almost got seams (tattooed) up the back of my legs but I'm so glad I didn't. Can you imagine how hard it would be to match up the seams with real stockings? It would have been a nightmare."

"At that time I was researching everything about the forties, about how during World War II women would draw seams on. I thought, 'Wouldn't that be cool?' I had them henna tattooed on, but I never went all the way."
[From PR Inside]
Dita asks, "Can you imagine how hard it would be to match up the seams with real stockings?" as if it never occurred to her simply to not wear stockings with seams. Dita cracks me up, I think she really is that eccentric. It's not an act. She wishes she were living in the 1940s. She probably would have done well in that era. She would have sold war bonds and married a naval officer on leave. Then she would have worn corsets and sold "women's unmentionables" at a department store. Damn, when is this woman going to get with George Clooney? I need to start a petition.
Here's Dita at the Elton John AIDS Foundation Oscars viewing party on February 22nd. Images thanks to Fame Pictures .