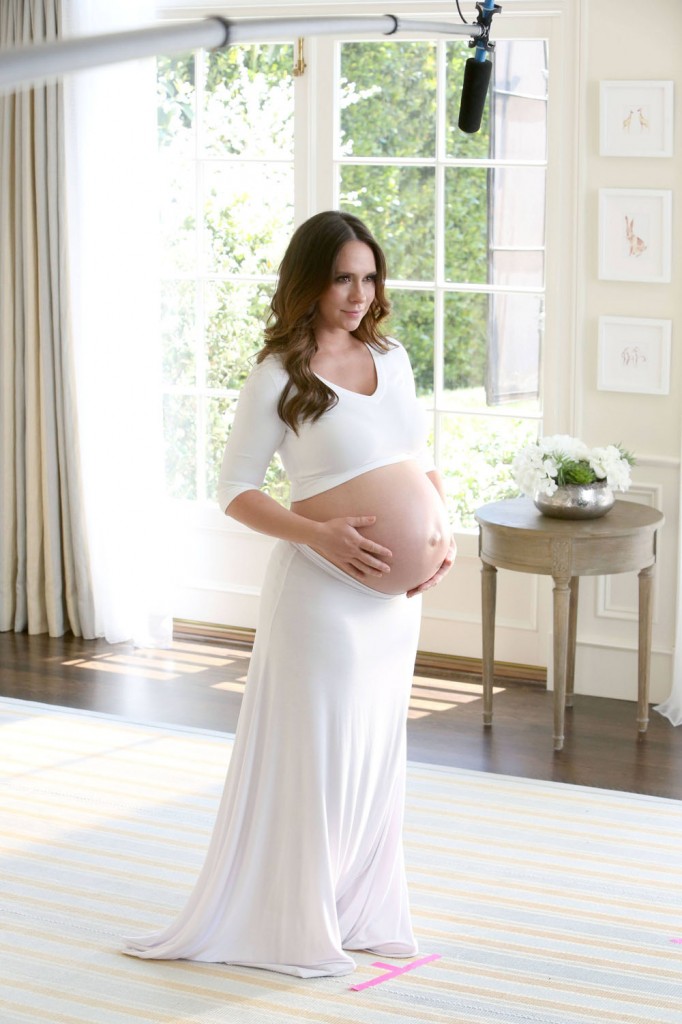 Sometimes I forget which celebrities are pregnant. Like, did you remember that Zoe Deschanel is pregnant now? It feels like we haven't seen her in forever. I honestly forgot that Jennifer Love Hewitt is pregnant, even though I just covered her last month and we get pap shots of her occasionally. She seems happy and like she married a dude who doesn't want her to promote their family at all. As I usually mention when I cover her, we haven't seen one photo of her 18 month-old baby's face and she's never made an issue of her privacy, either.
We've seen Hewitt's bare baby bump before though, inside the magazine American Baby last month. She's baring it again for an ad campaign. Hewitt is promoting Palmer's stretch mark cream, an old school cocoa-butter based cream that claims to help reduce stretch marks. In a PR statement from the company, which also sent us these production photos, Hewitt claims to have used it for her first pregnancy and to have seen results.
Palmer's Cocoa Butter Formula has cast actress Jennifer Love Hewitt as the star of their latest pregnancy ad campaign. Jennifer Love confidently showed her pregnant belly yesterday for the brand as the face of its trusted stretch mark products during their ad shoot in LA! As a longtime Palmer's fan, Jennifer Love has trusted the brand to keep her skin smooth and flawless throughout both of her pregnancies.

The ad campaign will celebrate soft, supple skin during pregnancy and the emotional bond between a mother and her unborn child. The ads will roll out in Fall 2015 in print, television and radio and will feature products including Palmer's Massage Lotion for Stretch Marks, Massage Cream for Stretch Marks, Tummy Butter for Stretch Marks and Skin Therapy Oil.

"After the success I had using Palmer's through my first pregnancy, I knew I wanted to support the brand by baring my pregnant belly to celebrate the beauty of expectant mothers," said Hewitt. "These are products that I believe in and actually use – they help moms to embrace the natural glow of pregnancy and I find it so empowering to be able to show my pregnancy off in this way."
[PR release from Palmer's received via email]
I've noticed that I have stretch marks on my thighs and chest but I kind of shrug and go "eh." Maybe it's because my skin is so fair and the marks are light that they don't bother me much. It never occurred to me to use cream while I was pregnant, and I think the marks are from weight gain anyway. So I guess that's why I'm asking: does this issue really affect pregnant women to the point where they're trying to solve it ahead of time? On Amazon the reviewers seem to indicate that they think the product works (and they're legit reviews) so that's something.
Hewitt is such a cute pregnant lady and she's a great representative for this brand. She sounds genuine about it too.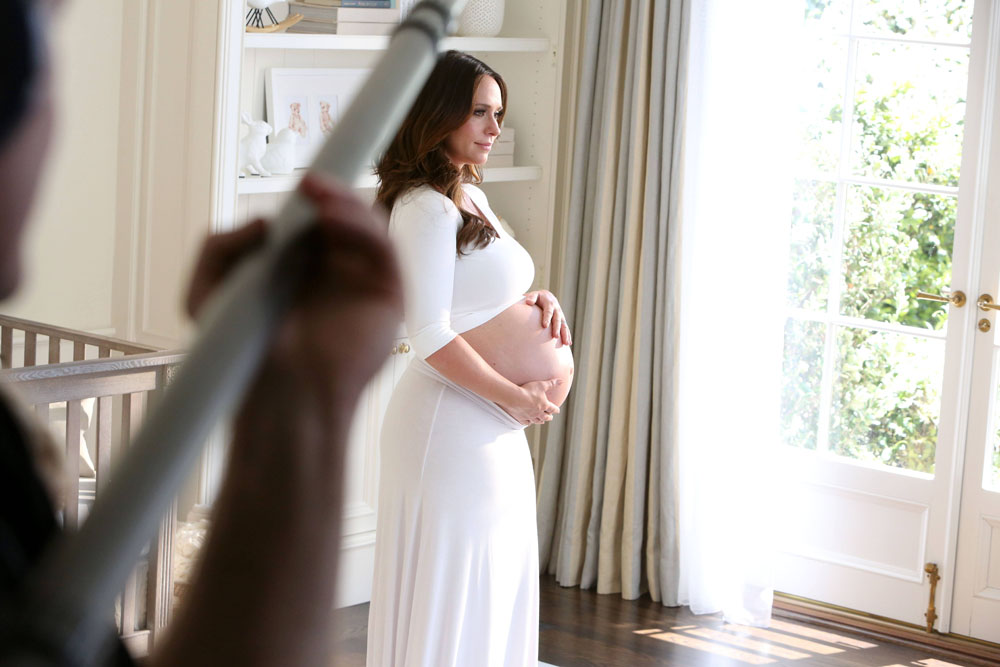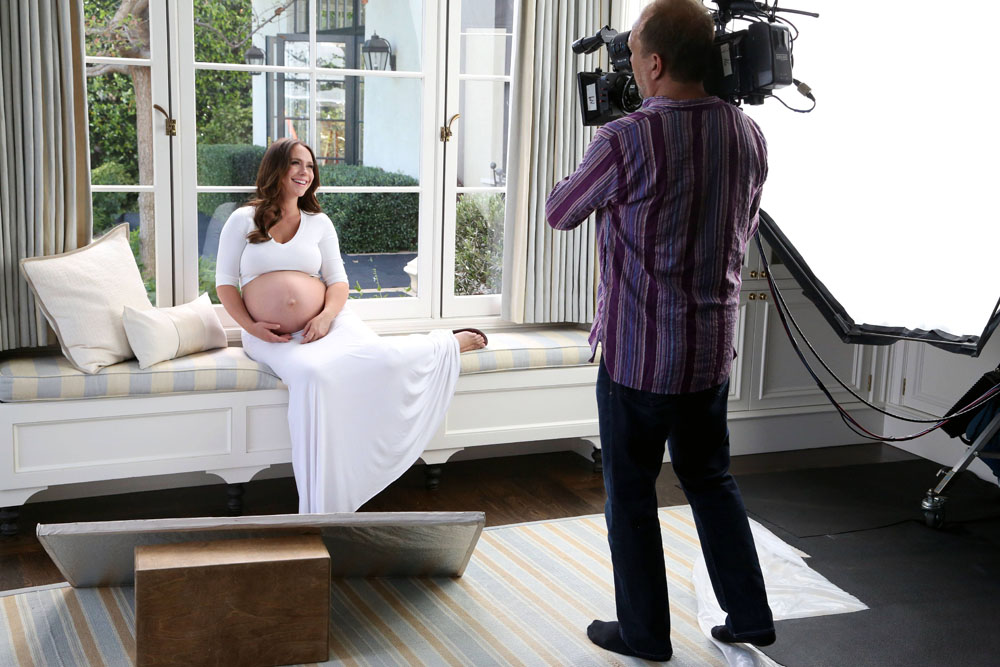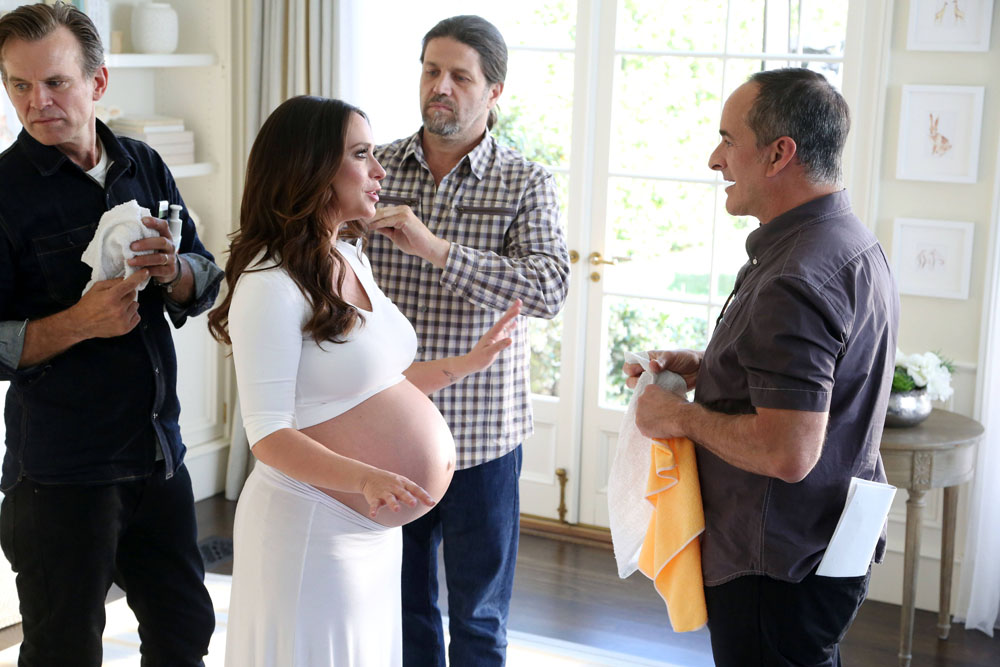 Photos courtesy of Palmers