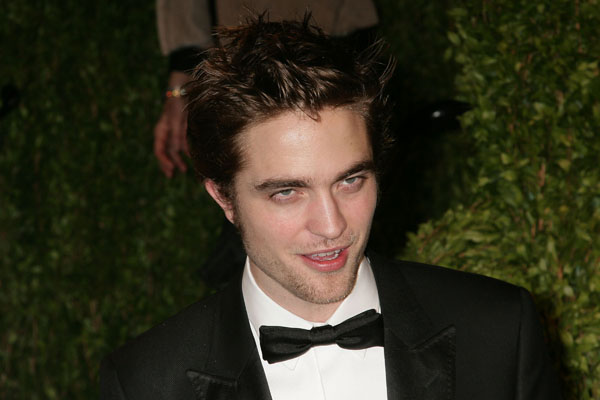 Robert Pattinson is working on a new film called Memoirs, about a pair of star-crossed lovers who are trying to deal with family tragedies. Rather similar to his biggest hit Twilight, which was billed as being a Romeo and Juliet with vampires movie. The Memoirs film is being re-written by Jenny Lumers, who wrote the critically acclaimed Rachel Getting Married, so it seems like a great opportunity for Rob. If this latest rumor is to be believed, he may be limiting his future opportunities by not showering enough though. On set sources report that he smells.
E! is reporting from a source on the "New Moon" set that Robert Pattinson has a dirty little secret.

"He stinks. I mean, it's awful. He never showers, and it drives people on the set crazy," dishes someone who wants to remain nameless but who reportedly toils in very close quarters with the Pattz Man. "He completely reeks."
My teenage sisters love the Twilight franchise, and when the DVD was released last week they had a little party, where a bunch of girls sat around wearing movie themed t-shirts bought from the local version of Hot Topic and gushing. Suddenly dad's Volvo is cool, which I never believed would happen ever. I can't get over how huge this movie is. Because of this the sequel New Moon will come out in November of this year, with Eclipse to be released in the summer of 2010.
As far as the not showering thing goes, possibly Rob doesn't wash his hair much to get that dirty slept in look he has. The girls watching the DVD were calling it 'freshly shagged' hair. I'm not sure what kind of product you could use to get that look, I think it needs to be a little greasy to get that texture.
Robert Pattinson is said to be the next big thing, and in true Hollywood style is rumored to be dating his co-star, but since most of his fans are tweenies it's a good idea to break out into a new film not aimed at children. Rob's most significant past roles were Cedric Diggery in the Harry Potter films and a small part in Vanity Fair with Reese Witherspoon.
Robert Pattinson is shown at the Academy Awards and the Vanity Fair Oscar Party on 2/22/09. Credit: WENN.com