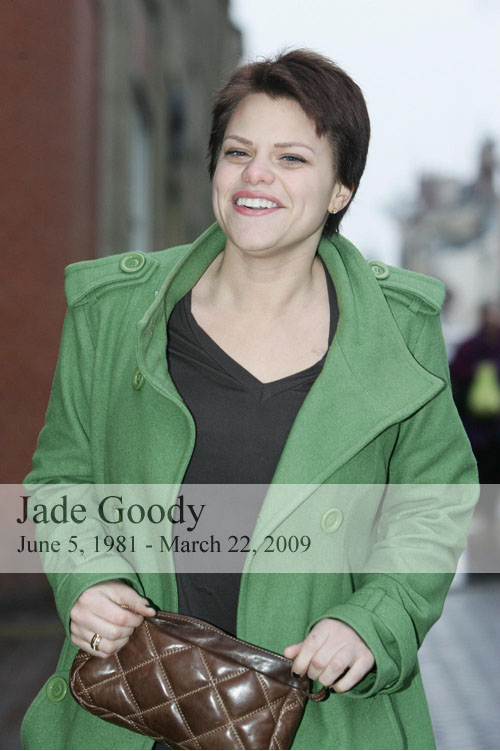 Jade Goody, who died on Mothers Day in Britain, is to be buried on April 4th. Jade's funeral is expected to be the biggest event of it's kind since Princess Diana's funeral – floral tributes have been left outside her home and big screens have been set up to broadcast the service to the public outside of the church.
With her mother, Jackiey Budden, saying her daughter would be "overwhelmed" by the public response to her death, plans are falling into place for British reality star Jade Goody's April 4 memorial service.

A 21-car funeral procession will leave Goody's home in Essex, England, at noon that Saturday en route to the service at St. John the Baptist church in Buckhurst Hill, the BBC reports. Thousands of mourners are anticipated to line the route and then watch the proceedings on large, outdoor TV screens set up for the occasion.

The church service is expected to commence with Goody's favorite hymn, "All Things Bright and Beautiful," and the 27-year-old will then be laid to rest in Epping Forest Burial Park in North Weald.
Jade's death is causing as much controversy as her life did, with at least one opinion writer in the UK suggesting that 'a saint she ain't', and the BBC received calls complaining about the level of coverage they gave her death. Harper Collins publishers are planning a third installment of her life story, following her previous two autobiographies. A biopic is also said to be in the works.
Jade set up these ventures in order to give her boys Bobby, 5, and Freddie, 4, the opportunities that she never had in her childhood. I think any mother would be desperate her see her children taken care of in the event of their death. Some feel that Jade, who was a reality TV star and known for her racist comments and dumb questions, is being given too much attention and should have died with dignity in private. However, the Daily Mail says that the 'Jade Effect' has led to a 20% increase in cervical smears since her diagnosis in August. If she can gain financial resources for her kids and raise awareness that encourages women to get a pap sear then she's done an admirable thing in her last days, even if you didn't always agree with her in the past.