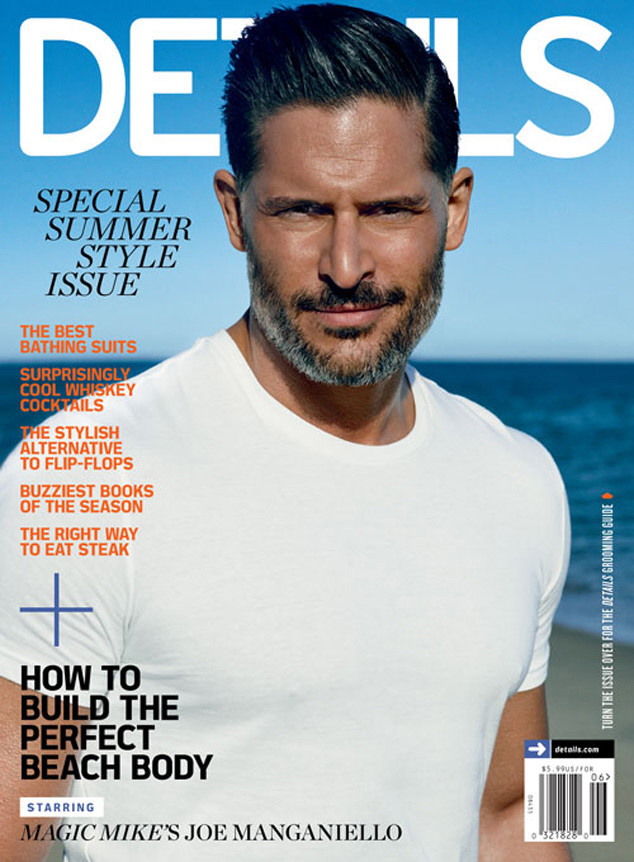 Joe Manganiello covers the new issue of Details, and if he was looking to convince people that he's not some grunting meathead with nothing to say, Details sort of sold him out. This is the shortest cover profile I think I've ever seen from Details. It's basically six paragraphs and four major quotes from Joe and that's it. Details usually does a five-page intensive interview with their cover subjects, like they spend a whole day together and get the subject's thoughts on religion, women, workouts, art, etc. While I have no doubt that Joe is a total meathead, even I believe he had more to say than this! Some highlights from the Details piece:
He tore his biceps in the middle of filming Magic Mike XXL: "I had to power through four and a half weeks of shooting, just dealing with the pain and praying that the biceps didn't detach completely. I had surgery the second I got back [to Los Angeles]."

Scheduling? From Details: "There was a reason he was on Zack Snyder's short list to don Superman's cape in 2013's Man of Steel before a scheduling conflict eventually took him out of the running."

He doesn't mind being objectified: "Why would I? I don't think men care why women like them, as long as they do. That's the point of the nerd in high school who makes it big. You work that hard for a reason. You want to have access to the dating pool."

Getting ripped for True Blood: "No one pointed a gun at my head and said I had to look a certain way. I was hired for how I looked then, and I could have stayed that way, but why wouldn't I want to come in the best shape of my life?"

The good life: "My life's pretty damn good and if working out had anything to do with affording me the type of life I have, then bring on more."
Was he really that much of a contender for Man of Steel? I have my doubts. I think he had some meetings and there was a lot of interest on his part, but they make it sound like he was thisclose to getting the part and "scheduling" ruined his chances. Doubtful. Anyway, I guess the positive here is that Joe is totally fine with being objectified. Good thing, because I guess no one wants to talk to him. Hey, at least the photos are nice! They even put him in a wet white shirt. Joe Manganiello: would you hit it without talking to it?
Photos courtesy of Details.