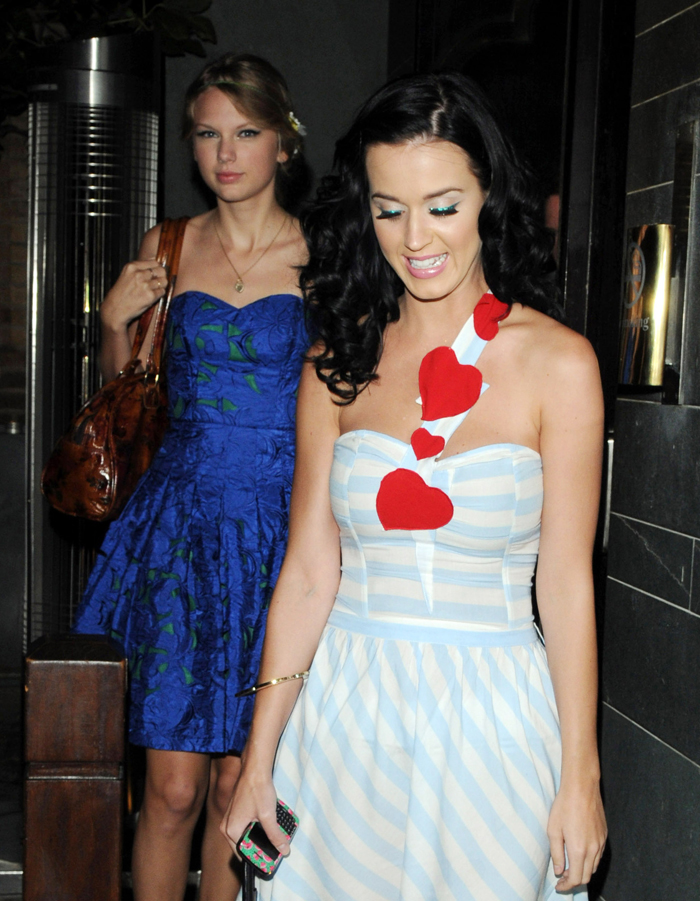 Taylor Swift and Katy Perry used to be friends (back around 2009 when these photos were taken). I always thought they were frenemies more than anything else. Katy seemed to overcompensate her cheery vibe in joint photos, and Taylor looked like she couldn't stand Katy and was afraid of her too. Fast forward to today. Taylor sits at the top of the pop world. She's even more successful than Katy. Taylor's confidence has grown, and she recently wrote a revenge song (Bad Blood) about Katy and rallied all her friends in the video. Katy is no saint either. She's tossed plenty of shade Taylor's way. When she was dating Diplo, she was fine with letting the guy trash Taylor.
The fanfiction ink wells are primed. Katy may resent attending the Billboard awards (she was nominated for Top Touring Arist, Best Female Artist, and Top Artist) because of the show's Bad Blood video premiere. Katy and John Mayer are back "on" (more about that in a minute), and he's still tushhurt about Taylor. So maybe Katy and John will team up and trash Taylor in yet another revenge song. That's what Heat magazine (via Cosmo Australia) writes. The source is sketchy, but this could happen:
Katy Perry was noticeably absent from the Billboards because, well, Taylor Swift. Would you want to see your frenemy and her posse as she wins the whole awards while showcasing her bitching-about-you-song?

Yeah, we'd pass too.

But apparently K-Pez was all set to go to the awards (she had an eyelash appointment and everything!), but boyfriend (and ex-boyfriend of Taylor Swift) John Mayer persuaded her not to go.

"John convinced her it was a bad idea," Katy's friend told heat magazine. "Katy realised she couldn't stand the idea of the cameras being on her face as she had to watch Taylor win every award with all her friends applauding her."

"Katy thinks revenge is a dish best served cold," the friend added. "She's even more determined to show people what she calls 'the real Taylor' – she's writing some big, anthemic-type songs that'll feature dirt on Taylor that John's told her from when they used to date.

"Katy's sure that she'll be back on top before long, and Taylor will regret ever starting this stupid row."
[From Cosmo Australia]
I don't think Katy would be as obvious as Taylor, and if there's a revenge song coming, Katy won't do it right away. But Katy and John are back together again. Shocking, I know. People has photos of them on rides at Disneyland where they wore hooded jackets in an attempt "to keep a low profile." Supposedly, these two are just friends who hook up now.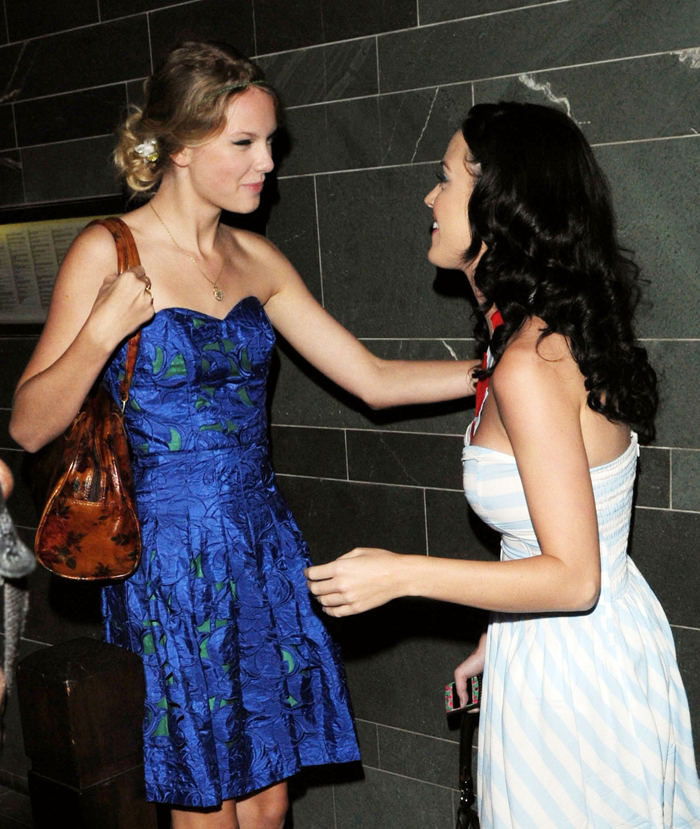 Photos courtest of Fame/Flynet & WENN