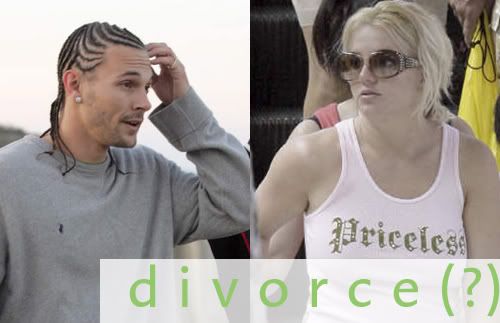 Reports are surfacing that Britney was enraged after being tipped off about photos of Kevin with his arm around French "actress" Sandy Lakdar, aka DIE2DIE. She supposedly kicked him out – yes again:
Spears was holidaying in Maui, Hawaii on 22 February (06) when a friend called with the news of Federline's latest scandal, according to American magazine Life & Style.
Federline, who was working on his debut album in Los Angeles, was photographed cuddling with a sultry young dancer, called SANDY LAKDAR, outside Hollywood's Millennium Studios.
A friend of Spears' says, "She was literally kicking and screaming (when she heard about the photos). When she got back to her suite, she was so furious, she destroyed everything in sight. She called Kevin but couldn't reach him."
The friend claims Spears has since ordered her husband to pack his bags and "get the hell out" of the house she shares with him in Malibu, California.
The dates seem a bit sketchy, considering that she was just in New Orleans with Kevin. It's possible that she kicked him out afterward.
For her part, Lakdar says that she just met Kevin that day, so of course nothing could have happened:
But Lakdar, 25, is jumping to Federline's defence, insisting she first met Spears' husband the day the photos were taken, and the pop superstar has nothing to fear. She says, "I do not f*** married men."
This argument is weak, given how intimate the two looked. Whether she's telling the truth or not, the pictures are damning. If she only met him that day, then she might not have screwed him but it's still wrong for him to treat her like an old friend. When I first saw the pictures, I even thought the two might be related. Please let it be true that Britney kicked him out, and let's hope she's not really pregnant again. (Or at least that it's not K-Fed's.)