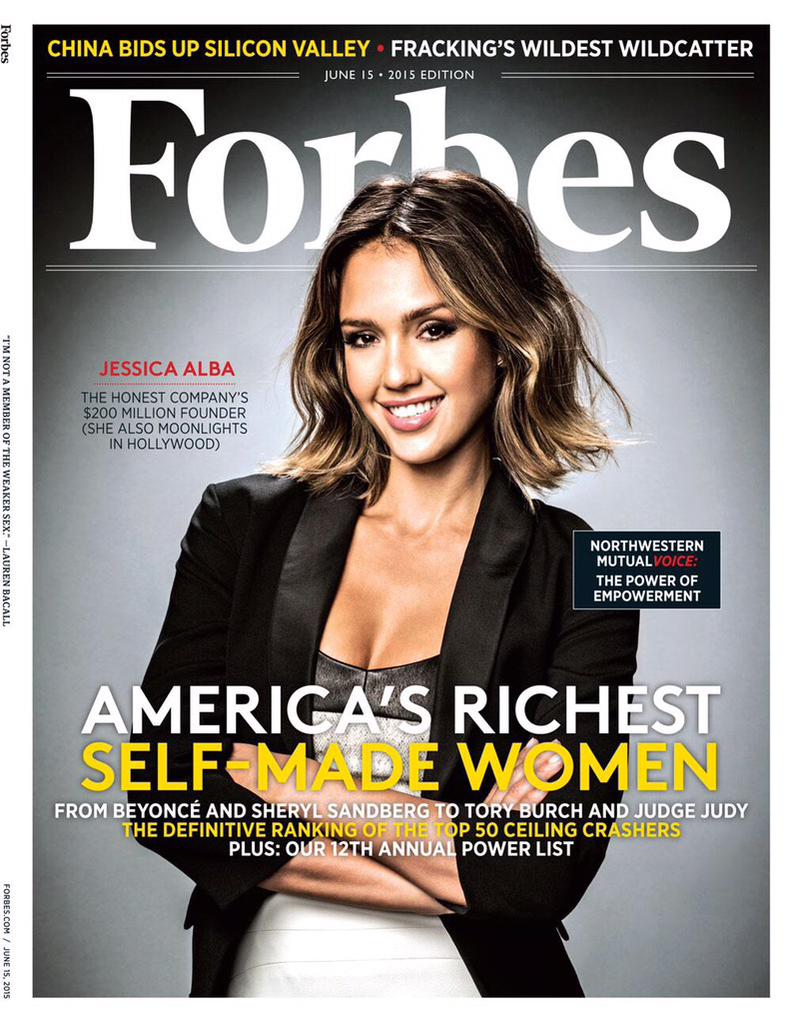 Above is Jessica Alba on the cover of Forbes's "America's Richest Self Made Women" issue. It looks like they put two halves of her face together from separate photographs. Forbes's profile of Alba's Honest Company is careful to note that she's not quite on the list of the Richest Self Made Women yet, but that she's headed there. The Honest Company, which Alba founded in 2011, sells organic baby, cleaning and household products and is currently valued at $1 billion. Jessica's 15% – 20% share gives her a personal net worth of around $200 million.
You can see the full list of Forbes' 50 richest self made women here. It includes celebrities such as Oprah (#5: $3 billion), Madonna (#28, $520 million), and Kathy Ireland (#33, $420 million), with Beyonce and Judge Judy in a tie at the end of the list with a net worth of $250 million. You'll recognize many of the other names, including fashion moguls Tory Burch, Diane Von Furstenberg and Vera Wang along with tech leaders like Sheryl Sandberg of Facebook and Marissa Mayer of Yahoo! I could spend all day reading that list and thinking about these powerful women, but I digress. (I haven't even heard of #1, Elizabeth Holmes, who is all of 31 and founded a blood testing company called Theranos. I'm going to look up her Ted talk after this.)
Alba's story goes into how The Honest Company was founded, and it sounds like it lives up to its name. Alba saw a need for products that were eco-friendly, chemically safe and with a design that would appeal to modern moms. She wanted products that she would use for her family that didn't exist under a single brand, so she created one. I'll just except some of the relevant parts here and the entire article is worth a read if you're interested.
Alba works 86 hours a week
Details and hard work. Alba laughs about how she once worked an 86-hour week as the star of James Cameron's sci-fi TV series, Dark Angel — the series that launched her career. Now, she says, she spends those 86 hours at a vintage teal blue desk, overseeing marketing and brand development for a company that feeds a growing demand for safe, nontoxic products, particularly among young helicopter parents who treat children — and what goes near or inside them — like porcelain.

Her company is valued at a billion
Safety sells. The Honest Company has experienced an absurd level of growth. In 2012, its first year selling products, it hit $10 million in revenue. By last year it was $150 million, and industry insiders are predicting over $250 million this year. The company is focused on growth over profits, boasting a current valuation to match: $1 billion.

How Alba was inspired to create safe products
[After getting hives from laundry detergent twice] Alba spent late nights on Google and Wikipedia researching the contents not just of the offending detergent but also of everything in her bathroom cabinet and under her kitchen sink. "I was like, 'How can this be safe for babies if I'm having this type of reaction?'" she says. What she found terrified her: petrochemicals, formaldehydes and flame retardants in everyday household products from floor cleaners to mattresses. Some were listed on the ingredients label plain as day, with others disguised under the catchall of "fragrance," which is entirely legal…

By 2011 she had turned herself into an expert on consumer products and traveled to Washington, D.C. to lobby for updated legislation. She was — and is — particularly focused on reforming the 1976 Toxic Substances Control Act, which has allowed more than 80,000 chemicals to remain in household products untested. Only five are regulated by the Environmental Protection Agency; just 11 are banned from consumer goods. (In Europe that figure is more than 1,300.) "Enough people have to get sick or die from a certain ingredient or chemical before it's pulled from the marketplace," says Alba.
I'm chemically sensitive and have to be careful of perfumes and dyes in my products, so I appreciate when anyone brings awareness to this issue. Certain perfumes make me dizzy and my skin is very sensitive. It goes beyond that though, to long term health concerns. I heard a radio show recently on NPR about how the EPA barely controls any of the chemicals in consumer products, and how the conversation around chemicals is almost entirely controlled by "scientists" hired by powerful chemical conglomerates. It was sobering and this is what Alba is lobbying to change. Everyone should have the right to safe products, but much of the information required to make purchasing decisions isn't known or is deliberately covered up. Good for Alba for creating products that families can feel good about.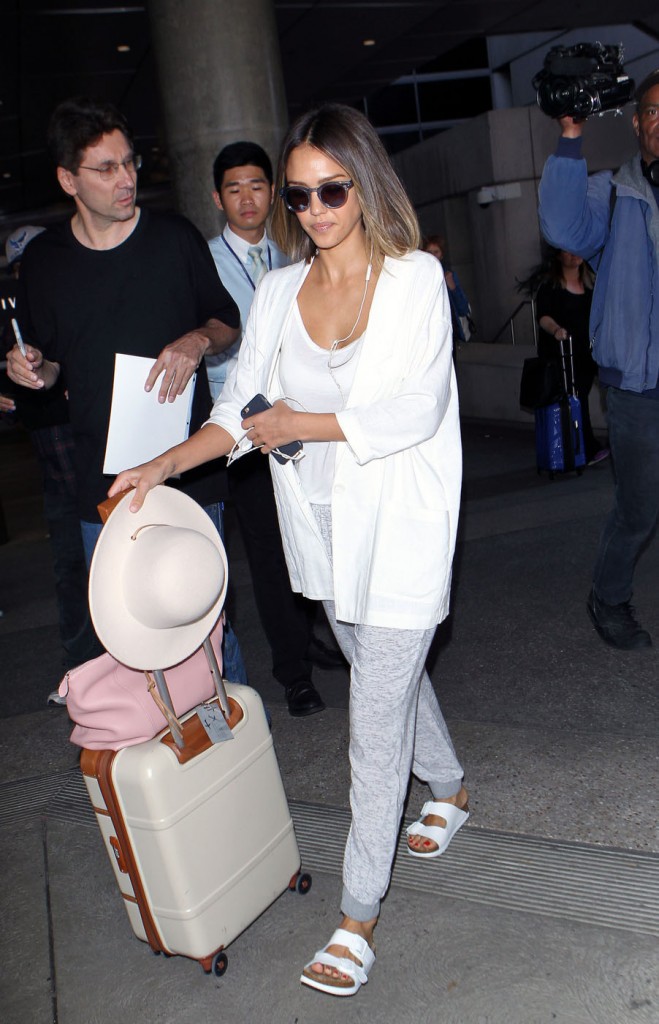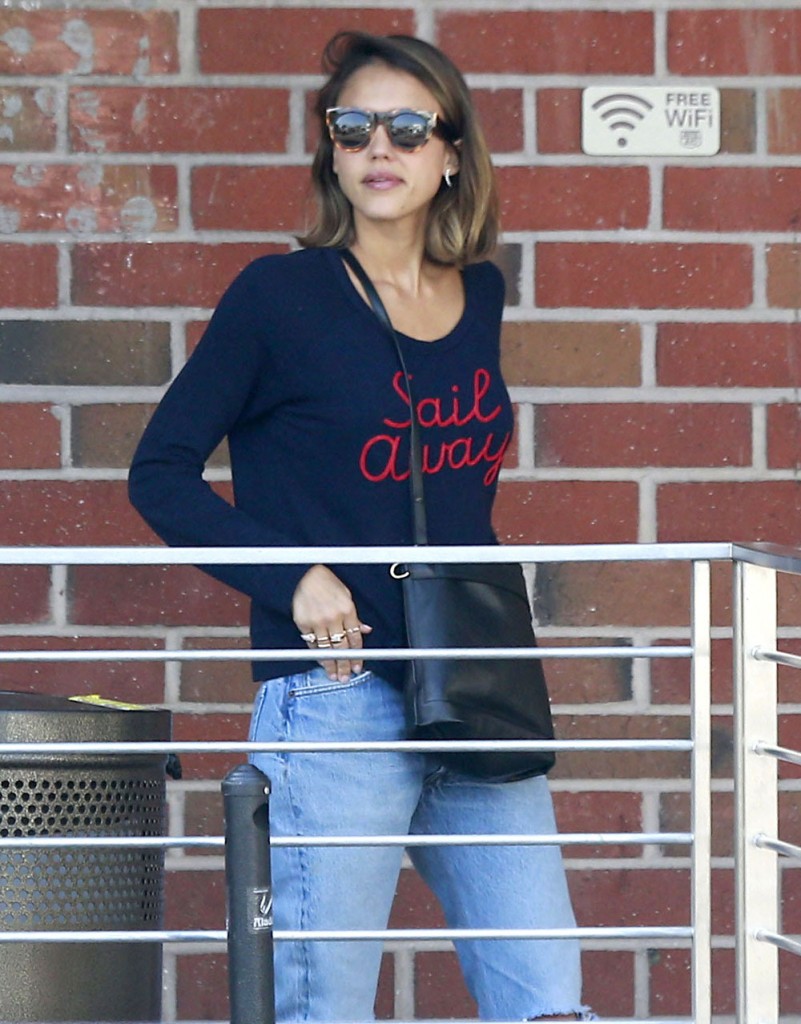 Jessica Alba is shown at LAX yesterday (credit: Pacific Coast News) and out on 5-25 (Sail away shirt, credit: FameFlynet) and on 5-24 (scarf, credit: FameFlynet