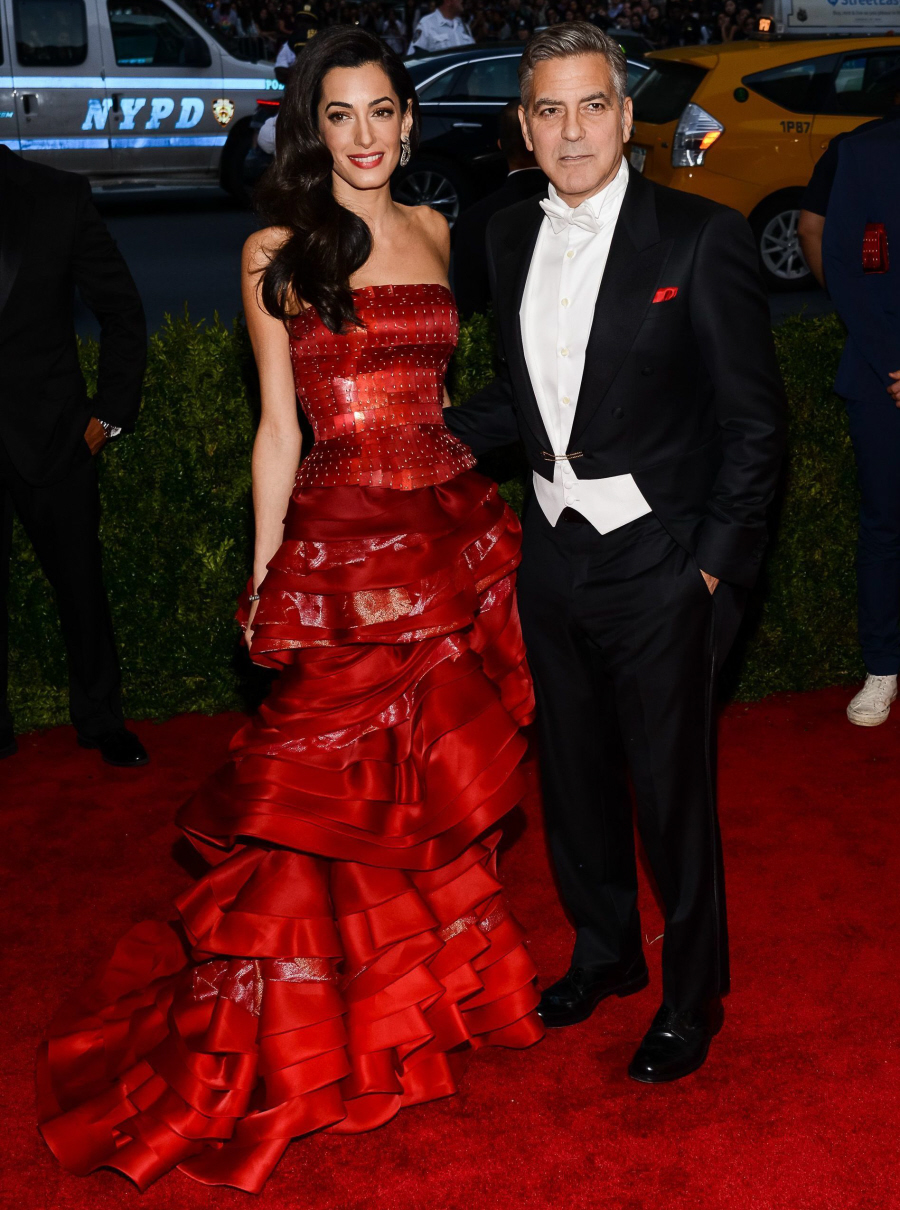 Amal Clooney is made of lies!! George Clooney is made of lies too. Except I really don't understand why this is a story? In the past month, Amal Clooney has worn John Galliano for Maison Margiela to two major events: the Met Gala and the Japanese premiere of Tomorrowland. One look (the red gown at the Met Gala) landed and one did not. So, Galliano is at 50% approval in my eyes. But the point of all of this is that George Clooney "lied" when he recently said Amal did not have a stylist. But did he really "lie"? Yahoo Style claims that Alexis Roche – Galliano's long-time partner – is Amal's stylist. Sort of. Like, Amal hired Roche to arrange for gowns for certain events. Which really is not the same as having a full-time stylist? Here's Yahoo Style's piece (minor edits for space):
Amal's fashion choice [the gold Galliano in Japan] drew criticism from some fans, who felt it was inappropriate for her, particularly as a human rights lawyer, to work with a designer who was found guilty in 2011 of making anti-semitic remarks in France (where making racial slurs is illegal). This is the second time Amal has worn a Galliano design since he took over at Margiela and began an expertly executed comeback, dressing one A-list woman at a time. Of clients like Anna Wintour, Cate Blanchett, and Rihanna, Amal is the only one to have worn his designs twice, the first time on fashion's most important stage, the Met Gala, earlier this month.

Whatever you think of Galliano (fashion, for one, has more or less forgiven him), Amal's decision to work with the designer is certainly worth noting. As a Hollywood newcomer and wife of one of the country' most beloved celebrities, Mrs. Clooney's sartorial choices are destined for dissection. But, because of the couple's political leanings—and Amal's high-profile, politicized job—there's an extra layer of scrutiny: We expect a higher degree of sensitivity and savvy from Amal, just like we do from Michelle Obama and Kate Middleton (both of whom Amal has been compared to). Fair or not, Amal is well-aware of this landscape–so why, particularly after she faced backlash for her Met Gala appearance, has she remained loyal to Galliano and Margiela? Is it the work of Galliano-cheerleader Anna Wintour, who has recently taken Amal under her wing? Or is Amal, who recently criticized Turkey's double standard on freedom of expression, trying to send a deeper message?

The answer, it seems, is far simpler. Contrary to what has been widely reported, Amal does work with a stylist—at least sometimes. His name is Alexis Roche, and he just happens to be Galliano's long-term partner. None of this is a secret per se: Roche has been tweeting the looks that he styled her in (hint: every time she's worn Margiela), and they are also included in his online portfolio. Roche is well-known within the industry for outfitting glamorous, sophisticated women like Uma Thurman and Marion Cotillard and, more recently, he's been dipping his toes into younger territory: He recently styled Kendall Jenner in midriff baring Alaia at Cannes. So yes, Amal Clooney and Kendall Jenner do in fact have the same stylist.

Roche's agent did not return our request for comment (Roche, like Galliano, is notoriously press-shy). But all signs point to a strengthening relationship between Amal and Margiela. When reached for comment, a Margiela press person said: "The Maison wishes not to speak on this subject just yet." (emphasis ours). Whatever Margiela has up its sleeve (an Amal Vogue cover perhaps?)—and regardless of the motivating factors—it's a smart association for the house to cultivate: the endorsement of a human rights lawyer (and budding style icon, to boot) is exactly what's needed for Galliano's already-in-full-swing comeback.
The suggestion is perhaps that Amal is working closely with Roche full-time to develop a larger fashionista persona, one that involves a close association with a master designer like Galliano (and Galliano IS a master, despite what we think of his hate speech conviction). I just feel like… there's a lot of parsing happening here and I don't really think it's that important in the story of who Amal is and who she's going to become.
We already knew that she had developed a friendship with Anna Wintour, and when Amal wore Galliano twice in one month, we could infer that Wintour played fashion-matchmaker with Amal and Galliano. And just because Amal gets some help for her big appearances, doesn't mean that George was lying about how she doesn't have a stylist – she doesn't have one on-call and she largely shops for herself, or stops by designers' studios or they just send her stuff (which is working directly with design houses, as in not having a stylist). It does feel like this is a non-story, or maybe I'm just not feeling particularly conspiratorial about this part of Amal's life. But sure, maybe it is all a lie-filled conspiracy in which Amal and Roche are planning some huge Galliano-clad Vogue cover. Why not?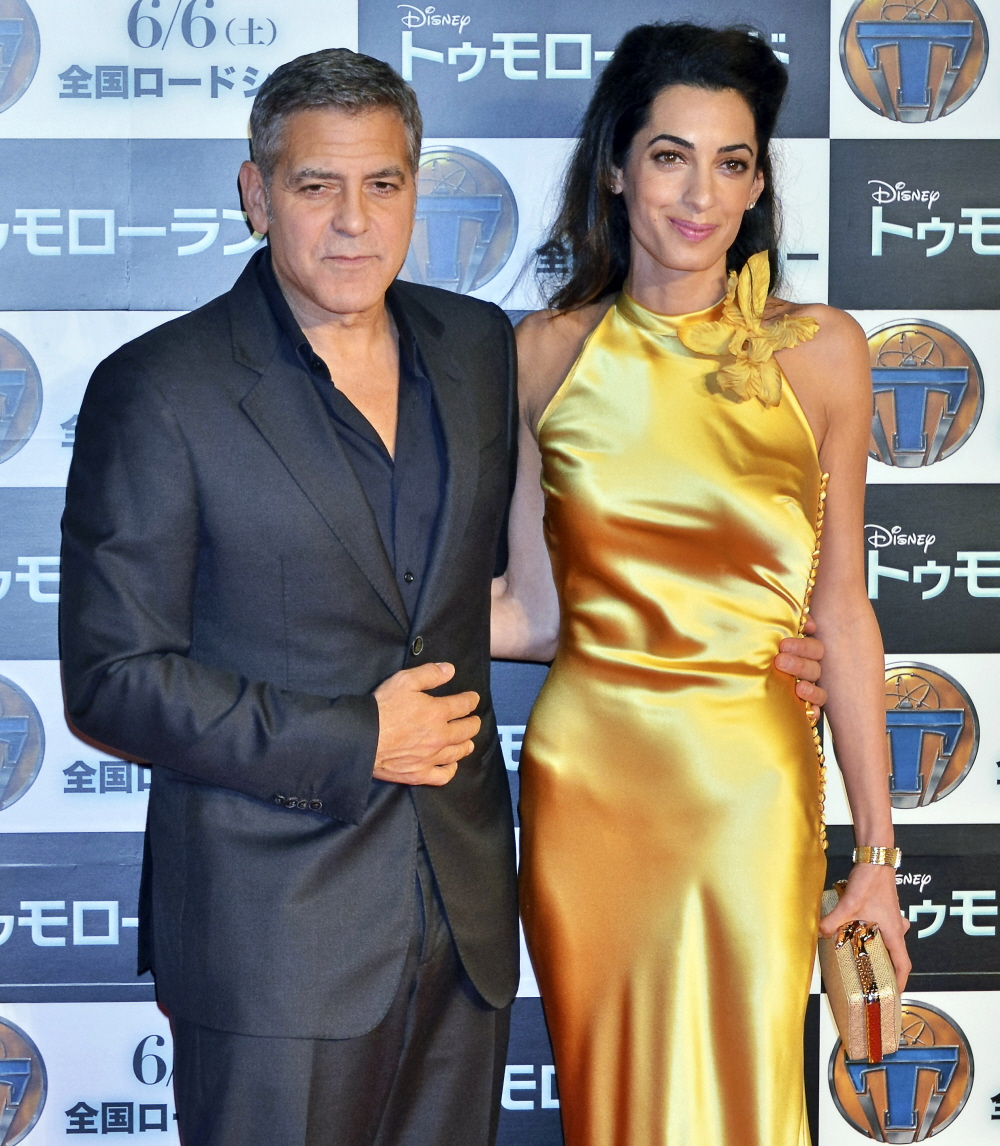 Photos courtesy of WENN.