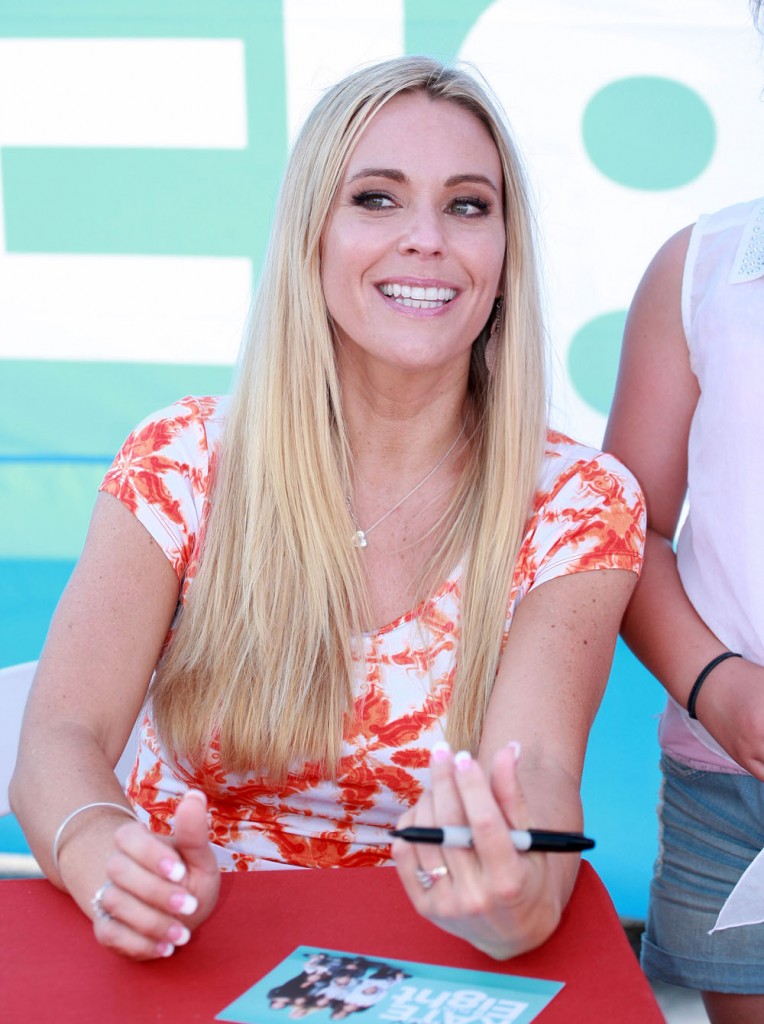 Kate Gosselin, 40, has been dating a millionaire entrepreneur named Jeff Prescott, 51. Prescott runs a microstock photo agency called Dreamstime and is divorced with three young adult children. The timeline seems to be that Kate has been with Jeff for about seven months, as per US Magazine, which has been running exclusive stories on the budding relationship. (You can see a photo of Jeff on US's site.) I guess that's enough time to decide to make it official, because Kate was spotted at a "TLC Block Party" in Philadelphia wearing what looks like a big 'ol engagement ring on her left hand. (Photo above.)
Let's digress for a moment and wonder why TLC is still holding promotional engagements while they're in the midst of one of the biggest, most despicable scandals their network has ever faced. This is the same network that aired a marathon of 19 Kids and Counting right after the news broke that Josh Duggar molested his sisters. The show must go on and since we haven't heard whether they're canceling 19 Kids or not (they have stopped airing it at least) you can bet that they still have feelers out. Will TLC have a big void in programming and will they call on Kate and her eight kids to fill it? I wouldn't be surprised if we get more Gosselin specials.
So Kate is probably engaged to this guy given how much she's flashing that ring around. Radar dug up the court documents on Jeff's divorce, and it was contentious to say the least. His ex applied for a restraining order (which was not granted) and accused him of trying to alienate their children against her. Jeff's ex wife also said that he would regularly stalk her.
The Dreamstime co-founder's ex-wife Michelle Jones accused the 51-year-old of neglecting their three children during the couple's nasty 2006 divorce, RadarOnline.com can exclusively reveal.

In Massachusetts court documents obtained by Radar, the homemaker claimed her husband of nearly 20 years has had "infrequent" visits with Ashley, Brooke, and Connor, who were then 19, 14 and 10 respectively.

Since their separation five months prior, "he has had Connor two times overnight," she stated in the affidavit. "He has not taken the girls at all overnight."

She also alleged the CEO would frequently skip town "on business and pleasure," without giving his estranged wife or their children, one of whom is disabled, any notice.

"There have been times when he has not answered his cell phone for days," Jones claimed.

When Prescott was in contact with the children, Jones said, he manipulated them into taking his side in the bitter split.

In a February 15, 2006 email presented to the court, Prescott told young daughters Ashley and Brooke "I…want to make it very clear that I have given your Mom every chance to try and settle things in a way that would not require all that is about to transpire. Again, she has chosen this battle for reasons I cannot understand."

"We will spend a ton of money on lawyers. Money that I would have rather seen go to you guys or your Mother but she sees things differently," he continued.

Later that week, after Jones sought a restraining order against Prescott for "jealous" behavior, she claimed the father of three left his teen daughter Ashley upset.

"He told her that all sorts of terrible thing were going to happen if I obtained a restraining order such as 'loss of our home,'" she alleged. "He told her that she may 'not be able to go to college.' He told her we may go 'bankrupt.'"

Nine years after the messy divorce, Prescott exclusively tells Radar that he and his ex now "get along great."

"As for the divorce issues, most of them do not carry any merit," he explains. "We went through some tough times that were short lived. Michelle and I get along great and have for a long time. Our children are great kids with awesome values as a result of having a good mother and a caring, loving father."
At least the guy and his ex are on good terms now, but he sounds like an a-hole. Still, we don't know if he did all the things his ex wife accused him of, etc. Given what we know about Kate Gosselin, they sound pretty well suited to each other.
Meanwhile Kate's ex, Jon Gosselin, is fighting for custody of one of their 11 year-old sextuplets, Hannah, who is not getting along with her mom. Jon struggles with finding consistent employment so it's unclear how he'll care for Hannah. In Touch reports that Kate left the children with a nanny for four days while she was off with Jeff last month and didn't even leave the children a number to contact her during that time. Hannah is said to be fighting to stay off camera and Jon will reportedly try to get TLC to stop filming. He has been trying to do that for years, I doubt he'll be successful now.
Update: Gosselin has denied being engaged and tweets that she wore the ring to celebrate her 40th birthday. In other words, she's trolling us.
Fyi: I'm not engaged-not even dating any1.Loved the ring so I put it on myself 4 my bday-Had 2have something abt that # to make me smile #40

— Kate Gosselin (@Kateplusmy8) June 1, 2015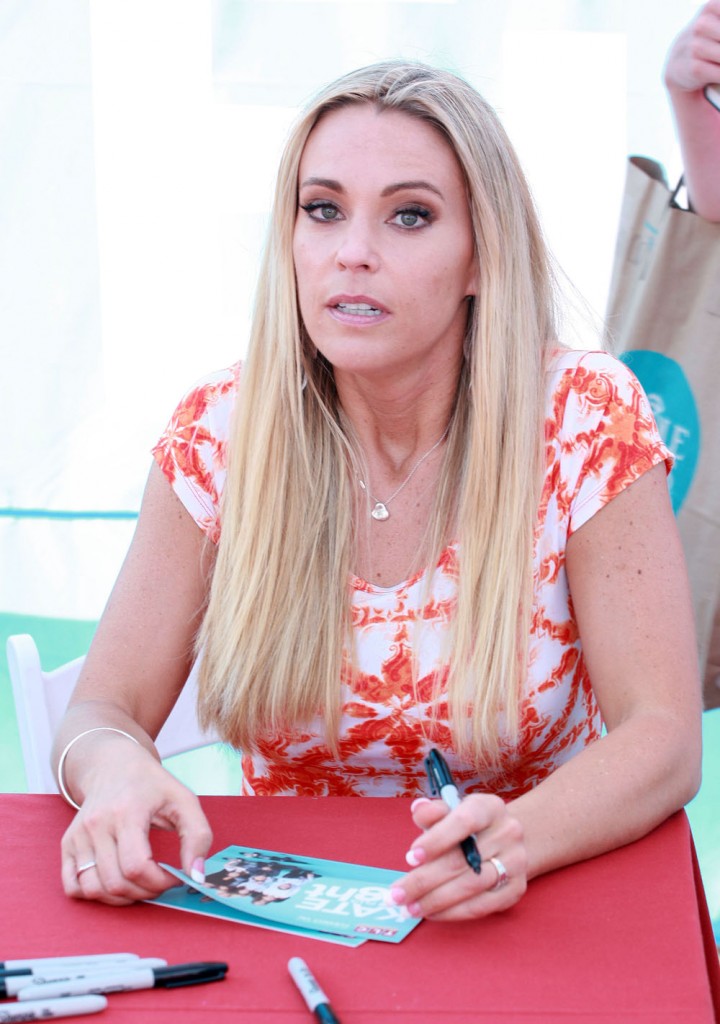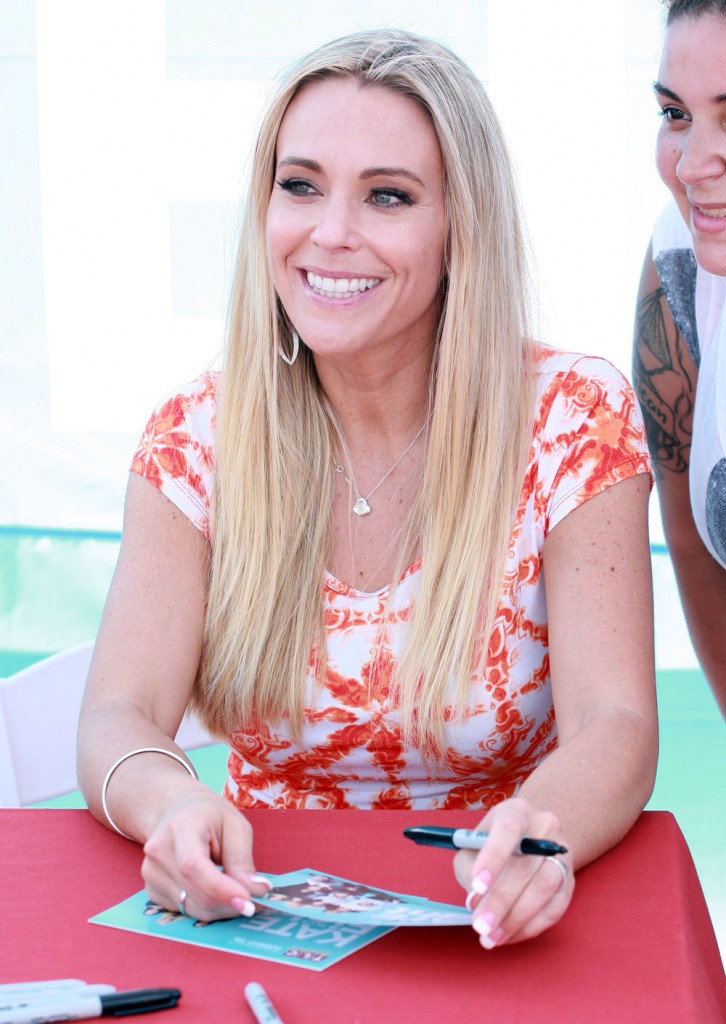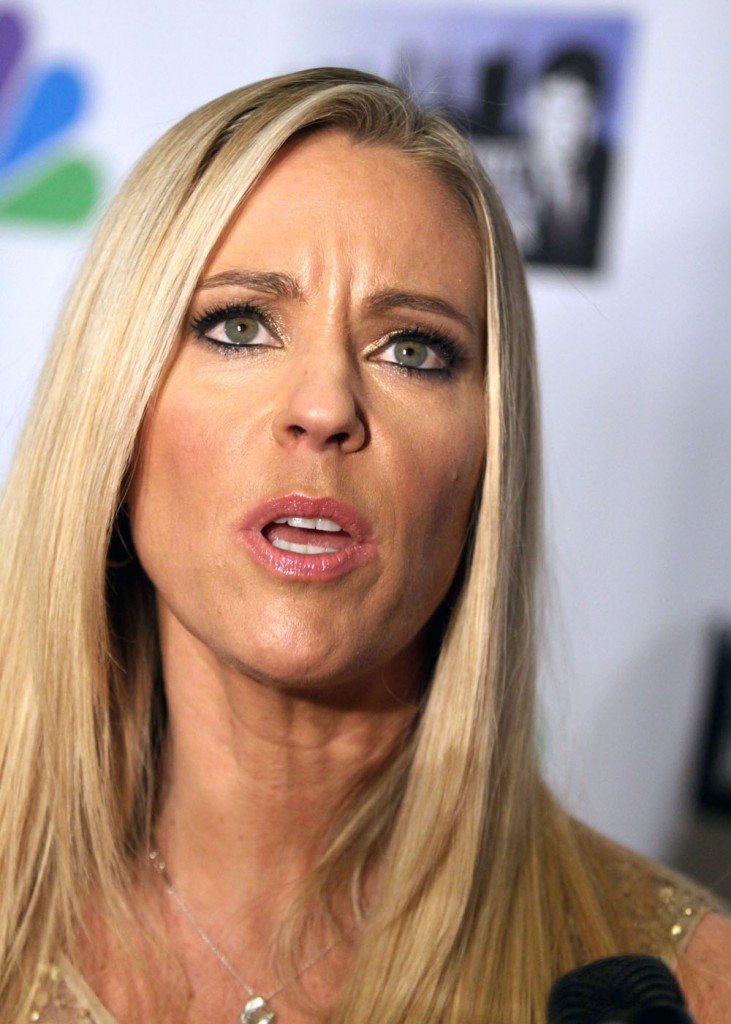 photo credit: FameFlynet