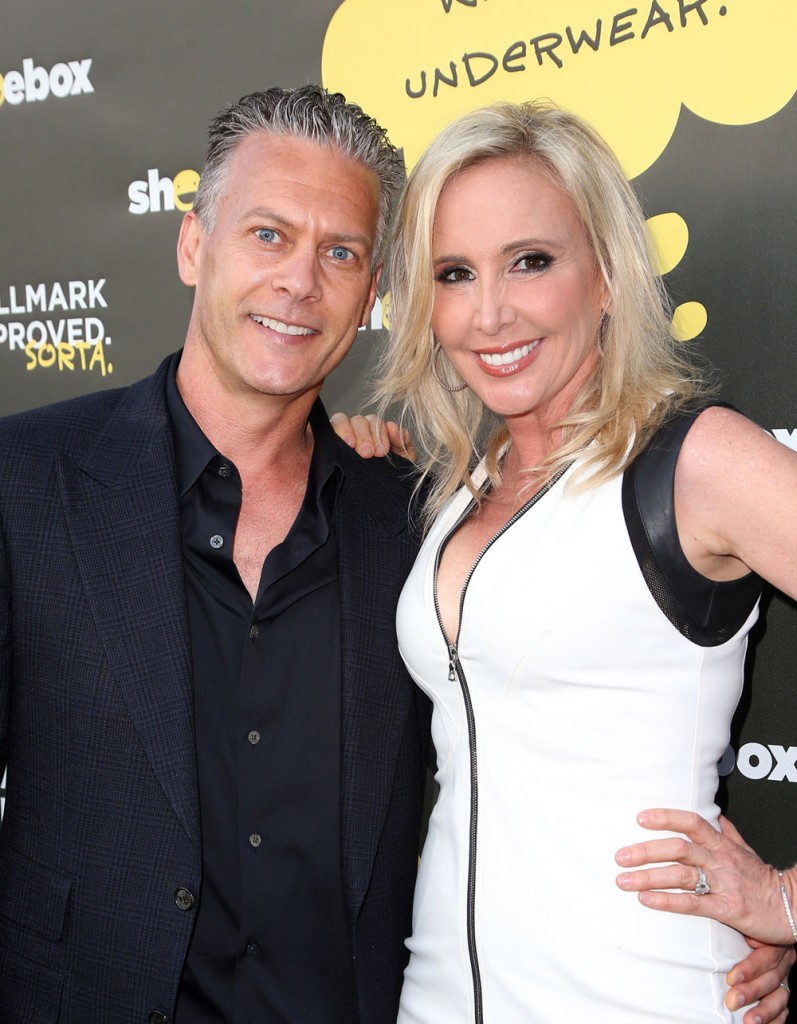 Full disclosure: I do not watch The Real Housewives of Orange County. I am covering this story because it's mind boggling that there are actual women who blame themselves for their husband's wandering dick. Apparently The Real Housewives of OC's Shannon Beador is one of them. I was facepalming over some of the quotes she recently gave US Weekly, while accompanied at an event by her cheating husband. Of course she's already forgiven him, because his cheating was her fault for not being "an amazing wife". What does that entail exactly – stroking his ego, never criticizing and being available to him at all times? I don't know how this woman is portrayed on the show, but this just rubs me the wrong way.
I did some research over on RealityTea, and apparently Shannon caught her husband of 14 years, David, whispering on the phone about a year ago. She then dug through his briefcase and found hotel bills and confronted him. Shannon later blogged about why she chose to put their marital issues on the show and forgive David, after they went through counseling together and with their children.
Here are some of the things Shannon told US. It's clear that she thinks she's at fault:
The pair, wed for 14 years, fought about everything from sex to time spent together. "If I had been an amazing wife," she said, "he wouldn't have gone elsewhere."

They split in 2014 when David left to be with the other woman. Two weeks later, he came back after reflecting on the "destruction" he had caused. "I really hurt Shannon," admitted the construction company owner. And for the past year, the parents of Sophie, 13, and twins Stella and Adeline, 10, have been in counseling. "So many people toss their marriages in the trash," said Shannon. "We aren't."
[From US Magazine, print edition, June 22, 2015]
Is this lady convincing herself that she's to blame or did her husband convince her? While I understand choosing to work on a marriage after infidelity, which is one thing, deciding that you're the one at fault when your partner cheated is another. Yes no marriage or person is perfect, but cheaters are going to cheat. It may not matter what the other partner does if the opportunity presents itself. There are so many other ways that David could have handled trouble in his marriage. It is weak and passive aggressive to sneak around outside a marriage instead of talk things over with a spouse. Also, David probably came back after two weeks because it didn't work out with the side piece, not because he felt guilty.