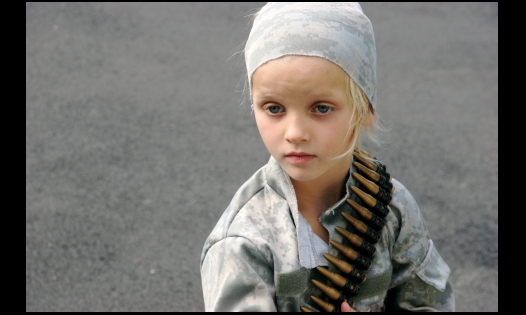 Rosie O'Donnell isn't afraid of a fight – taking on Elizabeth Hasselbeck and Donald Trump during her time on The View – but now she's protesting the fighting in Iraq, using this picture of her daughter on her official blog.
The picture has created a storm of controversy, the Sydney Morning Herald reports:
US celebrity and anti-war activist Rosie O'Donnell has been labelled "sick" and "hungry for public attention" after posting a photo on her blog of her four-year-old daughter dressed as a child soldier.

The controversial image of Vivienne is accompanied by a video called "dress up".

The video begins with the headline, "Last Year a Princess", and shows pictures of the youngster wearing various princess-like outfits.

Then the headline, "This Year a Soldier" appears, followed by a series of images of Vivienne in camouflage clothing, with a toy ammunition belt wrapped around her shoulder.

The video ends with the message "Peace Out" and a close-up shot of Vivienne's eye.
In other news, Rosie has also announced she won't be taking over from Bob Barker on The Price is Right. She is a fan of the show, and would do it if it weren't for having to relocate her family to Los Angeles from New York.
I don't know what Rosie plans to do next, but if she keeps making these great video blogs, there is a real future for her as a You Tube superstar.