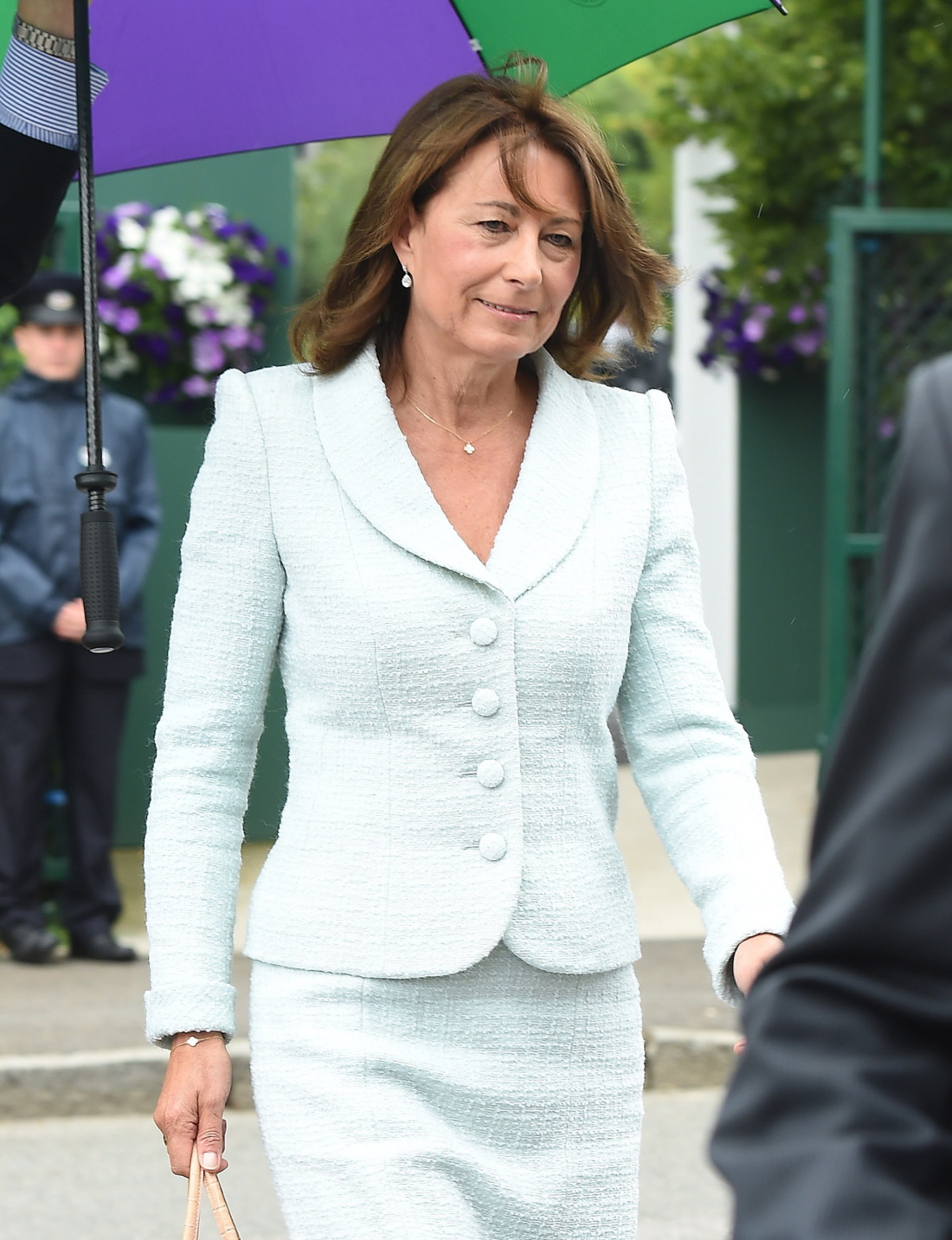 There's an interesting story in The Daily Beast this week about Carole Middleton, the mother of a future queen and the grandmother to a future king. It's Carole's relationship to Prince George that seems to have kick-started a renewed interest in Carole – it was just last week when some "paparazzo" was tipped off about Carole's whereabouts with Prince George, and the photos were sold to the American site PopSugar. The Daily Beast article is mostly about how William and Kate's parenting choices are being revealed by their insistence that George and Charlotte have a close relationship with the Middleton side of the family, often to the detriment of their relationships with the royals. Some interesting notes:
George and Charlotte will have middle class values: "It is Carole Middleton who is shaping much of [George's] world with her middle-class values of hard work and fair play, not the ossified Windsor culture of privilege."

Charles' pain: "William and Kate's rejection of Charles as a formative influence for George has been painful for him, but it is clearly Carole whom William and Kate believe will instill the right values in the future King."

No one says "Doors to manual" to former stewardess Carole anymore: "Carole's pretty hard to faze," says one acquaintance. "She never really cared about the whole 'doors-to-manual' thing. You don't build a business like she has being a sensitive flower. She is also deeply practical. That's why Kate likes having her around so much—she just takes care of all the details."

Michael Middleton was the beneficiary of a significant trust: The Daily Beast credits this trust with still "paying an income to this day and almost certainly paid for Kate, Pippa and James's private education, at least until their parents' business took off."

Carole is unembarrassed by her working-class roots. "Carole is untroubled by self-doubt," says a friend. "She couldn't really care less if people think she is an arriviste or a social climber. Her focus is all about Kate, William, George, and Charlotte."
Yeah… I still have questions. While I think Carole is a great example of someone from a working class background fighting tooth and nail to become upper-middle-class, to the point where she's married her oldest child off to the heir to the throne, I still find fault with some of Carole's methods. She's organized and hard-working and good for her, but she raised a pampered, spoiled daughter who can barely function as an adult without her mommy's intervention. Also, I love how the explanations for the Middletons' wealth changes year by year. The Middletons' finances are kind of sketchy, just my opinion.
ICYMI: Prince George spent a sweet afternoon with his grandma, Carole Middleton! http://t.co/6wvPgTbuxV pic.twitter.com/z0ZiPxk3Wo

— POPSUGAR (@POPSUGAR) June 30, 2015
Photos courtesy of Fame/Flynet, Getty.