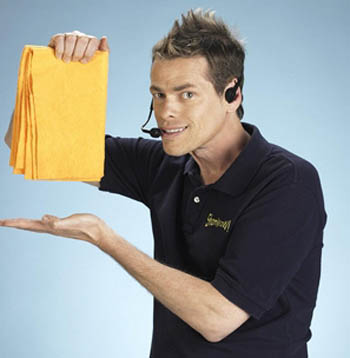 Mug shot photos are on The Smoking Gun
Vince Shlomi is a much better salesman than Billy Mays. Billy Mays screams through the entire Oxiclean and Mighty Mend It commercials, as if he's that obnoxious drunk trying to win the argument by sheer volume. Vince Shlomi has a much softer voice, accented by what to my ears sounded like a cute New York accent. Vince's biggest commercial is for ShamWow, the incredible piece of cloth that can pretty much absorb whatever liquid is spilled. Vince also has another product he's just started to shill – the Slap-Chop, a little tool you can use to cut everything from vegetables to… I don't know, more vegetables?
Anyway, Vince is in a bit of trouble. He was in Miami, partying at a club. He picked up a prostitute named Sasha Harris, and paid her $1000 to go back to his hotel room for "straight sex". Once in the hotel room, Vince tried to kiss Sasha. Sasha then bit down on Vince's tongue and wouldn't release it. Vince then punched Sasha several times until she let go. Both were injured in the incident, and both were arrested. The Smoking Gun has more:
Meet Vince Shlomi. He's probably better known to you as the ShamWow Guy, the ubiquitous television pitchman who has been phenomenally successful peddling absorbent towels and food choppers. Shlomi, 44, was arrested last month on a felony battery charge following a violent confrontation with a prostitute in his South Beach hotel room.

According to an arrest affidavit, Shlomi met Sasha Harris, 26, at a Miami Beach nightclub on February 7 and subsequently retired with her to his $750 room at the lavish Setai hotel. Shlomi told cops he paid Harris about $1000 in cash after she "propositioned him for straight sex."

Shlomi said that when he kissed Harris, she suddenly "bit his tongue and would not let go." Shlomi then punched Harris several times until she released his tongue. The affidavit notes that during the 4 AM fight Harris sustained facial fractures and lacerations all over her face. After freeing his tongue, a bleeding Shlomi ran to the Setai lobby, where security summoned cops.

Harris refused to cooperate with officers, who recovered $930 from her purse. "Both parties had a strong odor of an alcoholic beverage emitting from their persons," police reported.

In a brief telephone interview, Harris declined to answer TSG questions about her run-in with Shlomi, though she did say she is considering a lawsuit against the pitchman. Asked if she worked as a hooker, Harris declined comment.

[Shlomi] was also injured during the fracas and, court records show, was treated at Mount Sinai Medical Center. While Shlomi and Harris were both arrested for felony aggravated battery, prosecutors this month declined to file formal charges against the combatants. Police records list Shlomi's occupation as "Marketing," but make no mention of his affiliation with the ShamWow or the Slap Chop, both of which sell for $19.95 (plus shipping and handling).
From The Smoking Gun
Many people have been making jokes about this whole incident. Some are funny, some not so much. Something about "slap-chopping" a hooker, or ShamWowing all of the blood. What in the world were both of them thinking? I thought men weren't allowed to kiss hookers on the mouth? And why in the world would the hooker try to bite his tongue off? It all just seems rather sad.
Here's a segment from the ShamWow commercial: