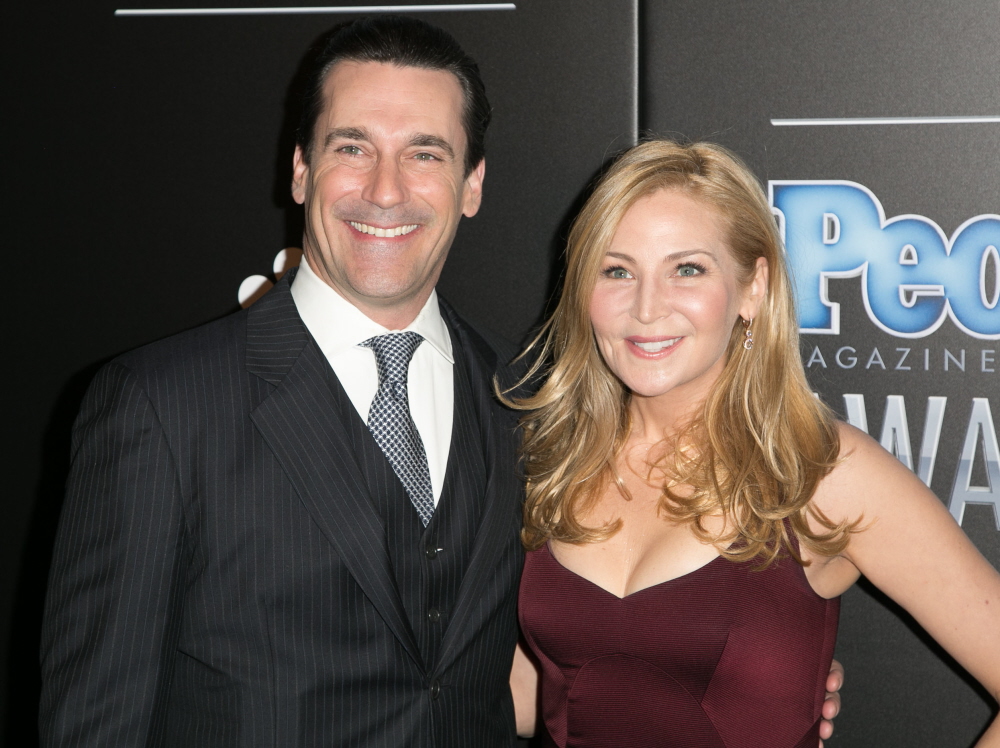 This is not a new story or new speculation at all, but it's still worth gossiping about. Back in March/April, Jon Hamm confirmed that he had been to rehab to deal with some alcohol issues. Around that time, he was promoting the last half of the last season of Mad Men, and he was doing all of the promotional stuff solo. It was weird because his long-time girlfriend/partner Jennifer Westfeldt had always come out for Jon's red carpets. She sort of clung to him, if we're being honest. But she was nowhere to be seen for months. There were rumors then that Westfeldt and Hamm had split up, or that they were going through a rough patch because of his alcoholism and rehab stint. Then, over the past few weeks, Hamm once again flew solo as he promoted the Minions movie. Where was Jennifer? Who knows? Star says they're definitely done now.
Say it ain't so! After 16 years together, Jon Hamm and girlfriend Jennifer Westfeldt are going their separate ways.

"The relationship just ran its course," says a source close to the couple. In fact, the once inseparable duo haven't been photographed together since January, before Jon entered a 30-day rehab program for alcohol abuse.

But it wasn't the 44-year-old star's addiction that brought on the breakup— it was Jon's reluctance to start a family with the 45-year-old actress. "I don't have a driving force to have a baby," the actor has previously said. "That said, I'm in a committed relationship, and if it ever came up, I'm not ruling it out."

However, sources say he did just that. "Jennifer realized that she and Jon don't want the same things," says the pal. "So they agreed that it was time to take a step back."
I feel very judgy for saying this, but men and women should know whether they want children by the time they're in their mid-40s. I understand being publicly wishy-washy about it if you're a celebrity (you don't want to alienate those moms!), but if Westfeldt left him after 16 years because she only just now realized that she wants a kid and he doesn't – well, that's not a very good reason. Thankfully, I don't really buy that reason. I think Hamm has some demons and Westfeldt probably dumped him months ago, and that was his "wake-up call" to go to rehab.
For what it's worth, In Touch Weekly reports this week that Hamm is now spending time with his Minions costar Sandra Bullock. Hm… they would be an interesting couple, but I think she's spent enough time with "men with personal demons" you know?
Photos courtesy of Getty, WENN.