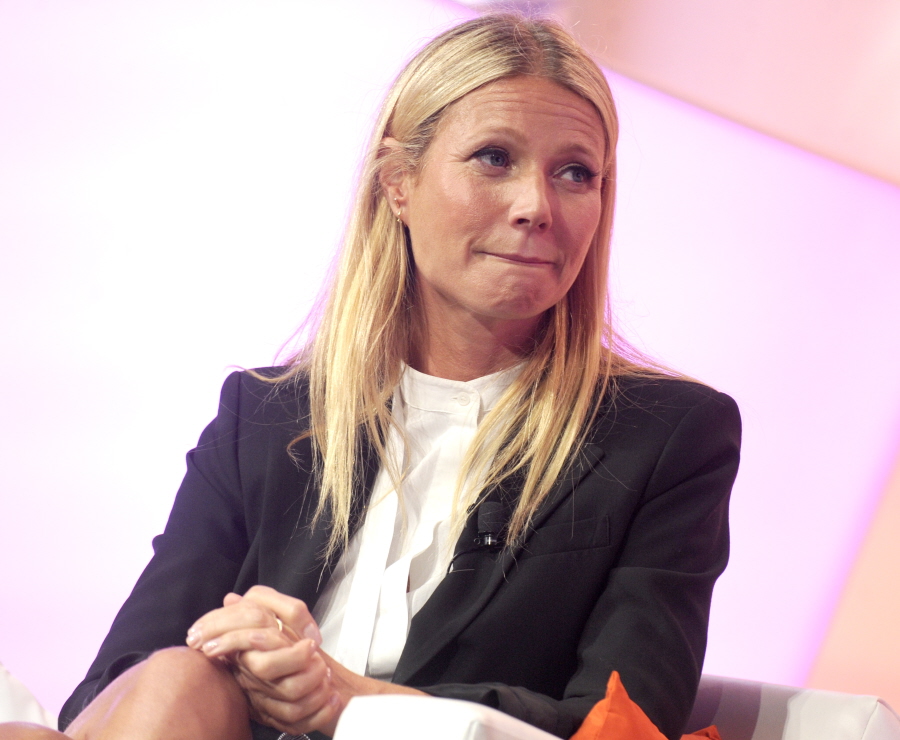 Here are some photos of Gwyneth Paltrow at the annual conference for women bloggers, BlogHer 2015, in NYC on Friday. To be superficial for a moment, I will give actual, real money to Gwyneth if she ever deigns to make a public appearance these days without flat-ironing and center-parting her hair. God, it looks like damaged straw. Anyway, it cost $599 to get into this event to hear Gwyneth goop her way through a Q&A session. Would you pay $600 to hear Gwyneth's flat, nasal, holier-than-thou thoughts on anything? I would not. Even if Gwyneth was teaching the absolute best, most elite way to yawn, I would still not pay that much money. And I'm actually a woman making a living blogging full time! I'm the target audience! So what does Gwyneth have to say to me? Some highlights from Dame Goop's discussion:
GOOP is a real job: "It's my whole day. I basically get my kids to school, and I go into the office, and it's really my focus right now. It's an actual real job."

The original concept for GOOP was to keep it private: "It really kind of came about in a very small way, with me in the kitchen, with my girlfriends talking about ideas. I didn't think larger at first. They said, you can't start a [private] website! It will be public! Then I just said, 'Oh well, I'll just do it and make it public.' I look back and I think, 'what was I thinking?' They suggested I put it in a newsletter form."

GOOP is all about Gwyneth's journey to better understand Gwyneth: "I'm very passionate about travel and health and wellness and food and trying to become a better person. I was using the website to get closer to myself in a way."

Gwyneth's idea of the GOOP reader/consumer: "It doesn't matter what the income is, but she's a really engaged forward-thinking person, and she wants cutting edge information and interesting options."

She doesn't want to do GOOP forever: "I don't want the brand to be inextricably linked to me. In 20 years, I want someone to say, 'Didn't you have something to do with that?'"

On Chris Martin & their divorce: "I think, unfortunately, though we couldn't stay in a romantic relationship, we're very, our values are very much around the importance of family and the importance of those relationships and I'm lucky that we're aligned in that way. And it's been hard, and you know, like, we've gone through really difficult times with it but we've always said these children are our priority. What that really means is, 'Even though today, you hate me and you never want to see me again, like, we're going to brunch, 'cause it's Sunday and that's what we'll do!' You know, like, 'That's what's happening!' Like, the children are our commitment."

She admits she's not perfect: "It's definitely imperfect but it gets easier with time and you know, we're really good friends. I like him. He's great. He's a great dad and so, I feel lucky that we both, along the way, have been able to really put down our own stuff while we're together with the family and that we make it a priority to be together so that the transition for the children wasn't, you know, as brutal as it could be. And everybody does it in their own way. It's hard and I would never judge anyone for doing it any way. Just, for us, we thought if we could maintain the family even though we're changing the shape of it, it would be, that would be our ideal scene and so, that's what we're trying to do.
[From Biz Journals, Yahoo & E! News]
I think GOOP probably takes up a lot of her day at this point (like, maybe four hours a day), but that was not always the case. In the first several years of GOOP, Gwyneth would often phone in her weekly Goopletters, and she wouldn't post stuff while she was on vacation (for like two months over the summer). I'm just saying… she's never really known what it's like to be a full-time blogger. One weekly Goopletter for 30 weeks a year isn't really full-time blogging. Also: she's still not "blogging" full time. As she's grown GOOP into something much larger, she's hired good people to make it into a real lifestyle site. In exchange, she lost some of the personal quirks and Gwyneth-specific attitude.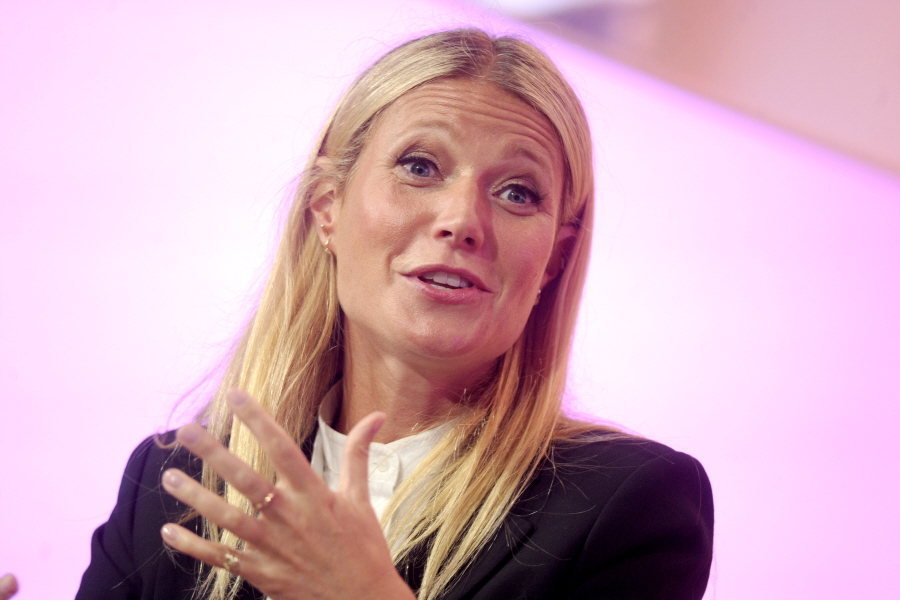 Photos courtesy of WENN.