The release of a 2005 deposition given by Bill Cosby was a game changer in the ongoing saga. Vulture has kept a running timeline of over 50 women's allegations, but the deposition contained Cosby's own admissions of drugging women with Quaaludes.
More of the deposition has come out, and the New York Times published even more damning details. The entire article is disturbing but worth a read. Cosby's mood during the deposition is described as "largely one of casual indifference." He discusses many women, but the focus of this part of the deposition is on Andrea Constand. Cosby reveals how he first spotted her at Temple University, and although she was much younger, he found her "good-looking." He began to invite her for dinners and to his home. Cosby said he only gave Andrea allergy pills (Benadryl), but her lawyers believed differently.
Fair warning: This excerpt is graphic.
Expounding on his philosophy about sex, Mr. Cosby said he tended to refrain from intercourse because he did not want women to fall in love with him. To him, he said, the act of sexual intercourse "is something that I feel the woman will succumb to more of a romance and more of a feeling, not love, but it's deeper than a playful situation." As far as he and Ms. Constand went, he said, they were "playing sex, we're playing, petting, we're playing." Was he in love with her? "No."

Yet the association endured for a few years, until one night at his Pennsylvania home, when Ms. Constand said Mr. Cosby drugged and molested her.

Mr. Cosby said he gave her one and a half tablets of Benadryl to relieve stress, they kissed and had sexual contact. Her lawyer said she believed it was a much more powerful drug.

Some time later, after Ms. Constand had moved home to Canada, Mr. Cosby spoke with Ms. Constand's mother on the telephone. The mother, he said, was upset about what her daughter said Mr. Cosby had done, describing the experience as "a mother's nightmare."

In the deposition, he said he was worried that Ms. Constand's mother would think of him as a "dirty old man."

During the call, Mr. Cosby told the deposing lawyers, he wanted Ms. Constand to tell her mother "about the orgasm" so that she would realize it was consensual.

"Tell your mother about the orgasm. Tell your mother how we talked," he said he remembered thinking.
[From New York Times]
UGH. That is my only coherent reaction to this whole piece. What Andrea Constand endured is terrible enough, but the NYT piece repeatedly refers to Cosby feeling as if he smooth-moved these ladies into bed. Several moments reveal Cosby's entitled attitude, including "he suggested he was skilled in picking up the nonverbal cues that signal a woman's consent" and " his seduction was one of persistence and patience." Cosby admitted to giving these women Quaaludes, yet he still believes he seduced them!
To Bill Cosby, drugs = consent.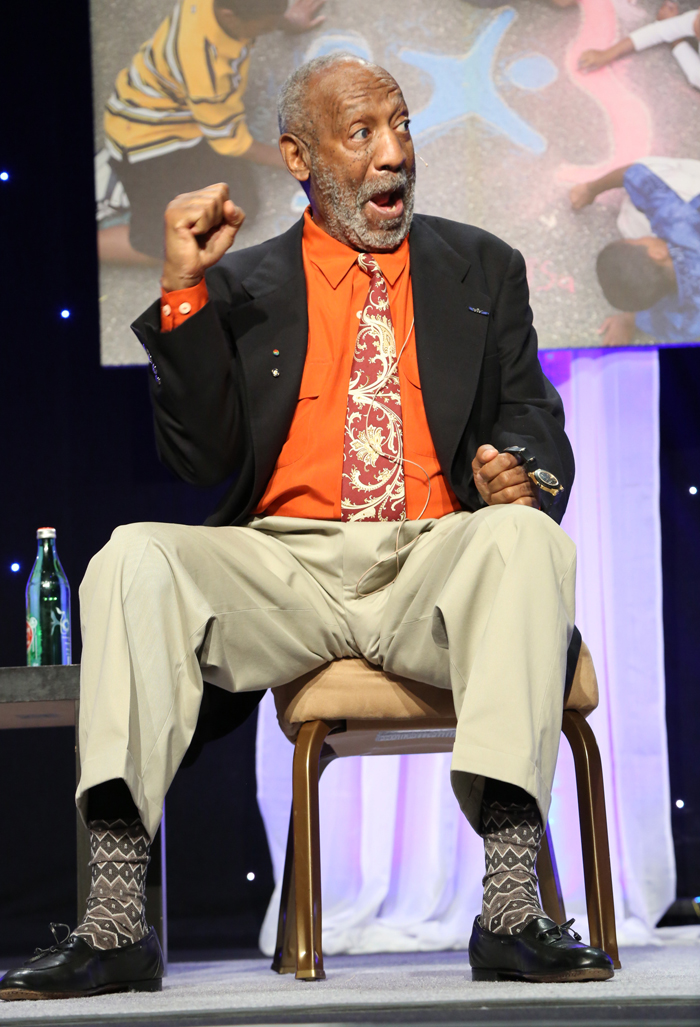 Photos courtesy of WENN