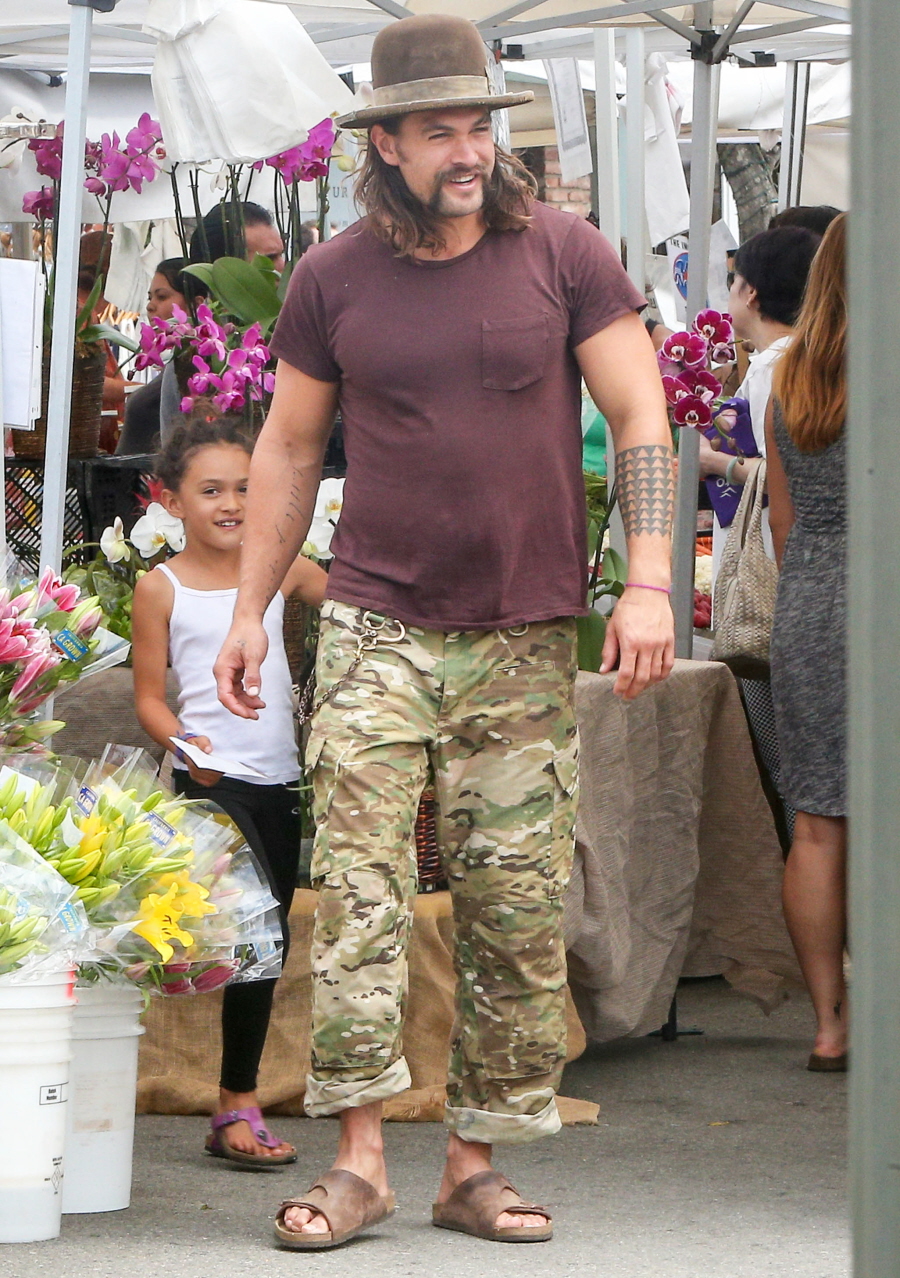 My rule is to post Jason Momoa photos whenever we get them. Momoa really doesn't get pap'd that often, but every now and then we'll see him at a film festival or having lunch with friends in LA or something. On Sunday, he was spotted at the farmers market in Pacific Palisades with his daughter Lola. These photos have a Jennifer Garner vibe (seriously, it feels like Garner lives at the farmers market sometimes), which is making me giggle because Jason Momoa and Jennifer Garner really don't have much in common at all. Lola is Jason's daughter with Lisa Bonet, aka the Luckiest Woman In the World.
Thoughts on his ensemble? I kind of think it's a cute Sunday-with-dad look. Is he wearing Birkenstocks?! Amazing. Some of you have strong feelings about men in sandals, but I've always enjoyed it when men are comfortable enough with their feet to wear sandals. It's much better than the Justin Theroux method, which is to wear skinny jeans and combat boots in the dead of summer. THAT is gross. Also sort of gross? Jason's hat. He's been wearing that fakakta hat for more than a year.
It honestly wasn't until I was looking through these photos that I realized we still haven't seen one second of Aquaman in all of the footage/trailers released for Batman V. Superman. In the Comic-Con footage, we saw The Batfleck/Bruce Wayne, we saw Lois Lane's fabulous blowout, we saw Diana Prince and Wonder Woman, we saw Clark Kent and Superman and we even saw more of Holly Hunter's senator character and Jesse Eisenberg's Lex Luthor. But no Aquaman. Obviously, Zack Snyder wanted to include Aquaman because BVS is the setup for the long-gestating Justice League film that will cram even more superheroes into this DC Comic universe. Sigh… I'm interested in seeing what Jason does with Aquaman, but I really have no desire to see BVS.
Also – I've been creeping on Jason's Instagram. That man knows what the people want: more arm photos!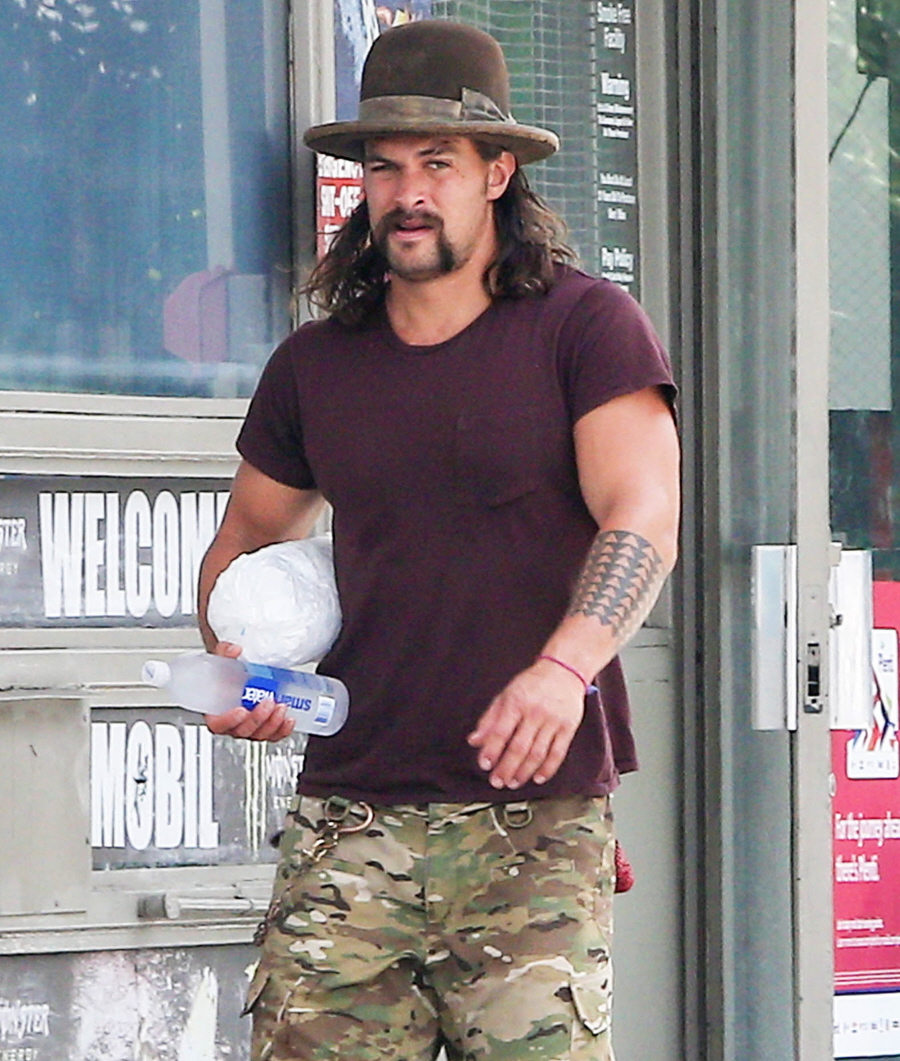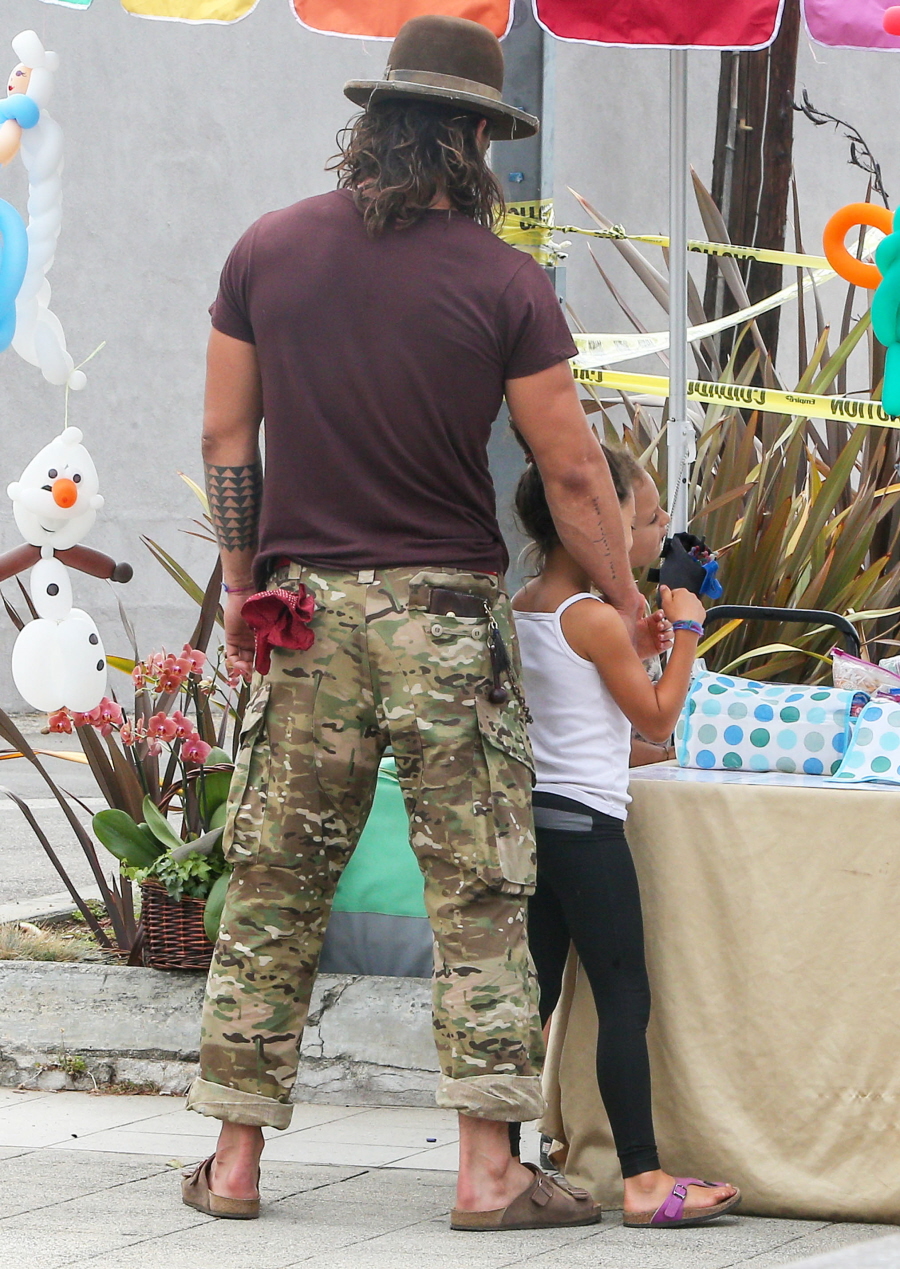 Photos courtesy of Fame/Flynet.