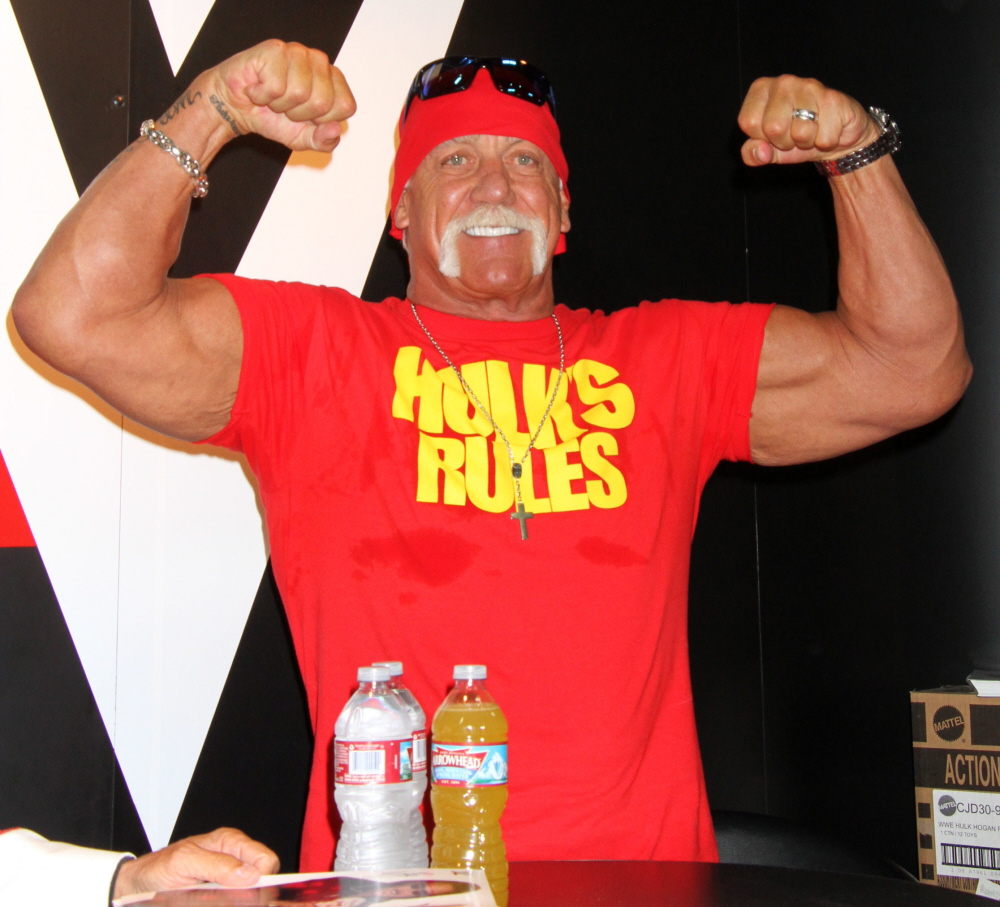 It's not that I "missed" this story on Friday, it's just that I had a weird mix of reactions to it. The mix involved the thoughts of "I'm not surprised" to "Didn't we know this already? This is part of a multi-year gossip thing, right?" to "I don't even care." Well, it was new and it was utterly unsurprising. Late last week, the National Enquirer broke the story (I know!) that Hulk Hogan had casually and offensively used the n-word repeatedly ON TAPE in reference to his daughter's dating life. Hulk Hogan used the n-word in the midst of his sex tape with Heather Clem (who was then the wife of his friend, Bubba The Love Sponge). This was in 2012…? The tape was leaked in 2012 but it had been made years before. This is what Hulk Hogan said on tape (allegedly, or not so much):
In a startling exchange, the 61-year-old told Clem – who he sued for invasion of privacy after their XXX tape was leaked to a website – about his frustrations with blonde bombshell Brooke, 27.

"She is making some real bad decisions now," Hulk said, sources tell us. "My daughter Brooke jumped sides on me. I spent $2-3 million on her music career, I've done everything like a jackass for her." The bitter bodybuilder continued, "The one option Brooke had, Brooke's career besides me, is [to] sell beach records."

At that point on the tape, the former "Hogan Knows Best" star bemoaned how a "black billionaire guy" had offered to fund her music career. He also attempts to use bizarre, twisted logic in an attempt to justify his bigotry at the man.

"I don't know if Brooke was f–king the black guy's son," Hulk raved, the sources add. "I mean, I don't have double standards. I mean, I am a racist, to a point, f–king n–gers. But then when it comes to nice people and s–t, and whatever."

Then, in a tirade to rival the racism embarrassments suffered by Mel Gibson and "Dog The Bounty Hunter," Hulk unloaded even more hatred!

According to sources, he said: "I mean, I'd rather if she was going to f-ck some n–ger, I'd rather have her marry an 8-foot-tall n–ger worth a hundred million dollars! Like a basketball player! I guess we're all a little racist. F–king n–ger."
Surprisingly, the WWE (World Wrestling Entertainment) believed the Enquirer's reporting completely and within a few hours, they announced this: "WWE terminated its contract with Terry Bollea (aka Hulk Hogan). WWE is committed to embracing and celebrating individuals from all backgrounds as demonstrated by the diversity of our employees, performers and fans worldwide." Hulk's people told TMZ that Hulk resigned from the WWE late Thursday though, and his lawyer told People Magazine: "He decided to resign from WWE because he didn't want to put them or his family through this."
There's some reporting that Hulk Hogan knew this was coming out and so did the WWE, mostly because the tape is all part of some years-long, very much "ongoing" legal matters. WWE was already at work, scrubbing any and all mention of Hulk Hogan from their website, their Hall of Fame, and all Hulk Hogan merchandise has been pulled off the WWE's shelves.
Meanwhile, Hulk Hogan is trying to do some cursory damage control. He released this statement to People Magazine:
"Eight years ago I used offensive language during a conversation. It was unacceptable for me to have used that offensive language; there is no excuse for it; and I apologize for having done it. This is not who I am. I believe very strongly that every person in the world is important and should not be treated differently based on race, gender, orientation, religious beliefs or otherwise.I am disappointed with myself that I used language that is offensive and inconsistent with my own beliefs."
The "eight years ago" thing threw me for a loop because all of the reporting on this says that the tape was made in 2012. Update: Some of you fact-checked and the tape was made years ago and only leaked in 2012. But…as the Daily Beast pointed out, Hulk Hogan was still using the n-word in casual conversation IN RADIO INTERVIEWS that same year, 2012.
So, yeah… does this really surprise anyone at all? I'm pretty sure most sentient people just assumed Hulk Hogan was the kind of person to casually drop n-bombs in conversation all the time. The only really surprising thing is that the WWE acted so swiftly and they dropped the hammer so thoroughly.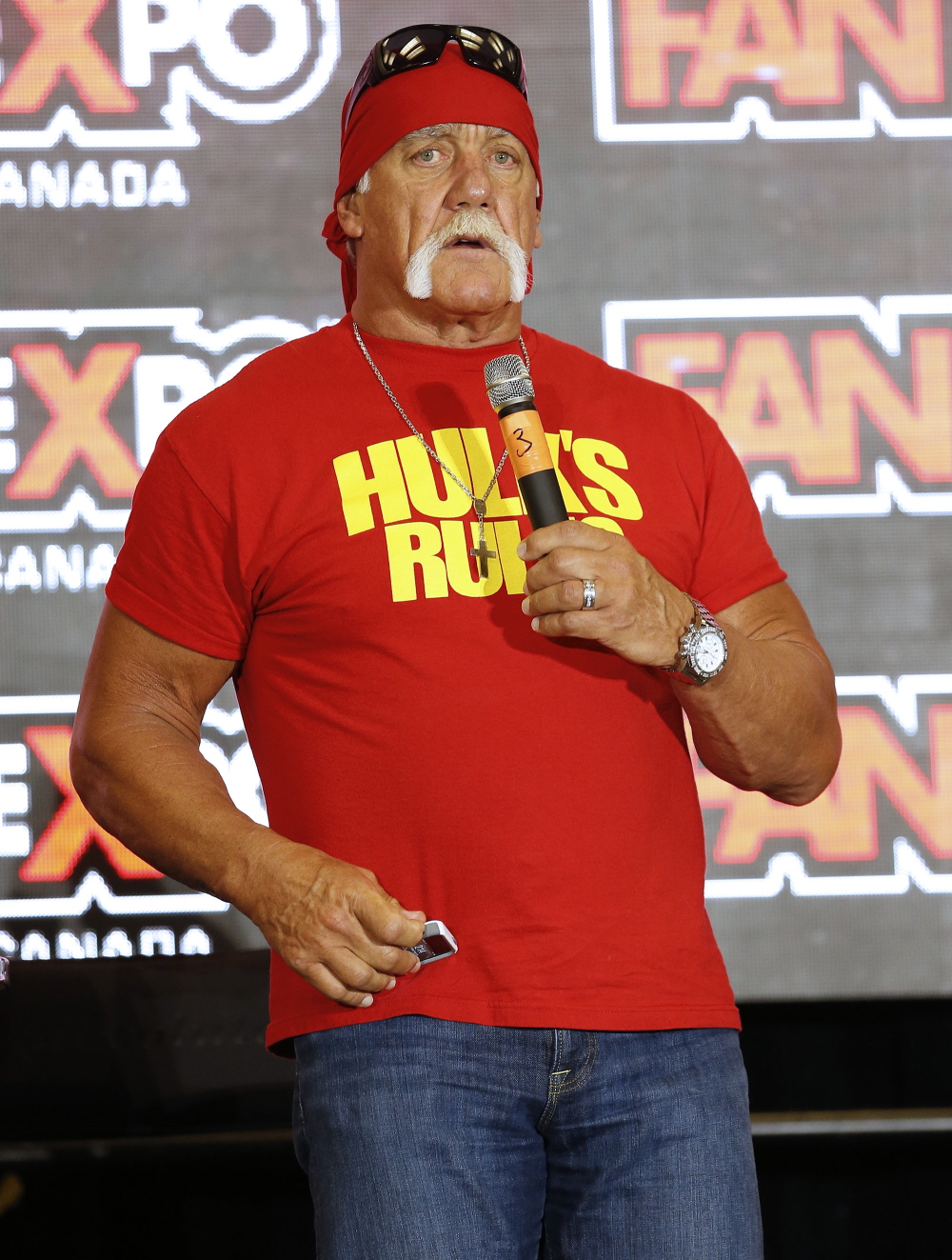 Photos courtesy of WENN.