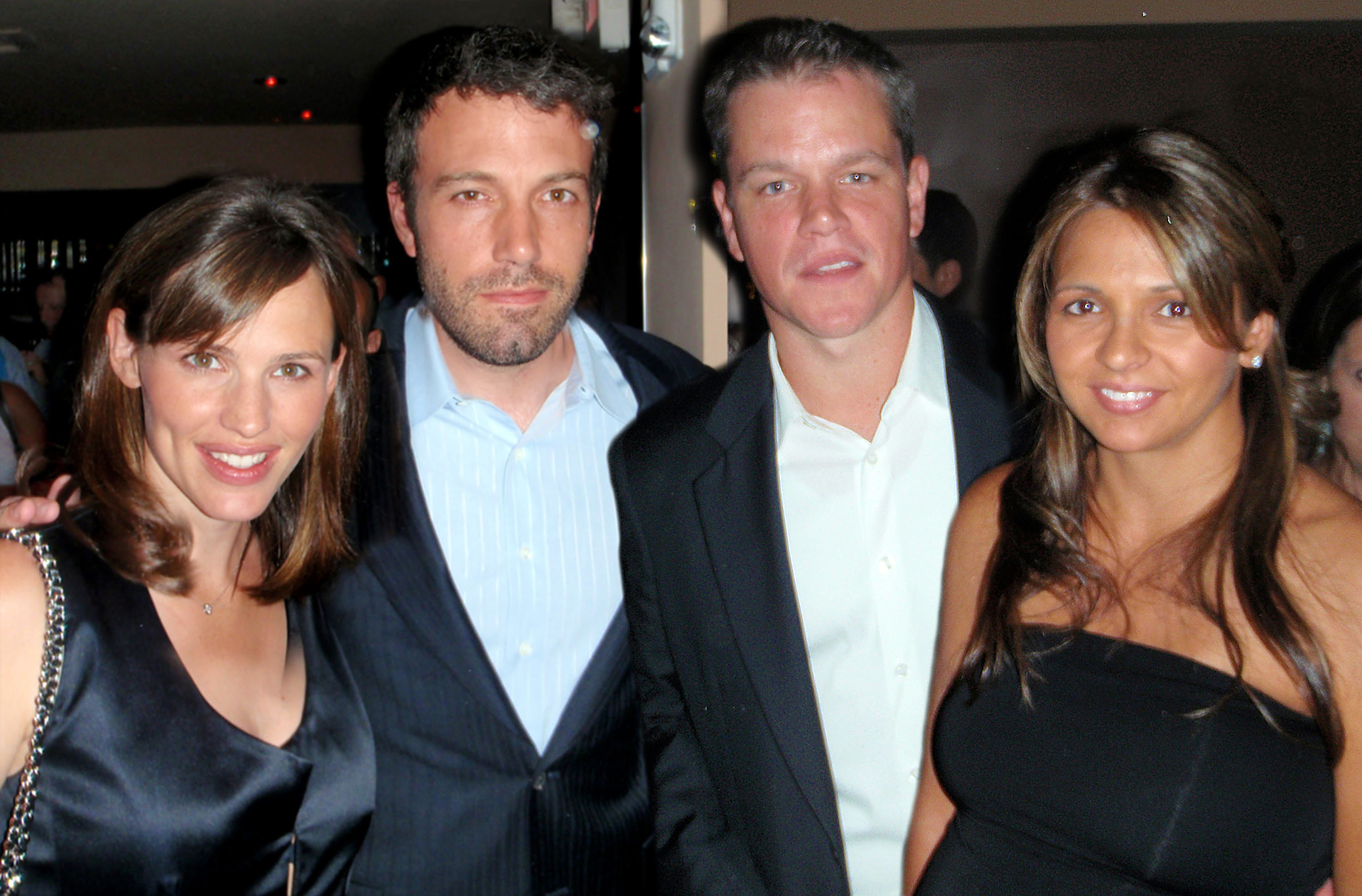 Matt Damon and Ben Affleck have the never-ending bromance. Don't even try to say that those boys are gay either, because that is so 1998. More than a decade after their Oscar win for best screenplay, Ben and Matt's friendship is still really solid. They've weathered high-profile relationships, The Jason Bourne trilogy, rehab, J-Lo. And now both men are happily married with two daughters each (and Matt is stepfather to a third girl).
Ben is starting to gear up for the promotional tour of State of Play. The film looks really, really good, but Affleck is barely in the trailer, so I've got to wonder how much the studio is going to put him front and center to sell this movie. Perhaps it's part of Ben's multi-year public relations strategy to "rebrand" himself from stripper-loving, J-Lo engagin' film poison to happy, well-adjusted, loving family man, actor-director and humanitarian. It seems to be working, so kudos to his publicist.
Affleck sat down with People to talk friendship, marriage and whether he and Matt will actually work together again:
They were close childhood friends, collaborated on the script for 1997′s Good Will Hunting and then won Oscars for it. And even after Hollywood success and "ballooning" families, Ben Affleck says his friendship with Matt Damon has not only gotten stronger, with shared vacations, but they're planning another movie together.

"It's cool," Affleck, 36, told PEOPLE of his and Damon's enduring bond, which includes mixing and mingling with their wives and kids. Affleck has two daughters with wife Jennifer Garner while Damon, also 36, has two daughters with wife Luciana Barroso.

"We went on vacation last summer," says Affleck, who plays a congressman opposite Russell Crowe in the new thriller State of Play. "It's nice. It always has been. He's got his family ballooning, and we're doing okay – it's nice."

With the two having never veered from their shared Boston upbringing, Affleck observes, "I think it would be the same for anybody. You're friends when you are young, you have a certain life. Then in your 20s you have a different life. In your 30s you get married and have families."

Given such a perspective, Affleck adds, "It's a different kind of satisfaction being around your friends, the friends you grew up with. They have kids, have barbecues and that kind of deal. That is really satisfying, too. It's one of the nice things about having friends for a long time."

Equally nice is that, with recent arrival Seraphina Rose joining daughter Violet, 3, at home, Affleck says, "I am very lucky. I feel blessed to look around and see that I've got a healthy family and a job. Especially nowadays, you really feel very good."

When it comes to being a dad, he's mastered many of the duties – including how to mash bananas properly – that his wife was once worried would require supervision.

"I'm in a pretty good zone right now," says PEOPLE's 2002 Sexiest Man Alive. "I say that, and I'll go home to find everything exploded, [but] so far, so good."

All in all, he says, "I really am happy with what I'm doing now. In fact, I've never been at a place where I've felt better about going to work every day. I'm more engaged and very, very happy … I've really gotten comfortable with the things that are important to me."

"Matt is always pretty busy but claiming that he's going to try and slow it down a little bit," says his buddy. "He doesn't mind taking a year to wait. I would love to, it's great, and we're both busy. Matt lives in Miami, so it's hard to get a chance to see him. If we work together it's an excuse to hang out."
[From People Magazine]
It's nice that Ben and Matt are still friends, and I like how the relationship has evolved over the years. Part of the reason I think the gay rumor got some traction was because they were always together back in the day. As they've grown up, they're more like college buddies who plan family vacations together once a year.
I totally forgot that People named Ben Affleck as the Sexiest Man Alive in 2002. What were they thinking? Ah, back when Affleck when hot stuff. The halcyon days of 2002. Brings a tear to my eye.
Here's Jennifer Garner, Ben Affleck, Matt Damon and Luciana Barroso hosting an Obama fundraiser at SET in Miami on August 2nd. Images thanks to WENN .