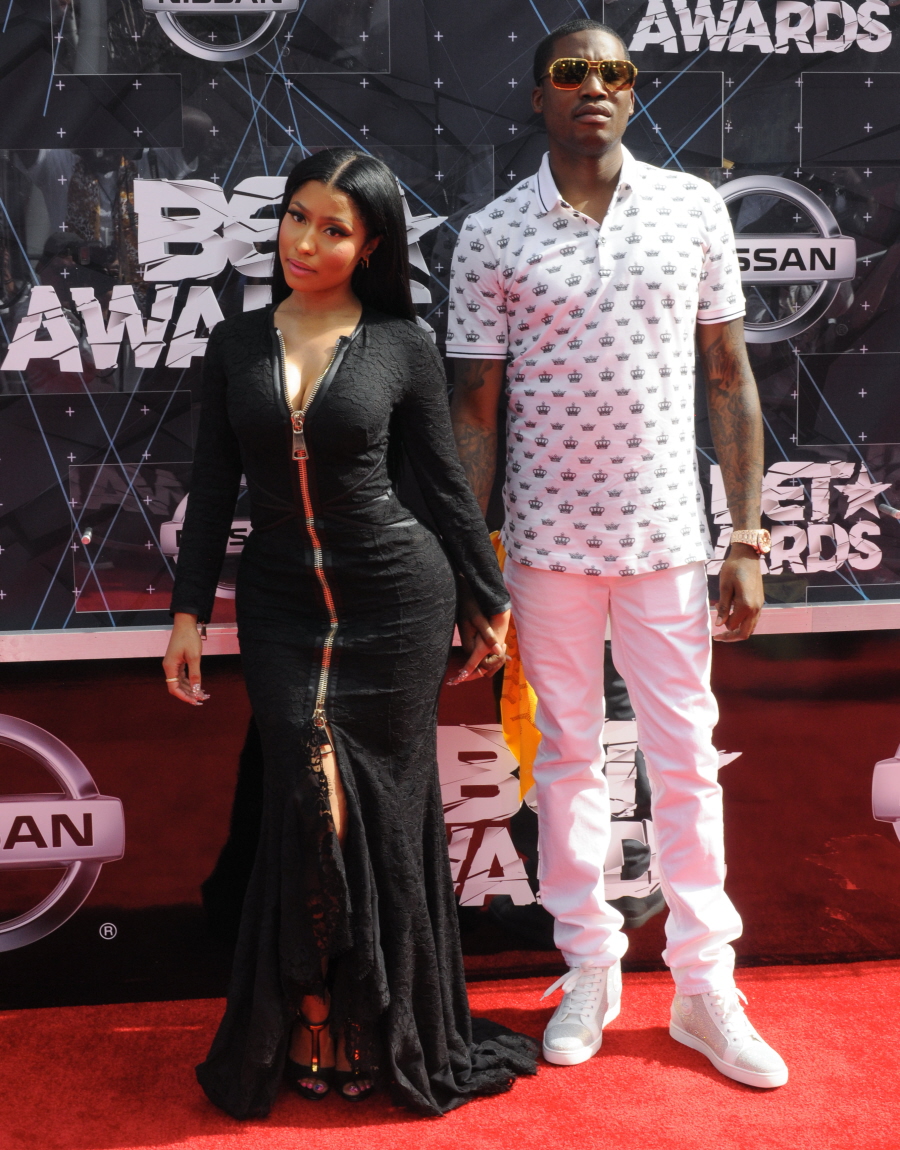 Some days, I actually feel sorry for Drake. And then I remember that he's talented, rich, famous, funny, successful and delightfully strange. But I do feel sorry for him just because he seems to be constantly friendzoned by his dream women, whether it's Rihanna, Zoe Kravitz, Serena Williams or Nicki Minaj. Drake and Minaj have been tight for years and years. Did they ever hook up? I don't know. My read was always that he would have loved to and maybe she threw something his way at one time, but they are mostly just friends. Why bring this up? Because Minaj's boyfriend Meek Mill has major beef with Drake and Drake got the last laugh. Here's what happened:
First, Meek Mill released his second album, which included one song that featured Drake. Then Meek threw a hissy fit on Twitter that Drake hadn't helped him out by tweeting about his (Meek's) album. During the Twitter rant, Meek claimed: "He don't write his own raps! That's why he ain't tweet my album because we found out!" Then Quentin Miller – who some believe has ghostwritten some or all of Drake's rhymes – denied that he writes for Drake. People started taking sides. Some claimed Drake is full of it and of course he doesn't write his own stuff. Some said people were just hatin' on Drake and Meek Mill is a punk.
Drake then released a song called "Charged Up" about the situation with Meek Mill. It was widely acclaimed, it's a good song and the rhymes are solid. Meek Mill declared it to be "baby soft lotion" and then Meek claimed that he was going to throw down with Drake with a competing track. Meek released an audio which consisted of 15 seconds of screaming. Nicki Minaj and Meek's Pinkprint Tour then came to Toronto (Drake's hometown), where Meek got booed onstage.
While the world waited for Meek Mill's diss track, Drake released another song, "Back to Back Freestyle." This was Drake's big mic-drop moment because he got super-personal about Meek and Nicki's relationship. Then late Thursday, July 30, Meek Mill finally dropped his diss track about Drake, a song called "Wanna Know." To say that the song was not well-received… well, here's a sample of some of the best social media critiques:
Meek Mill take it from us- if you gonna serve beef serve it high quality

— Whataburger® (@Whataburger) July 31, 2015
"At least you tried baby that's all that matters" 😂😂😂😭😭 #WannaKnow pic.twitter.com/LKm3pnS56K

— K£N (@KenMwendwa) July 31, 2015
BRUH 😂😂😩😩😩 #MeekMill pic.twitter.com/2YSoQYRZUt

— Denzel Tucker (@Shimmy_Nupetron) July 31, 2015
Yeah. Meek Mill's comeback was so weak that there are widespread rumors that Nicki Minaj dumped his ass or she will soon. Meek claims that they're still together, but seriously… Minaj, get your head in the game!! And finally, this is how Drake responded when "Wanna Know" dropped. God, I really love Drake.
Photos courtesy of WENN, Instagram, Twitter.