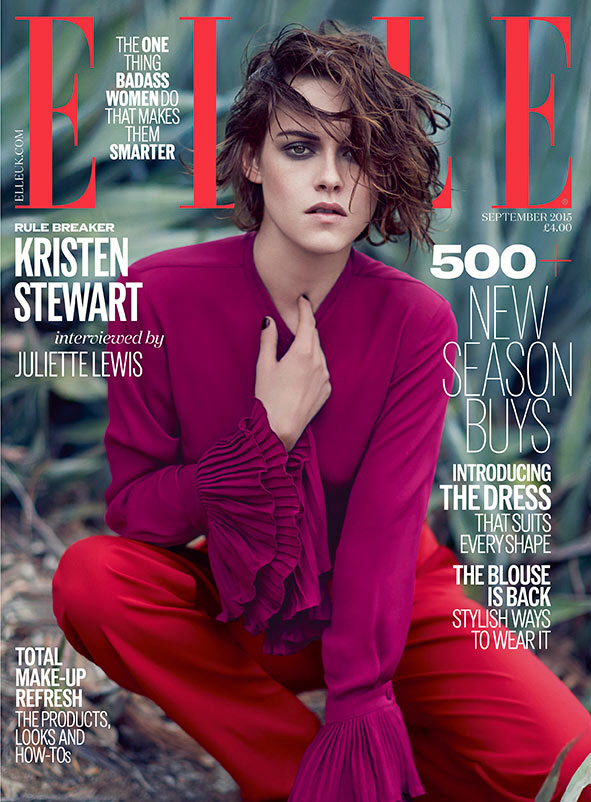 Here's a little preview of Kristen Stewart's Elle UK cover. We only have the cover. The editorial and interview haven't been released yet, but I'm assuming we'll probably have it later this week. I think Kristen looks really nice here. It's refreshing to see her in bright, bold colors even if it's just for a magazine cover. Magazines rarely put Kristen in purples, reds or pinks, which is too bad – she looks great in those colors. Here's Elle UK's preview:
Put two of Hollywood's coolest characters in a room together and sparks are bound to fly. That's exactly what happened when we tasked rockstar/actress Juliette Lewis to have a 'deep and meaningful' with her friend Kristen Stewart, one of the few young actresses working successfully across Hollywood blockbusters, high fashion and cultish Indie movies today.

The results were predictably unpredictable with Lewis accusing Stewart, 20-years her junior of being 'a scrapper' and able to 'throw a punch', Stewart admitting she has 'no rhythm' but wishing she could 'tear sh*t up on the dance floor' and the pair discussing everything from the perils of social media, to telling autograph hunters to 'f-off' and maintaining true friends despite the pressures of fame.

Lewis calls comedian Amy Shumer her mentor, while Stewart describes meeting Patti Smith when she was in a 'f**ked place' emotionally and how the older musician's advice has proved invaluable. She also addresses those rumours about her bitchy resting face.
Does Kristen have a resting bitchface or is she just naturally predisposed to being sullen? We'll probably never know. Kristen covers this issue because she's promoting American Ultra, which comes out August 21st. I'm assuming Kristen will be covering more than one September magazine issues, but this is probably the biggest shoot. Incidentally, how crazy will the promotional tour get between Jesse "Interviewing Me Is An Act of Genocide" Eisenberg and Kristen "Being Photographed Is Like Being Raped" Stewart? The Hyperbole Train is coming to town, y'all!!
Oh, one more thing – Kristen didn't step out with her girlfriend Alicia Cargile in more than a month. But then this weekend, they were photographed in LA – go here to see the photos. They're still happening. Just FYI.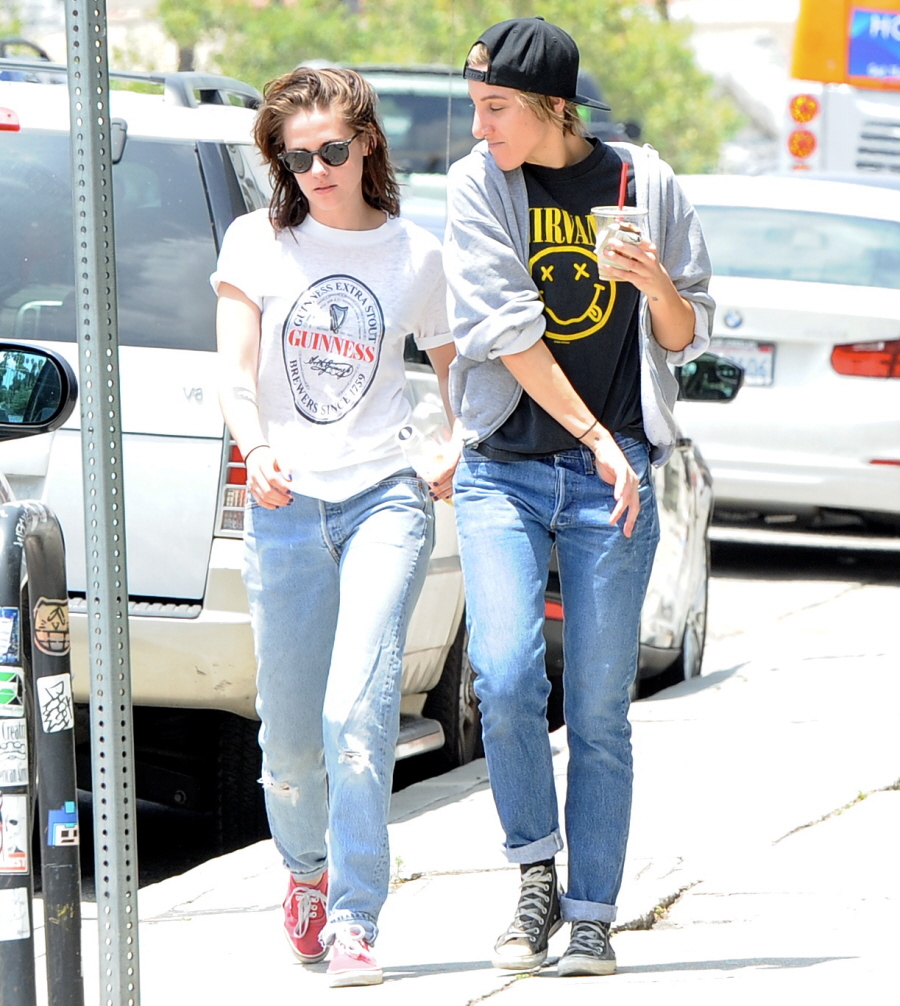 Photos courtesy of Elle UK, WENN.