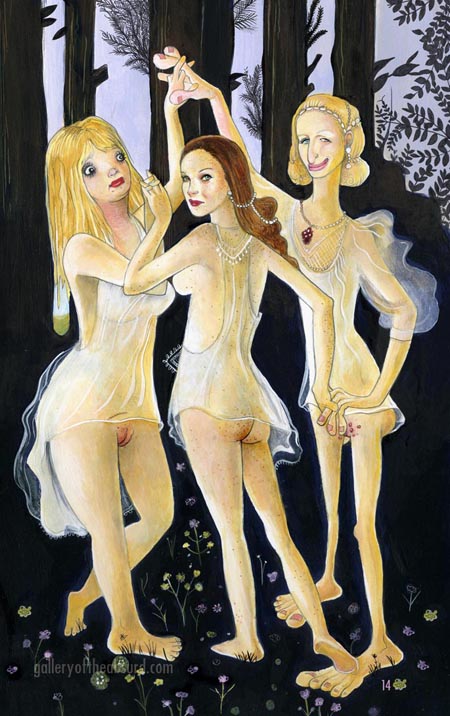 Illustration from Gallery of the Absurd
Celebitchy is Britney, Paris and Lohan free this week
I'm not going to get all political on you guys, but I am going to completely ignore all Britney, Paris and Lohan stories this week. Thanks for voting and commenting to let me know that you'd like to ignore them too.
This is a celebrity gossip site and it's not like I'm changing the format entirely, but I don't want to pay attention to those fools and most of you agree with me. It's a holiday week anyway, so we'll see how it works out. Maybe in the future we'll cover those three, but not extensively. They don't need any more attention.
This does severely limit the gossip on slow days, so we might go back to pointing out their idiocy at some point when we're less burnt out.
Celebitchy is hiring:
We pay bloggers a competitive rate per post, but we're having trouble keeping people as they keep getting jobs. Rose got a real job, and Helen is still around but she seems busy or something.
If you would like to write for Celebitchy, please e-mail a link to your celebrity blog and an introductory letter to info@celebitchy.com. (If you don't have a celebrity blog I will ask you to start one on WordPress or Typepad with 2-3 examples of current stories.)
Celebitchy's style is bitchy but not mean, and we strive for balanced, somewhat well-researched coverage of entertainment and celebrity news.
You will need to have at least 2-3 hours free every weekday to dedicate to blogging, and you need to be available for at least a few weeks. If you're reliable and a decent writer this can be a lucrative summer job for you that pays better than working retail. You can work as much as you want and make as much as you want, but again you need to be consistent and write every weekday for at least 3-4 posts a day.