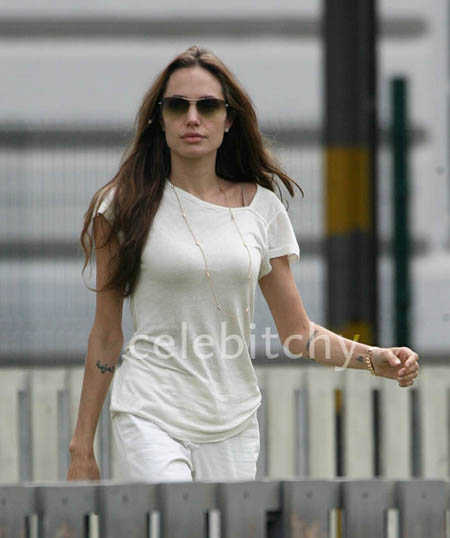 I know I always get flack for these Angelina Jolie posts that contain pure bullshit from the National Enquirer or Star. You have to give me some credit for admitting they're fabricated, even if I still print them.
Mike Walker's column in this week's Enquirer has a quote from "one of Angelina Jolie's oldest friends" who says that the super-thin actress and mother of four thinks she's not going to live long and is trying to make her mark on the world while she can:
In a shocking insight, one of Angelina's Jolie's oldest friends reveals that the passionate star charges full-tilt through a whirlwind life as a mother, actress and goodwill ambassador because she's had premonitions of an early death – and they're even stronger since mom Marcheline Bertrand died in January. "Angelina has told me she doesn't feel destined to live a long life on earth, and she's trying to accomplish all that she can," said the friend. Knowing that the ovarian cancer which claimed her mother's life is often hereditary has made Jolie even more conscious of her own mortality. "I don't think she fears death as much as she simply wants to work hard and leave as big a footprint on the earth as she can," said the friend – who adds that the star's reluctance to marry Brad Pitt stems from one core belief… nothing is forever!
[From The National Enquirer, Mike Walker's column, print edition, July 9, 2007]
I think someone read the interview with Anne Curry where Angelina said that her obituary would be positive, and came to the conclusion that she thinks she's going to die young. It just sounded to me like she was dealing with her mom's death and that it's something anyone who had recently lost a parent would be thinking about.
I think Angelina might live to be a lot older than The National Enquirer speculates she thinks. One of the only measures that has been clinically shown to extend the lives of mammals is calorie restriction, and it's pretty clear Angelina engages in that practice. Of course she could stand to gain some weight and it's not healthy to be so low in body fat, but if she can get her weight up a little and continue to stay on a low-calorie diet she could live as long as George Burns and Bob Hope.