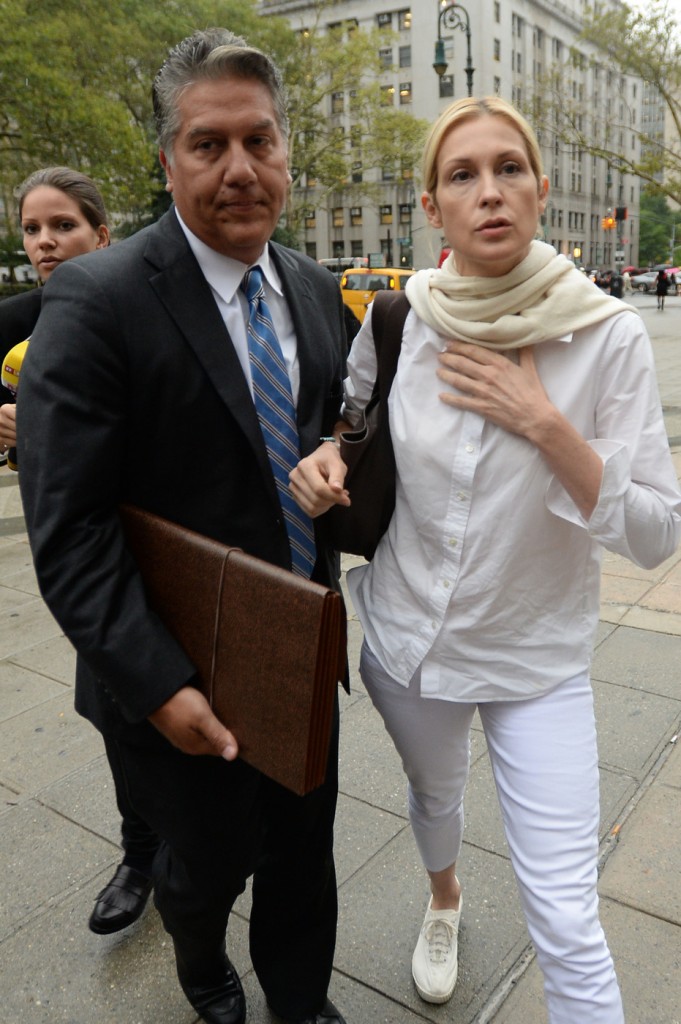 These are photos of Kelly Rutherford outside court in New York City yesterday, where she was ordered to surrender her two children to be flown to Monaco with their grandmother, who was waiting for them in court. This was a predictable outcome to a ridiculous situation she created, which caused needless stress and drama in her children's lives. Kelly will likely do another interview soon where she cries and moans to the media about 'Murica and how her children were deported. (I'm not going to treat whatever she says as breaking news, just FYI.) Meanwhile her ex, Daniel Giersch, has been nothing but a class act throughout this entire custody battle, despite how frustrating it must be to deal with this woman. (Thanks to Becks for commenting with this interview that Giersch did last year about an app he developed with the help of his kids. I've read it before but I wouldn't have remembered it. He comes across very well.)
It's worth noting that we only have the details from the first few minutes inside the courtroom because Giersch's lawyers requested that the media not be present, in order to protect his children's privacy. We could have heard the judge absolutely owning Kelly, but she surely wanted the press there anyway because narcissists want attention, good or bad. Instead we only know that she was told by the judge not to directly address her, and that the judge was angry that Kelly didn't bring the children with her as ordered. Kelly's lawyer claimed that this was to avoid the "media circus," but really it was just another tactic by Kelly in this game she's playing. At least it ended well, no one was hurt physically, and the children got to go home with their oma as they should have done several days ago.
In statements to the press following the ruling, Giersch's lawyers said that the children's transition went well and that they seemed fine. He also said that Giersch has not changed his stance on Kelly spending time with the children. Think about that for a moment. Kelly just kidnapped her own kids and has done interview after interview smearing her ex. She's repeatedly tried to cut her children's father out of their lives and she talks as if their life in Monaco doesn't count, but he's still saying that he's going to let her see the kids. Here are some statements from various lawyers. Pay attention to the mild shade thrown by one of Kelly's former lawyers.
How the children seemed in the courtroom
"Kelly's failure to deliver the children on Thursday likely bought them a one-way ticket to Monaco," Michael Stutman, head of the family group at Mishcon de Reya New York and a lawyer not involved in the case, tells PEOPLE. "Given Kelly's initial failure to send the children back, showing up without them was probably the nail in her coffin."

The children were later brought to the courthouse through a side entrance to say goodbye to their mom and head to the airport with Giersch's mother.

"The kids didn't seem to look like they missed a beat. They were happy, they kissed their mother goodbye, they were happy to see their grandmother, they had smiles on their face. And by the way, they're two beautiful little kids," Giersch's attorney Ira Garr told reporters. "The only complaint they had is they really wanted to get back to playing; it was boring in the courtroom."

"They just hugged and said goodbye, and she said she'd see them soon, and they were very, very easily transitioned to their grandmother, who they know very well," said Robert Michaels, another lawyer on Giersch's team.

"It was done very civilly," Garr added. "Ms. Rutherford said, 'Oh, you're going to see Papa, and you're going to go with Oma.' And the kids seemed fine…"

There will probably be safeguards in place so Kelly doesn't pull this again
"After this episode, we will be speaking with our client and his attorney in Monaco and maybe considering taking different measures about future visits to the United States, how the passports are held or whether the visits need to be supervised, because we don't want a reoccurrence of this a year from now," Garr said.

Kelly's former lawyer shades her
"It's really unfortunate that it came to this, and that Hermes and Helena were forced to say goodbye to their mother in a courthouse, rather than having a natural transition," Robert Wallack, a lawyer who represented Rutherford in federal court last year, tells PEOPLE. "However, today's proceedings played out exactly as expected, and it now appears the next chapter of this story will be written in Monaco."

---

Daniel's lawyer says he'll continue to let Kelly see the kids
"We are pleased that the American judicial system has prevailed," Giersch's attorney Fahi Takesh Hallin told ABC News in a statement. "Daniel's request to exclude the press today from the courtroom was granted, to protect the children's privacy. In addition, his stance of promoting Kelly's time with the children has not changed."
As of now, Rutherford hasn't issued a statement but she did speak briefly with the paparazzi outside the courtroom. TMZ has video of her leaving court. She was wearing sunglasses and looked like she might have been crying but she was smiling at the paparazzi and seemed to relish the attention. She said "I have no words at this moment" but when asked how she felt, she said "like any parent that lost their kids."
The next hearing for this case is scheduled for September 3rd in Monaco. Daniel is likely to get sole custody and Kelly will be lucky to have supervised visits, I think.
Dan Abrams, ABC chief legal correspondent and Kelly's close friend, has responded to this latest development with a mini rant about how it doesn't make sense. You can read that on People.
Kelly is shown after court wearing sunglasses and with her mom behind her. What kind of court outfit is that? She's got sneakers on. Photo credit: Pacific Coast News and WENN