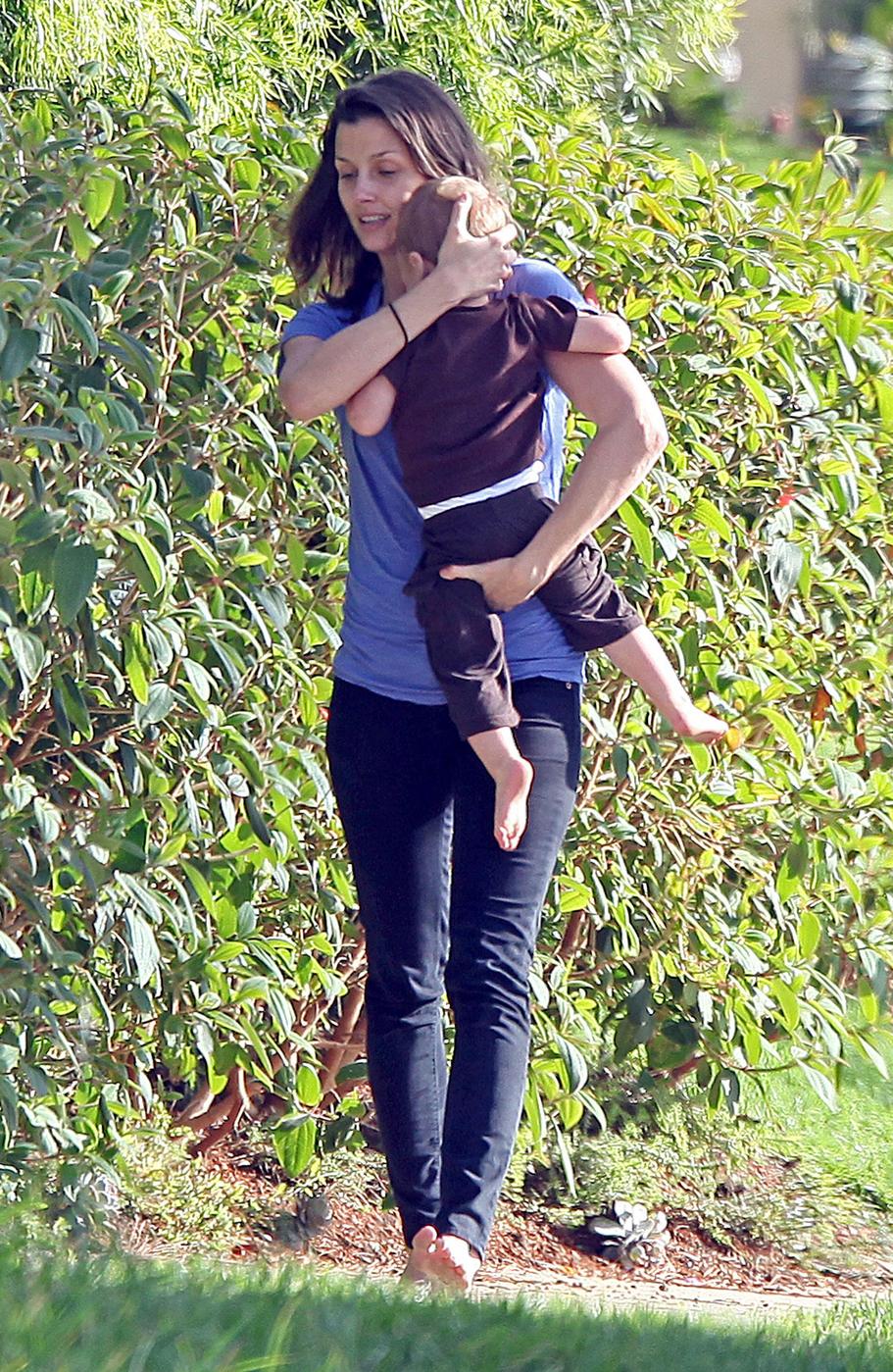 On Monday, Vanity Fair released an interview with model Gisele Bundchen that was fairly explosive. Bundchen didn't seem capable of censoring herself or using the slightest bit of tact or discretion. In it, she said her baby stepson (the child of her husband Tom Brady and his ex-girlfriend, actress Bridget Moynahan) is 100 percent her own, amongst other shockingly insensitive claims.
In Vanity Fair, Bundchen not only said John was "100 percent her child," she added: "It's not like because somebody else delivered him, that's not my child. I love him the same way as if he were mine. I already feel like he's my son, from the first day . . . He's my little angel — the sweetest, most cuddly, loving baby. I feel blessed to have him in my life. I understand that he has a mom, and I respect that. But to me, it's not like because somebody else delivered him, that's not my child — I feel it is, 100 percent."
[From Page Six]
Bridget hasn't dignified Giselle's statements with a response, but her friends say she's furious at the model's audacious presumptuousness.
BRIDGET Moynahan is furious with Gisele Bundchen after Bundchen boldly bragged to Vanity Fair about being mommy to Moynahan and Tom Brady's son, John. But while Moynahan is taking the high road and keeping quiet, her friends are not.

One close pal told Page Six, "If Gisele loved Bridget's child like he was '100 percent her own,' then she would not talk about him in the press. Discretion and respect are not either of Gisele or Tom's virtues, as was evidenced even when the child was still unborn and they publicly flaunted their relationship without any discretion whatsoever."

Brady and Moynahan broke up before the "Lord of War" star learned she was pregnant and he began dating Bundchen. Moynahan gave birth to John on Aug. 22, 2007.

Moynahan's friend continued: "Don't you think Jack will grow up and read her comments and find them disrespectful to him and his mother? If Tom is such a great father as everyone likes to say, then you would think that he'd respect the privacy of his young child and would ask his wife not to use his son as a publicity prop and a subject of public discussion. Is she is so desperate for attention that she can't find anything more productive to talk about other than Bridget's child?"

Moynahan's friend also quipped, "Hey Gisele — real mothers don't call their kids 'it.'" Moynahan's rep declined to comment.
[From Page Six]
A lot of people responded to the original story by saying Gisele was just trying to show how much she loves John and that she doesn't consider him less important to her for being a stepson instead of her biological child. I think her language is too strong and emphatic for that.
The 100 percent her child thing is just way over the line, mostly because it's absolutely untrue. John is 100 percent Bridget and Tom's child. And frankly, that must be a little painful for a newlywed. There is this beautiful, happy baby boy in her life, and he belongs to her husband and his ex-girlfriend. Perhaps Gisele copes with it by trying to maximize her own relationship with John. But in so doing, she also dramatically minimized Bridget.
Here's Bridget Moynahan taking John Edward for a walk in Pacific Palisades last Thursday. Images thanks to Pacific Coast News.