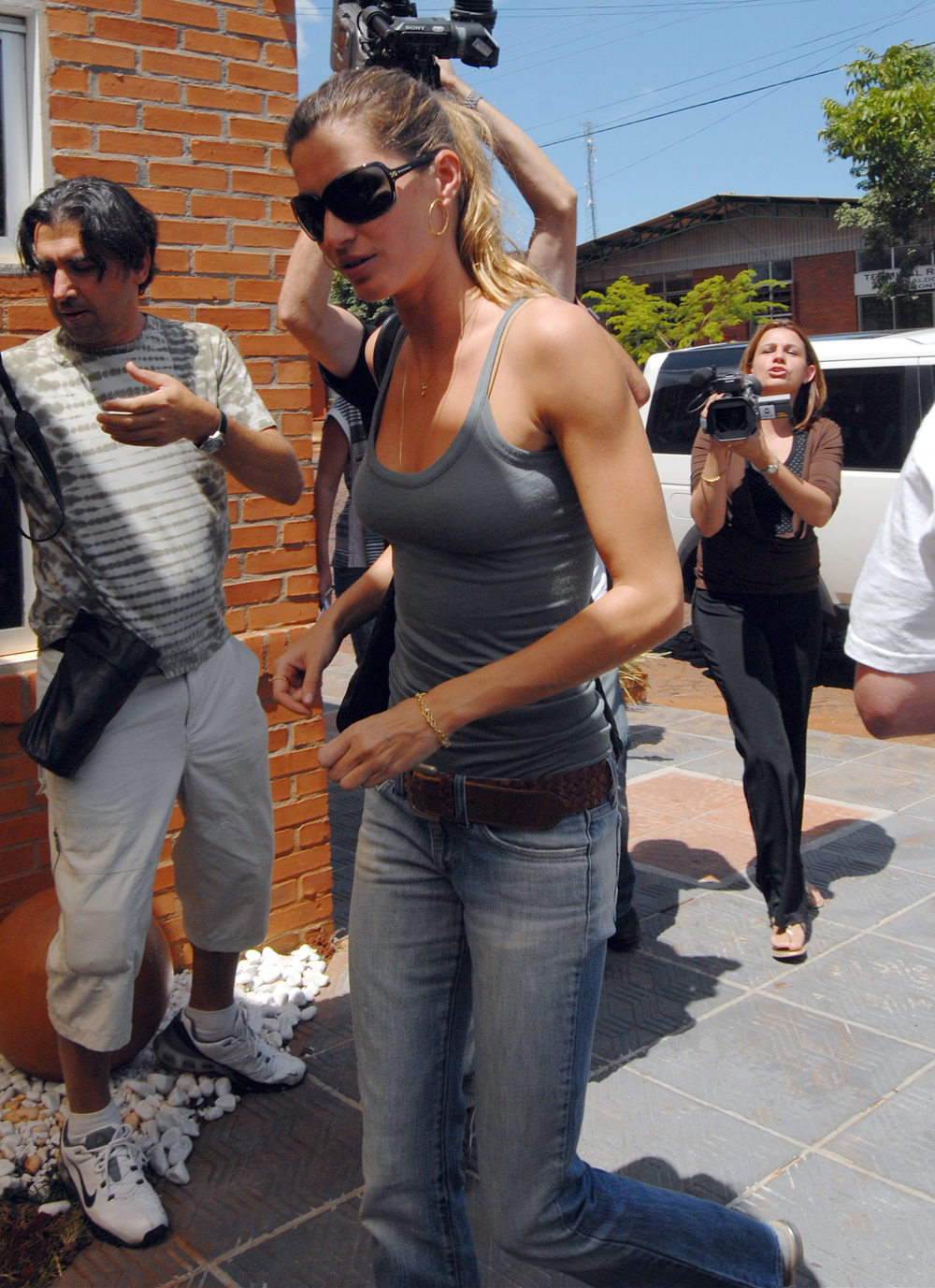 Is Gisele Bundchen so beautiful that no one ever corrects her? She gave an interview to Vanity Fair, and OK! Magazine has some early quotes. They are not flattering. Gisele says that she loves John Edward Thomas Moynahan – Tom Brady's love child with Bridget Moynahan – "as if he were mine." She also calls John "my child" and mentions that she "already [felt] like he's my son, from the first day." Yikes.
Back in late 2006, Tom Brady pretty much dumped his newly pregnant girlfriend (Bridget) when Gisele came along, and by many accounts, there was some overlap in the two relationships. Part of the problem is that I have always felt really bad for Bridget throughout this whole situation. She's a beautiful, classy woman, and I think she's done the best she could with a really uncomfortable situation. OK! has more from Gisele:
Now that Gisele Bundchen and Tom Brady have tied the knot, it seems the supermodel is more than ready to stake her claim on his love child with ex Bridget Moynahan.

The newlywed says she feels that John Edward Moynahan is hers, telling Vanity Fair, "I understand that he has a mom, and I respect that. But to me, it's not like because somebody else delivered him, that's not my child – I feel it is, 100 percent."

Bridget gave birth to John in 2007 (and appeared on the cover of OK!) and by then her former boyfriend, Patriots quarterback Tom, had moved on to Gisele's loving arms. She's never met the Brazilian beauty.

"I want him to have a great relationship with his mom, because that's important, but I love him the same way as if he were mine. I already feel like he's my son, from the first day," Gisele reveals in the interview.

"He's a little angel – the sweetest, most cuddly, loving baby. I feel blessed to have him in my life," she adds.

That little angel was a shock at first for Gisele, who had been dating Tom before they found out his ex was expecting.

"It was definitely a surprise for both of us," she says. "In the beginning, you're living this romantic fantasy; you're thinking this can't be true, it's so good! And then, whoops – wake-up call!"

Your move, Bridget!
[From OK! Magazine]
Yeah, I'm sure it was a huge "wake-up call" for Gisele that she was dating a man who just unceremoniously dumped his girlfriend. So, how much of this is being taken out of context? I actually understand what Gisele is basically trying to say – that she has a great, loving relationship with her stepson. But the way she says it seems like she's trying to out-mother Bridget. It's all very The Hand That Rocks The Cradle, with Gisele cast in the Rebecca DeMornay role.
Here's Gisele and Tom spending time with her family on their honeymoon in Brazil on March 15th. Images thanks to WENN .